About ConexED
ConexED is a cloud-based solution designed to assist students and faculties at higher education institutions and small to midsize businesses with appointment scheduling, video meeting and team communication. Features include remote access, engagement metrics, screen sharing, whiteboarding, instant messaging and registration management. The platform allows users to schedule video conferences, record sessions, share documents and generate custom reports to track task progress. Trainees can utilize its interactive kiosk to check-in/cancel appointments, view wait time and receive text alerts. With its virtual classroom feature, students can attend lectures remotely, collaborate with peers and interact with mentors in real-time. ConexED offers both API-based and in-built integrations with third-party applications such as Peoplesoft, Google Docs, Microsoft Office 365, Box.com, YouTube and more. It comes with a mobile application for iOS. Pricing for the solution is available on request and support is provided via phone, email and documentation.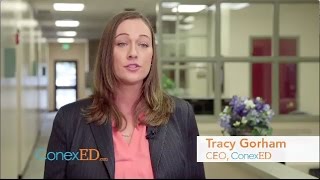 ConexED does not have a free version. ConexED paid version starts at US$0.01/year.
Starting Price:
US$0.01/year
Industry: Education Management
Company size: 201–500 Employees
Used

Weekly

for

2+ years

Review Source
---
My review after 2-year use of ConexED.
Overall, I love the tool with the exception of the Cons I pointed out above. If these could be addressed, that would be great.
Pros
I like most the ease of use for both students and myself as a counselor. Also, I'm able to mark/highlight areas on forms uploaded from my ConexED library as I'm working with students online. The students can download what we went over on these forms into their computer. I like that students can wait in a lobby while I'm currently working with another student.
Cons
1) The playback of recorded sessions is slow.
2) I cannot record my written work on the White Board and my power point presentations.
3) It's an expensive tool especially when Confer Zoom is free for California Community Colleges.
Industry: Higher Education
Company size: 1,001–5,000 Employees
Used

Daily

for

1-5 months

Review Source
---
Campus Calibrate for a large counseling office
Using Campus Calibrate is taking some getting used to. The staff at ConexEd have been incredibly helpful and accommodating to our staff and faculty to help us get Campus Calibrate up and running. We are a large department with 50-60 counselors/advisors, and I sometimes think that this software isn't built to show more than 5-8 schedule in a comfortable view. They have made many updates and fixes to help our appointment processes run smoothly. We appreciate all their efforts and assistance!
Pros
What I like most about this software is that it's web based, so it can be easily logged into from home and in the workplace. I feel this makes staff more accountable when they are out of the office, so they can check their schedule and make changes if last-minute meetings come up, conferences, etc.
Cons
If a counselor has appointments in more than one subgroup, it would be nice to see their entire schedule across the subgroups that they're associated with. It's a feature that does not work all the time.
A report that can easily be accessed when a counselor is out ill, that shows their appointments for the day. Right now we have to click on each individual appointment to see the student's contact information.
When students select appointment times after selecting a reason code and date of appointment, they are still confused as to whom the appointment is with. The time of the appointment is more visible than the counselor's name.
The time to load/refresh each subgroup is between 15-20 seconds, which can be inconvenient when trying to help a student over the phone.
Industry: Education Management
Company size: 10,000+ Employees
Used

Daily

for

1-5 months

Review Source
---
conexed review
Pros
The way it is interactive is very nice. It helps me get my work done and it's very easy to navigate.
Cons
None that I am aware of. I only use this for my classes and to help other students on my campus.
Industry: Higher Education
Company size: 10,000+ Employees
Used

Weekly

for

2+ years

Review Source
---
Great product but needs improvement
I find the product to be easy to use and find that any issues we may have, we can contact the staff who are more than willing to listen and provide us with feedback.
Pros
It is web-based and it is fairly easy to use--as long as the user (student) reads the instruction. There are a lot of great features such as captioning and camera to interact with the student. I also like the shared screen for both the moderator and the students.
Cons
There are some unnecessary extra steps that are being worked on. I am still waiting for the iOS release -- many students use their iPhone to try to connect so we have been patiently waiting for the release of this. The calendar section is a bit complicated and can be simplified for ease of use.
Response from

ConexEd

Thanks for your feedback, Judy!

I'm happy to announce that our first iPhone app is now available in the App Store. Using the app students can now see upcoming meetings and attend Cafe meetings on their iOS device.

You can find it here: https://itunes.apple.com/us/app/conexed/id1208098450?mt=8

Replied 29/04/2019
Industry: Education Management
Company size: 51–200 Employees
Used

Daily

for

1+ year

Review Source
---
My experiences using ConexED.
I feel that ConexED was helpful with my continued communications with my job and school during the pandemic.
Pros
It was extremely helpful to allow me to continue working during the pandemic. I was still able to assist other students and attend important meetings.
Cons
I think mobile device usage could be easier. I had a hard time seeing the left column and all of the departments on the screen at the same time.