About NICE CXone
NICE CXone is a cloud-based call center software that helps businesses to maximize the quality of leads and minimize the cost of client interaction. The solution comprises many features required to process inbound support requests and helps businesses connect with their customers via multiple channels such as inbound/outbound voice calls, email, voicemail, chat, social media and more. NICE CXone offers various call routing features, like IVR, CTI and ACD. The system also includes workforce optimization capabilities such as e-learning, hiring and workforce management. The blended predictive dialer tool offers call blending, message lay-down dialing, call suppression and auto dialer for blended call centers. The solution seamlessly integrates with popular CRM applications like Salesforce and Oracle Service Cloud. NICE CXone can be used by small business and large enterprises alike and is in place across a wide variety of vertical markets. Customer service and support applications are also available as part of the integrated suite.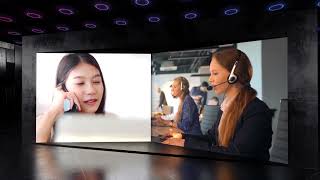 NICE CXone does not have a free version but does offer a free trial. NICE CXone paid version starts at US$100.00/month.
Starting Price:
US$100.00/month
Alternatives to NICE CXone
Industry: Information Technology & Services
Company size: 51–200 Employees
Used

Daily

for

2+ years

Review Source
---
Excellent VOIP Service
We've had a great experience with NICE inContact CXone so far, I'm very glad that we switched over from our previous VOIP provider.
Pros
I really appreciate the level of customization NICE inContact has, we have many different profiles for phone agents and the ability to tune everything in to exactly what each agent does has been really great.
Cons
The biggest issue we've had was in setting up supervisor dashboards, anyone with privileges can set one up and the menus start to get cluttered after awhile. We're able to occasionally prune down the views and get things looking reasonable again though.
Alternatives Considered
Five9
Reasons for Choosing NICE CXone
We made a decision based on cost and agent count, inContact also had additional prebuilt features that we were interested in
Response from

NICE inContact

We appreciate the feedback, Ryan! We'll share your feedback with the appropriate teams.

Replied 1/07/2020
Industry: Nonprofit Organisation Management
Company size: 1,001–5,000 Employees
Used

Daily

for

2+ years

Review Source
---
Have been using NICE inContact since 2009
My overall experience with NICE inContact has been fantastic. I enjoy working with my reps as we together try to find the best solution to our problems. I feel they have truly been our partner.
Pros
I worked as an end user of NICE inContact in FamilySearch Support and for the past 4 years I have been working as the FamilySearch Telecommunications Product Engineer. As an end user I found the product to be easy to use and reliable. I was able to seamlessly take chats and calls up to 30 in a day. As the Administrator CXOne/inContact Central is easy to use creating skills, users, and security profiles. As the Engineer working in Studio and creating call flows with Salesforce integration I find the product robust and basically if you can think of it, there is most likely a way to make it happen using APIs and the inContact Studio. I was able to learn the basics and build from there with little training. And what I don't know NICE inContact engineers and account managers are there to help.
Cons
In Salesforce there is a feature that you can login as the user to see what the user is seeing. inContact doesn't have that feature. To troubleshoot a user issue I have to go to some lengths to change the users password and login as them to see if I can see what they are reporting. Speaking of reporting, I know the CXOne platform has addons for better reporting but I feel the dashboards and basic reporting could be made better. For example to be able to drill down on a dashboard to specifics even on the user level.
Response from

NICE inContact

Thanks for your feedback, Warren!

Replied 1/07/2020
Company size: 51–200 Employees
Used

Daily

for

1-5 months

Review Source
---
Constant Service Issues, Terrible Customer Support
While we like the reporting system much better than our last system (though it does have a bit of a learning curve), we have pretty constant service issues. While InContact guarantees a 99.99% uptime, that would translate to about 4 hours a year of downtime for us - we sometimes have 4 hours of downtime in a single week. It has gotten a little better since we started complaining more, but we still have at least one impacting event every week or 2, that lasts 20-30 minutes.
The customer support is the worst I've ever dealt with. Some of them are nice, but clearly just don't have any idea what they're talking about, and some of them our downright rude. 1/3 of the time I call them, I know right away, based on their initial response, that there's no way they're going to be able to resolve my issue. Another close to 2/3 of the time, they take my info, ask me for info they could find themselves, and then create a case. They keep updating the case, until eventually the issue just kind of resolves itself, and then they close the case. Then, of course, the issue comes back 2 days later, and the process starts over again. I've even had a service representative flat out tell me my agents are lying to me, rather than treating the issue like it's InContact's fault - he also basically told me I was an idiot for "not seeing the obvious answer". We did, later, find proof that it was InContact's fault.
For all of our service issues over the last several months, they did provide a credit due to the guarantee, but six months of refunds came out to be about 8% of one month's bill - not much of a refund for constant issues and headaches that cost our company sales and hurt our department's credibility.
The script (InContact's Studio) is immensely and unnecessarily confusing, and if you can't figure out how to do it yourself, customer support will try for about 30 minutes and fail (hopefully not breaking anything else in the process), and then you have to call their professional services, which charges for every 15 minutes you're on the phone. Expect about an hour and a half call to add a simple "press one for this skill, press two for this skill" menu to a specific line. If you think about it, it's pretty genius - they actually make money by having a terrible customer service department and a complicated product, because then it forces you to pay exorbitant prices to get real help.
Many of their other add-on softwares are also unnecessarily confusing, outdated, buggy, or a combination of all 3. For instance, their WFO software, Verint, is incredibly confusing. Three of our employees went to a week-long training (which we paid a lot for) right before I took this position, and none of those employees could really tell me how to use the software. They did, however, forward to me 2 separate guides for the software, which totaled nearly 1,000 pages. Even with the wide array of unnecessary and complicated options, I still couldn't customize it to my needs after working with it, and customer support for nearly a month. They are moving away from Verint, because the company that acquired InContact has a competing product, but this point still stands for their other softwares as well - InView is nice, but very buggy and finicky, and we couldn't get quick results from our Account rep there - Uptivity looks like it was created in the early 90s, and is also relatively confusing, and non-user friendly - their customer support is also horrid.
The only reason we haven't switched already, is I'm finally starting to understand their Studio (after 9 months in this job), and I don't want to start over, and I'm worried that another company will be just as bad, or at least close. But it really hurts to pay so much for a poor service.
As far as price, I don't have enough experience in the field to be a great judge on this, but in speaking with others about some of their add-on service quotes that they've given us, I'm quite sure that these at least are a pretty terrible deal.
Pros
Reports are much more customizable than our last service
The InContact website itself is relatively user friendly and straightforward, aside from a learning curve for the reporting.
Cons
- Poor Customer Service
- Buggy/Non-user friendly add-on products
- Constant Service Issues
- Complicated Script
- Expensive Professional Services
Industry: Banking
Company size: 5,001–10,000 Employees
Used

Monthly

for

2+ years

Review Source
---
Do your customer care on social media with NICE CXone
We just seek for a tool for a social media management, so we chose Brand Embassy, after that NICE CXone. I believe that NICE CXone has a lot of addons we can use and could leverage our way of work. Maybe in the future, when we will seek complex omnichannel tool.
Pros
Data analyticsUser ExperienceRoutingCustomer Management and information
Cons
In social media customer care we do not see any cons.
Industry: Telecommunications
Company size: 10,000+ Employees
Used

Daily

for

1+ year

Review Source
---
Dec.2019_3M_US_Admin_Support_inContact
Fast to learn
Efficient to setup
Good training documentation
Wonderful tech support
Great experience
Pros
The details offered to discover path of contacts, simple process of escalating issues, and efficiency of setup of users and ACD elements are the best I've dealt with in my 25 years of ACD phone support.
Our TAM is amazing & knows her stuff.
Reports are capable of great detail
Cons
Because of the open structure to access so much detail, it takes time to analyze what everything means.
The integration with Salesforce is wonderful, but seems a challenge to avoid daily errors; often clearing cache and cookies...I know this has much more to do with 3M's network and Salesforce, but everyone thinks it is the phone that causes the problem.
We tried to standardize ACD routing setup, however, the cleanup from each deployment sent us down custom paths again; I understand the goal to eventually streamline with the Global Scripts - this is the right thing to do and will make things better, it will just take awhile to get there.
Response from

NICE inContact

We're so happy to hear about your great experience! Thank you, Shelly!

Replied 6/01/2020