About LearnWorlds
LearnWorlds is a cloud-based, all-in-one LMS designed to help businesses create, sell and market online courses. It is suitable for entrepreneurs, eLearning companies, corporate trainers, educational organizations, SMEs and large enterprises or individual instructors. The solution offers built-in marketing and sales tools to help businesses grow their audience and increase revenue opportunities. Such tools include a powerful website builder, landing pages, lead magnets, conversion pixels, built-in SEO, payment gateways, custom native app creation, and many more. LearnWorlds helps you build course content through multiple learning actvities that enhance learners' engagement and offer engaging learning experiences. Course creators can upload embedded and SCORM content, audio, text, ebooks and PDF files, and choose to add titles, images, pointers, hotspots, links, and questions inside interactive videos that have synchronized transcripts extracted automatically. Other features include a customizable course player, drip feeds, various assignment forms, quizzes and testing formats, live sessions, branded digital certificates and more. To help you scale your business, LearnWorlds also integrates with other platforms including Zapier, Zoom, MailChimp, HubSpot, FreshDesk, and comes with a variety of payment gateways including PayPal, Stripe, Shopify among others. The platfrom offers advanced reporting capabilities allowing you to deep dive into modern learning analytics to check your learners' progess, engagement, and activity. Get access to powerful course insights, check which content performs best inside your courses, and make data-driven decisions for your business. Pricing is on a monthly or yearly subscription basis. Support is available via an online help center, video tutorials, and other resources.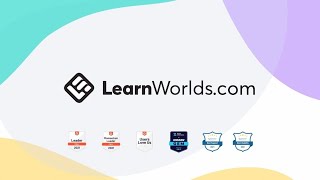 LearnWorlds does not have a free version but does offer a free trial. LearnWorlds paid version starts at US$24.00/month.
Starting Price:
US$24.00/month
Alternatives to LearnWorlds
Industry: Consumer Services
Company size: 2–10 Employees
Used

Daily

for

Free Trial

Review Source
---
Thus far, the best course platform
Pros
I love the product is created from an authoring view instead of a marketing one. You have all the tools you need to create a learning environment and powerful tools to enhance your videos directly.
Cons
There is an option to change the language, but it's not really that great. As a spanish native and implementor of learning programs for third parties it would be really useful to make a native spanish conversion for the UX:
Industry: E-Learning
Company size: 2–10 Employees
Used

Daily

for

6-12 months

Review Source
---
Learnworlds LMS platform. Worth it or not?
AWOKO.ng is an edtech start-up giving students access to quality materials that they'll need to prepare for their exams and used to study in their academics.
Thus far, we have been able to do all these using the Learnworlds platform and are gaining serious traction in our country. It's been an experience.
Pros
The sitebuilder is great. It helps in creating easily navigable pages. The course creation process is simple and direct unlike other platform I've used. If anything, their support remains the best I've seen in a while.
Cons
The pricing for the learning center plan which most people would prefer is a bit too expensive especially for some of us in third world countries.
Reasons for Choosing LearnWorlds
Thinkific was a good product but at the time I left had issues with some of the features I wanted. I was surfing the internet one day trying to see if any other options had the features I needed. None came close to Learnworlds so I made the switch starting afresh from learnworlds.
Reasons for Switching to LearnWorlds
I didn't like having too many moving parts. I didn't want to be responsible for the technical stuffs backend. I needed to focus on scaling my business and let other things be taking care of by the pros
Industry: Education Management
Company size: 2–10 Employees
Used

Daily

for

6-12 months

Review Source
---
They sepnd a lot of time getting your business then ignore the problems
They are really responsive in the first couple of months so you can invest your time and money setting up in their system. Then once you're invested they ignore you and spend their time trying to grow their business model with new clients. If you have a long term plan for online learning I'm not sure they're ready to cater to any other businesses than their own.
Pros
It has a nice look, and is user friendly.
Cons
The software has problems. Tabulation of reports and certificates are something I have been going back and forth with the development and customer service team about, they have been incorrect. They apologise for the problems, come back to me every 4 days when they can be bothered and just say we are super busy growing our business due to the surge in online application due to Covid. That doesn't solve my problems, nor does it justify my subscription. My problems are still outstanding and months, weeks later they are still looking into it. Very poor.
Industry: E-Learning
Company size: 2–10 Employees
Used

Daily

for

1-5 months

Review Source
---
It is a good option to create your own course management platform
We were evaluating several platforms, starting with MoodleCloud but it was not very attractive for the user. We tried LearnWorlds and it convinced us, we hired it for several months because it had all the features we were looking for and it was a cheap option. Currently we do not use them because we have not achieved the desired user number, but we think it is one of the best applications to create your own e-learning platform.
Pros
It is very easy to use, it is very complete with all the functions that are needed, it includes integrations with other tools. The technical support is very fast and they always solve incidents or queries very quickly.
Cons
Might be missing a few more integrations
Industry: E-Learning
Company size: 2–10 Employees
Used

Weekly

for

6-12 months

Review Source
---
review of LearnWorlds by Mahjong Party
They respond with a lot of info and links anytime I have a question or don't know how to do anything. Customer service is prompt. Its a beautiful robust platform and looks so amazing. As well, I struggled at times with other platforms to get everything the way I like for my UI/UX and LearnWorlds met or exceeded all my expectations in that regard
Pros
It integrates the most features into what I want while giving me a ton of freedom to create the course how I want, to make my course look awesome, to integrate tons of media types
Cons
The price is high compared to other software for businesses / course creators just starting out but it offers a bit more than they do. The price is good and offers a lot for those able to pay a higher price.
Reasons for Choosing LearnWorlds
I could not load up all of my media types I wanted to, I found the LearnWorlds UI/UX just really superior, I heard stories about how some other platforms will pursue your customer base
Reasons for Switching to LearnWorlds
iSpring came the closest to LearnWorlds and they have a great course authoring product but LearnWorlds offered unlimited courses / users / instructors - that is pretty well unbeatable whereas other similar platforms will charge after a certain amount of users or you are limited to how many users you can have in a year or your user has to purchase your product for a year instead of a shorter period of time... or you have to expel them from the product if they haven't used it for a while... its a lot to consider, I want my users to have lifetime access so LearnWorlds was the best