About SalesPad
SalesPad by Cavallo®: The World's Best Distribution Software for Microsoft Dynamics GP When it comes to the needs of distributors, most systems come up short. Employees rarely have access to the information they need to work effectively—or they have to log into multiple systems to find it. This can lead to a host of problems from wasted time and money, to revenue leakage and customer churn. SalesPad by Cavallo is revolutionary distribution software, designed specifically for Microsoft Dynamics GP users, that manages customer to cash operations from end-to-end. SalesPad empowers distributors to drive efficiency, growth, and profitability by transforming their processes and providing unparalleled visibility across their business. With SalesPad, distributors can: * Take complete control of critical distribution operations * Maximize employee productivity and satisfaction * Optimize the customer experience SalesPad extends Microsoft Dynamics GP with features for: * Quickly and easily creating orders, invoices, quotes, and returns * Effortlessly tracking sales histories, inventory availability, and customer data * Automating repetitive, error-prone order entry and fulfillment processes * Closely monitoring returns and other issues through resolution * Streamlining and accelerating warehousing, replenishing, shipping, and invoicing via powerful, configurable workflows that automate tasks and enforce business rules * Efficiently managing orders across multiple channels SalesPad elevates every aspect of distribution management, from selling to order fulfillment to shipping and payment collection, with one powerfully flexible solution.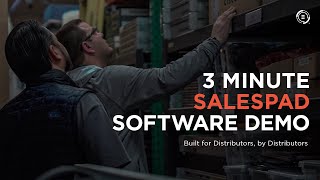 SalesPad does not have a free version and does not offer a free trial.
Industry: Retail
Company size: 501–1,000 Employees
Used

Daily

for

2+ years

Review Source
---
GL/Sales Pad Application Support III
solving the ease of order entry for the sales reps and customizing using workflows and scripts to hlep the user make fewer mistakes, is great. The support team is fablous and always respond in a timely manner and help out whenever we enter a ticket. If the first level of support can't resolve the issue, they immediately bring in the second line of support so the issue is generally resolved qucikly.
Pros
Saels Pad is great to see everything about the order with one click on the document search. Sales Monitor is another great view of orders, that are in different batches. It's user friendly and we can do alot of customization with workflows and what I like the best is that is sits on top of Great Plains, so there is no 3rd party application talking back and forth, like some of the other application used. What is in GP you see immediately.
Cons
I've been supporting Sales Pad for a nunmber of years and though the years, they have made inprovement, that just make the ease of using Sales Pad better and better. I can't say that I do like anything the least on this application.
Response from

Cavallo

Marie - thank you for your glowing feedback! We appreciate what you have to say and your business.

Replied 5/09/2018
Industry: Printing
Company size: 51–200 Employees
Used

Daily

for

6-12 months

Review Source
---
Excited!
We are still in the finishing stages of implementation, just ironing out the details, but they have been great to work with and if we had more time internally to work on it, it would have been done a long time ago. Just a few more things and we will be completely up and running! I am very excited to roll it out to our end users.
Pros
I like how we can customize the appearance for every user. The ability for each person to make it the most functional for them is a huge time saver.
Cons
I really can't think of anything off the top of my head that I haven't liked.
Response from

Cavallo

Hey Sarah,
We are pumped to hear that Central Ink Corporation is really enjoying SalesPad. We hope the rest of your implementation continues to go smoothly.

Thanks,
SalesPad

Replied 26/02/2020
Industry: Wholesale
Company size: 11–50 Employees
Used

Daily

for

2+ years

Review Source
---
It's Okay...
Pros
I like that it is a competent CRM platform.
Cons
It is not user friendly. It could use a lot more customer friendly features. I wish it had a home screen with a snap shot of all that was going on with company or individual regions.
Response from

Cavallo

Hey James,

We are sorry that you do not think that SalesPad is as user friendly as it should be. We are glad to hear, though, that you like the CRM functionality! While negative reviews for our products are rare, we take all feedback to heart and use it to help drive our product development.

Thank you,
SalesPad

Replied 3/02/2020
Industry: Wholesale
Company size: 11–50 Employees
Used

Daily

for

2+ years

Review Source
---
Using Salespad in the wholesale world
Pros
The ease of creating customer orders. I also process inventory transactions and the process of entering purchase orders right down to receiving is just as easy as it can get. Also having the ability to export information to excel is awesome.
Cons
The report writing unless you understand sequel report writing you will need assistance in writing reports.
Industry: Wholesale
Company size: 11–50 Employees
Used

Daily

for

2+ years

Review Source
---
Great add to GP
Its a great product without great support on the back end. If you do not have an inside computer techie/software editing person I wouldn't not recommend this product to a new user. SalesPad expects the user to just know how to use, edit and manipulate the data. SalesPad provide a few You Tube videos and updates in newsletters with the expectation the end user to just fully understand and implement. Their technical customer service support leaves a lot to be desired.
Pros
The ease of functionality of working SalesPad in real time and the data pulled from GP is accurate. Sales department likes the ease of putting in an order and search/look up options.
Cons
Customer service is challenged. They have a good product but, then to fully support it SalesPad have mostly fluff for customer service. You have a front person who has little to no knowledge as to how to solve the issues submitted. He/she then has to escalate an issue up the chain of commands until someone deeper inside SalesPad can figure it out. But, those individuals don't step forward to solve it - they feed the info back down the latter of command. And back and forth the project goes for every little step that doesn't fully work. It's time consuming, very repetitive and all on the users dime.
Response from

Cavallo

Thanks for your feedback on our support team, we take these comments very seriously. We've seen the need to get responses back to customers faster, and have since added a support engineer to the team. This engineer is an experienced program developer who formerly managed our product development department. We've already seen this change transform resolution times drastically, and we expect this trend to continue. Often, this support engineer is actively troubleshooting with a support representative while you're on a call. For issues that require a deeper level of development work, we'll be sure to stay on top of these situations and communicate with you in a proactive manner. The sole reason SalesPad exists is to help your business succeed, and we want to do that any way we can.

Replied 14/08/2019