About LiveAgent
LiveAgent is an online Help Desk solution for e-commerce businesses at the small and midsize levels. The platform offers live chat application, ticket management, online self-service portals, and change and license management, all as either in-suite or standalone applications. LiveAgent offers a selection of broader customer relationship management (CRM) applications, such as marketing and sales force automation in cooperation with a variety of third-party software companies. It is a customizable solution that can scale as small companies grow their customer base and online services. The software provides a ticket management system where the ticket contains the complete stream of chat messages, emails, phone calls, or messages from other communication channels between the customer and support staff of the company. LiveAgent for Startups: Startup program is free for the first 6 months for startups that apply. This is an exclusive opportunity for startups to get access to the best customer support software in the market with no upfront costs. After the first 6 months, startups can continue using LiveAgent at a discounted rate. LiveAgent is offered as both web-based (cloud) software and on-premise installations. The cloud option is priced on a pay-per-user basis by a number of agents, and the on-premise options use the up-front pricing model, based solely on the number of agents. Start with a 1 month free trial, no credit card needed, no contracts.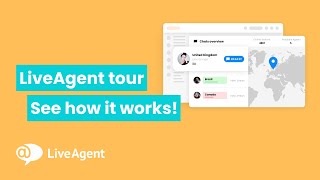 LiveAgent has a free version and offers a free trial. LiveAgent paid version starts at US$9.00/month.
Starting Price:
US$9.00/month
Alternatives to LiveAgent
Industry: Building Materials
Company size: 51–200 Employees
Used

Daily

for

1-5 months

Review Source
---
Great Features & Great Speed
LiveAgent is helping us convert initial chat enquiries visiting our website into qualified sales leads. We provide a niche product to the very top of our market so being able to qualify enquiries at this initial stage is important to us. The other key outcome is LiveAgent has no impact on our site loading speed. We identified ZenDesk, our previous chat solution, was impacting out site loading speed - and therefore potentially impacting our SEO strategy. From a free trial, we found LiveAgent has zero impact on our site loading speed - we now have a better chat solution AND a faster loading webiste.
Pros
We use LiveAgent to manage chat conversations on our website with the aim of converting initial enquiries into qualified sales leads. There is afar great functionality than our previous chat software solution and is far more customisable, with options to brand and personalise it to our business. The other key feature for us is that it is the number one ranked chat widget for website loading speed, an important part of our SEO strategy.
Cons
There is so much more functionality and ability to personalise LiveAgent than our previous chat software (ZenDesk) so set up took a little longer - but the ultimate outcome has been far superior.
Response from

QualityUnit

Hello Barney, many thanks for your great review! It means a lot to us and we are super thrilled to hear that you are happy with the platform and the chat solution LiveAgent is offering. We understand that it is necessary to manage all the tickets from the very beginning as each customer is important and should be taken the best care of and that is why LiveAgent makes sure that no ticket is skipped or left out! Just remember that our support team is always ready to help so feel free to start a chat on our website should you have any questions! :)

Replied 25/03/2020
Industry: Information Technology & Services
Company size: 10,000+ Employees
Used

Daily

for

2+ years

Review Source
---
I think LiveAgent is fantastic software
Every company needs the ideal thing, which is to treat every email as a ticket. If a client does not respond to my follow-up email within three days (thanks to a rule I set up in Los Angeles), a new ticket is opened and I am prompted to contact them again. Such follow-ups should never be sent from regular email accounts since doing so requires excessive monitoring.
Pros
Thanks to LiveAgent, I never have to leave the app to check my Gmail or Yahoo Mail inboxes again. As a marketing professional, I have access to a plethora of email accounts, and I've lost several business opportunities due to my own laziness in checking my inbox. With their "Unlimited Email Accounts" function, LiveAgent scores major points. To make things easier, I included my LA-based email address.
Cons
If you use LiveAgent as your email client, you won't notice any "unread" messages when you check your inbox. But that's not a major problem.
Response from

QualityUnit

Hello Gary! Your mention of the "Unlimited Email Accounts" function being a game-changer clearly echoed with us. Ah, tackling the labyrinth of multiple email accounts can be quite a chore, can't it? :)

You're right, the charm of LiveAgent is being a one-stop solution for all communication needs, whether it's social inboxes or live chats. And we can tell you're a power user, setting up a rule to remind you of pending follow-ups. Nifty, isn't it? To comment on your minor hiccup: all incoming messages in LiveAgent are treated as "unread" until specifically handled. We believe every message deserves undivided attention!

Keep exploring the tool, Gary. We strive to tick all the boxes for our users. Your feedback helps us refine our software and bridging more gaps in customer service.

Thank you for being an awesome part of our journey!

- LiveAgent Team

Replied 23/08/2023
Industry: Gambling & Casinos
Company size: 51–200 Employees
Used

Daily

for

2+ years

Review Source
---
Head of LD and QA
For the necessity of the company once we were small was perfect, help the company to grow fast our customer support
Pros
It is an easy system to configure new routines and to teach how to use them, it is self-explained.
Cons
It is limited when we are speaking about big companies, missing AI, chatbot etc
Response from

QualityUnit

Thank you for taking the time to share your experience, Roberto.

We're glad to hear that the ease of setup and user training process for LiveAgent has met your expectations. Regarding your scalability concerns for larger companies, our team is actively working on advanced features to better serve large organizations. Should you encounter any issues, our 24/7 customer service team is always here to assist you. We look forward to sharing our upcoming updates with you.

- LiveAgent Team

Replied 4/12/2023
Industry: Retail
Company size: 11–50 Employees
Used

Daily

for

1+ year

Review Source
---
Significant Value for the price
Pros
Price, Excellent customer support, large amount of features and functionality
Cons
While I love the complete control of all the automated systems being programmable, it could use some additional default built in options. Comparing LiveAgent to competitors like ZenDesk is like comparing Linux to Apple. LiveAgent gives you complete control - but you have to set up everything. The other software out there doesn't let you customize, but everything works for you. An in between 'windows' option that allows control for those who want it but is smoother to set up for those who don't want the extra work would be optimal. That said, programs that do it for you tend to cost a lot more, which would defeat LA's primary value, the low cost.
Reasons for Choosing LiveAgent
Able to bring in information, sales channels, and customers from what was previously multiple products into one centralized system
Reasons for Switching to LiveAgent
Price, functionality, control
Response from

QualityUnit

Dear Ben, thank you for your honest feedback! We really appreciate it! :) The reason why LiveAgent was developed in a way that you have to set the majority of things up is so that it would work for each client exactly how they need. Usually, businesses differ from one to another and that is why we wanted to give everybody a chance to adjust it to their business and needs. You know where to find us should you need anything! :)

Replied 4/03/2020
Industry: Information Technology & Services
Company size: 2–10 Employees
Used

Daily

for

2+ years

Review Source
---
Excellent value for money
Pros
I have been using my LiveAgent subscription for years, mainly for the LiveChat and phone features. The system is stable, the features are well thought out and elaborate. I recommend it to anyone looking for a professional and integrable system.
Cons
The admin interface could look more modern. I have not seen any improvement in this area for years. The current UI is not bad either, but I would still welcome an update.
Response from

QualityUnit

Hi David,
Thank you very much for your kind review. We are glad that LiveAgent has been the right choice for you and that you have been satisfied with the benefits it brings to your customer care. Our team works hard every day to further improve the system, including future plans for the UI, so stay tuned for upcoming updates!
-LiveAgent team

Replied 27/09/2023