About Streak
Streak is a cloud-based customer relationship management (CRM) solution that helps small to large enterprises manage projects and fundraising campaigns via Gmail. Users can automatically receive task details in the inbox and sort through messages to retrieve specific results using the search functionality. Streak lets businesses send invitation links to various organizational departments and grant permissions to specific employees. Teams can utilize performance reports to gain insights into product development processes and sales operations. Additionally, it offers mobile applications for iOS and Android devices, which lets users update customer details and share critical information with team members even from remote locations. Streak comes with an application programming interface (API), which allows enterprises to modify the system and integrate it with various third-party systems. It is available for free and on monthly or annual subscriptions. Support is extended via live chat and other online measures.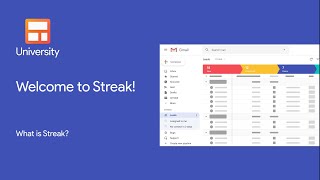 Streak has a free version and offers a free trial. Streak paid version starts at US$19.00/month.
Starting Price:
US$19.00/month
Industry: Staffing & Recruiting
Company size: 1,001–5,000 Employees
Used

Daily

for

2+ years

Review Source
---
Personalized Email Blast? Streak is the man!
This is the best platform so far out there that I've used in terms of sending emails, managing emails, and tracking the open rate and the acceptance rate of my emails.
You can also schedule an email sending time using Streak which is pretty awesome!
Pros
I've been in the recruiting field for more than two years now, and it has been a bottleneck for me sending emails outside of our candidate database. I usually do this whenever I need to update the candidates regarding next steps, and also if they have been turned down by the client after our presentation call with them.
What I usually do before is to send each candidate an email even if the context is just the same. This dilemma has been resolved by Streak! I was able to maintain the personal connection atmosphere with my candidates with the use of just a few seconds. All you need to do is to put the details of the candidate plus any personalized matter you want to add in the email context on a csv comma delimited excel sheet.
One more good thing about Streak is that you can schedule when an email should be sent. You can also monitor the acceptance and the open rate of your emails via Streak. Truly, Streak is the best platform for sending and email management.
Cons
I really don't have negative experience with Streak! I really love how the platform helped me do my job responsibilities without compromising human touch. Maybe this message is a sort of recommendation. I hope they can upgrade their system so that they too will upgrade to an applicant tracking system. If that time come, I will propose this to our company since I know Streak will help us in driving great ROI, and client engagements.
Industry: Mining & Metals
Company size: 11–50 Employees
Used

Daily

for

2+ years

Review Source
---
An excellent CRM for multiple business management from your Gmail inbox
We can follow multiple businesses and operations from within Gmail, despite how challenging it becomes to distinguish emails.
Pros
1. No need to leave your email front-end to manage your customer interactions
2. You can customize stages and pipelines in any way you want - no limitations on pipelines
3. Easy to enter meeting and call notes
4. Easy to select the case box from each email
5. Read receipts for Gmail - Extremely Useful!
Cons
1. Colour-coding to distinguish emails and stages does not work when you have many cases in the same stage/colour.
2. It becomes very slow if you are having many emails tagged
3. It does not load the pipelines quickly and it takes time to refresh
Reasons for Switching to Streak
1. Easy to use 2. Gmail open and read receipts!
Industry: Computer Software
Company size: 2–10 Employees
Used

Daily

for

2+ years

Review Source
---
Support INEXISTENT
We are on a paid "Pro" plan and spend over 5.000USD per year for Streak. We are not talking the free plan - for free is a good tool (but limited to personal use and basic features).
Probably all the good reviews come from free users.
We are cloud software developers, so understand the technicalities and if we raise a question is always well described. But we NEVER get a competent answer, in the last case it took 13 days and three nonsense one-line semi-automatic reply to discover that the Streak "support" person did not even know that streak.readme.io is not just documentation to read, but is supposed to be interactive, you can test your API there, but it does not work and they don't bother. You can test this yourself, just try to use streak.readme.io...
Pros
easy to use and setup, integration with Gmail, but it' a toy
Cons
Support is completely inexistent, they do not answer AT ALL or send canned answers without any brain in them. We are on a paid Pro plan and we have been consistently experiencing this problem for one year. Going to appoint a lawyer to get our money back.
Industry: Computer Software
Company size: 2–10 Employees
Used

Daily

for

2+ years

Review Source
---
Basic CRM for Gmail Power Users
Overall, I think it is a useful CRM with basic - but useful - functionality and a clean interface. It is quite helpful for Gmail and Google Workspace users, who spend a lot of time in their mail inbox.
Pros
I like the fact that there is a very low learning curve for your Gmail users. The UI is simple and intuitive. New users can start using it really fast.
Cons
The features of the mobile app are missing a lot of functionality. This means that essentially you have to manage everything from your desktop Streak interface.
Reasons for Switching to Streak
It was selected mainly for its Gmail integration.
Used

Daily

for

6-12 months

Review Source
---
Simple & Convenient CRM Embedded in Gmail
Organization for my lead outreach and follow-up. I love how it's embedded within Gmail so all of my correspondences are right there. It's a game changer for me moving from a simple spreadsheet that is overwhelmed with data to this streamlined system. And on top of that, it's free!
Pros
For my product-based small business, I have a number of sales streams where I cultivate leads. Streak allows me to manage these leads right inside Gmail so I can quickly view all of our correspondences. Since most of my business is done through email, Streak creates a perfect bridge. Specifically, I can create a new box for each lead and categorize it under a specific pipeline (sales stream). Within the pipeline, I can create different sales stages and view all of my leads in one place along with data about our interactions (days since last interaction, days in stage, etc) so I can prioritize my outreach efforts. Within each lead, I can view all of the email correspondences and make notes on the lead. An additional feature in Streak is email open tracking so you can see if your leads have opened your emails. It shows up automatically and displays the times of each open. That's a huge value just to know if your emails are going through. All of these features are completely free and just a simple add-on, which frankly is hard to believe and so valuable for my business!
Cons
I really love Streak--for a free program, it offers so much! If I could add anything, I would love to be able to have all correspondences with a specific email address automatically assigned to the same lead box.