About Notion
Notion is a digital workspace that lets small to large businesses streamline and manage notes, tasks, projects, records, calendar and more. Key features include portfolio tracker, designer templates, database management, documentation and data export. Deployed on a web-interface or on-premise platform, Notion provides businesses with a product roadmap, task lists and repository patterns, streamlining project workflows, from initiation to completion. It provides mobile applications for iOS and Android devices, which let users view and manage completed, in progress and not started tasks, even from remote locations. Additionally, it allows businesses to collaborate and perform team tasks, share meeting notes, update project expense report and maintain benefits/vacation policies. Notion comes with an application programming interface (API), which lets businesses integrate the system with several third-party integrations such as Google Sheets, Twitter, Figma and more. Pricing is available on a monthly subscription and support is extended via email, phone and documentation.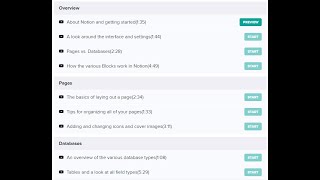 Notion has a free version and offers a free trial. Notion paid version starts at US$10.00/month.
Starting Price:
US$10.00/month
Industry: Marketing & Advertising
Company size: Self Employed
Used

Weekly

for

6-12 months

Review Source
---
Notion: The Ultimate Digital Workspace Champion!
Pros
To have the ability to store, edit, import, and work all in one place is just amazing when using Notion. While I just listed a couple of features, notion has a vast array of benefits as well that will take any business to any level and just make it better.
I particularly love that I can also share workspaces and templates if I need to with colleagues anywhere around the world. Oh, and did I mention that there's a ton of free templates all over the internet and in new marketplaces to get you started quickly?
Finally, the added bonus of being able to make money creating and selling notion templates in any niche now that the market is still unsaturated is the icing on the cake.
I'm very much looking ahead to see what the creators are going to do with this amazing tool, and I'm going along for the ride because, at this point, the sky is the limit.
Cons
As a newbie, sometimes it can be a bit tricky using notion, and that leads to frustration. For instance, if I buy or get a notion resource that has already been completed, all I have to do is import it into my own notion, and that's a breeze.
However, when I start new projects, it will usually lead to vexation because I hate reading manuals and sometimes even watching tutorials. Being honest, this might not even be as much about the notion of being difficult to use as it is about me being stubborn.
Overall there isn't much about notion that I don't like because it is that good.
Industry: Computer Software
Company size: 501–1,000 Employees
Used

Daily

for

1-5 months

Review Source
---
Notion is a powerfull tool with many features, but sometimes it is too much.
Pros
Notion offers a lot of features and tools to organize and publish your content. It is not just a note app, it includes databases than allow you to query your data and everything you need.
You may use it for yor personal or work life. It has many templates and a huge community where you will be able to find whatever you like.
There are many videos on youtube explaning how powerfull Notion is and how can you configure it to meet your goals.
I recommend this tool because it fits for many people and the free tier is enough for almost everybody.
Cons
I feel Notion interferes too much in my flow. I am used to have noting apps that give you the basics and you can build your own flow using them, no learning curve.
Notion offers a lot of features and this means it has a learning curve and many ways to organize your content.
I sometimes feel I invest more time in configuring the views, changing them from tables to lists, etc. just to have something beautiful when I just need a blank page and a checkboxes to organize my tasks.
Industry: Research
Company size: 11–50 Employees
Used

Daily

for

2+ years

Review Source
---
Possibly the most popular knowledge management tool, but privacy concerns
Notion is quite powerful and very popular tool. But perhaps one can easily get too lost in configuring and templating their spaces instead of just using the core function of documentation. I'm no longer using it because of privacy issues.
Pros
One of the strengths of Notion is its flexibility. Users can create databases, tables, and lists with ease, and customize them with different views, filters, and sorting options. The platform also allows for rich media embedding, so users can add images, videos, and files to their notes and pages. It has a very generous education discount for both students and teachers.
Cons
While Notion is highly customizable, this can also be a weakness for some users. The platform's flexibility means that users need to spend a considerable amount of time setting up and configuring their workspace to meet their needs, which can be time-consuming and distracting.There are also privacy concerns. I remember a few reddit threads where users requested for support and they were surprised how easy it was for them to access their workspace after giving verbal/textual permission.Performance is also an issue. Complex or large workspaces can be extremely slow.
Reasons for Switching to Notion
Notion was the most popular and quite possibly has the most features. But I'm no longer using it because of privacy concerns.
Industry: Financial Services
Company size: 11–50 Employees
Used

Daily

for

1+ year

Review Source
---
Notion - best tool for keeping track of things in your work and personal life
As a scrum master, I use Notion for backlog refinement and project management - it's always open on one of my screens. We customised it to our needs and manage multiple teamspaces with their own projects and tasks within one platform. I also use Notion in my personal projects and casual note-taking and can't imagine my life without it.
Pros
I like the versatility and flexibility of Notion. It can be customised endlessly to create a workspace that works best for you. We were able to create a perfect system for task and project that suits our needs. I also like that I can add tasks and different resources to my Favourites, and they appear in the sidebar, so I'm able to easily fetch what I need. It's also easy to track any changes and comments in the Updates tab, so you don't miss if someone left a comment or assigned something to you. Another small but fantastic feature is being able to insert code and choose the formatting for it. We're a software-heavy company, so storing and sharing pieces of code is essential.
Cons
It's hard to find points that I don't like, but perhaps the different views and layouts could be made more intuitive. Sometimes it can take a while to figure out the best way to organise data.
Industry: Civic & Social Organisation
Company size: Self Employed
Used

Weekly

for

6-12 months

Review Source
---
Powerful tool for the dedicated
I am still in the learning stages while using other apps to stay on track. I want to find features I like in other apps and pull them out of notion
Pros
It has a a lot of flexibility and hidden potential needing a steady diet of instruction. This app does not teach itself.
Cons
There is a lot to learn before it is useful. For a tinkerer there is a great deal to play with to exercise creativity, but the learning curve is steep