About 3CX
3CX Phone System is an open standards communications solution, suitable for any sized business that wants all the features of an advanced contact center at a fraction of the cost. 3CX can take your business communications to the next level, helping to improve collaboration, boost productivity, increase mobility and enhance the customer experience. Installation and maintenance can be handled effortlessly by anyone, whether installed on-premises on Windows or Linux on an appliance or server, or in the cloud.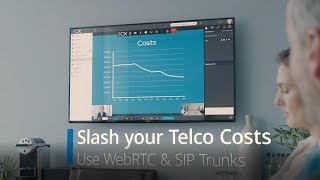 3CX has a free version and offers a free trial. 3CX paid version starts at $0.00/month.
Starting Price:
$0.00/month
Industry: Internet
Company size: 2–10 Employees
Used

Daily

for

2+ years

Review Source
---
3CX offers everything you need for low budget
well it is a phone system. We use 3CX to talk to our customers, we use it as webconference solution and we use it as a very lowlevel slack alternative.
Pros
3CX is a solid voip solution that offers all the features and functionality an ordinary team or company needs. Installation and maintenance is simple. The webclient is getting better and better with every version. Speaking quality is great if you use the right codecs or hard phones.
We love 3CX and use this pbx since many years.
Cons
There is no documented API. Either something is supported or not. There is no possibility to get individual implementations.
Response from

3CX

Hi Christoph. Thank you so much for your detailed review. We are happy to hear that you are happy with 3CX over the years!
Currently the only Public API that we have is for our WebMeeting Platform: https://www.3cx.com/blog/releases/video-conference-rest-api/
We do plan in the future to also have another REST API that would allow to perform more actions directly related to the calls and 3CX Server, but at the time of writing, this has yet to be released.

Replied 18/10/2021
Industry: Computer Networking
Company size: Self Employed
Used

Daily

for

2+ years

Review Source
---
phonesystems do still excist and usability ontop
3cx is small or big companies the best option possible also customers not wanting to use cloud telephony 3cx still provides option to have on-prem solution
Pros
full featured phone system with no extra costs. possibility to have cloud deployed, private cloud or even on-premise!
Cons
some features are still in beta but they are already active and communication when issues rice is closely followed by support to have them asap out of beta.
Reasons for Choosing 3CX
to many bugs and price
Reasons for Switching to 3CX
for calling 3cx and in full lockdown and performance issues with 3cx we went for zoom for the online meetings
Response from

3CX

Hello Andreas! Thank you so much for taking the time to share your feedback with 3CX. We're delighted to hear you found 3CX to be of great use for your business during the lockdown.

Replied 11/07/2022
Industry: Machinery
Company size: 51–200 Employees
Used

Daily

for

6-12 months

Review Source
---
Unexpected we only came this far with telephone center software
Coming from a a conventional VOIP system, it surprises me the software VOIP versions looks so 2010 in functionality and quality.
Pros
Recording feature, easily copy-paste phone number or directly call them when phone number is marked.
Cons
Sound quality of the calls is horrible, lots of restarts needed to keep functionility up, calls are randomly abandoned/cut off, sometimes it does not let you pick the phone or transfer calls and a restart is needed (currently multiple times a day). Part of the problems could be related to our network, but surely not all. Also the fact is does not change status when you log out from windows or start up like in MS Teams is a missed opportunity. Also it does not detect of one is busy with an MS Teams or Zoom call, so regularly you can get double calls if you forget to adjust your status (also accounts they other way I have to admit).
Response from

3CX

Hi Martin,

We are sorry to hear that your experience with 3CX was not the best. Audio quality issues however can be caused by many factors, most of which are not directly related to the software itself. To name some, depending on how you used our system, this could have been caused by insufficient bandwidth or bad WiFi reception, faulty or low-quality headset/handset, insufficient server hardware where 3CX was installed, and more.

We would like to suggest you give the system another spin around the block and if you run into similar issues, come in contact with us via our forums or our Support Department to investigate the cause of your issue properly and help you come up with a solution.

Replied 14/10/2022
Industry: Medical Practice
Company size: 11–50 Employees
Used

Daily

for

2+ years

Review Source
---
Your phone - everywhere
Pros
Working from anywhere or from any device, seamlessly integrated with our Microsoft 365 system.
Cons
Occasional issue after upgrade (missed note under release for some feature change).
Response from

3CX

Hi Mario, thank you for your positive review on 3CX! We are glad to hear that 3CX has helped you easily manage your work-related needs. Our primary focus is to provide seamless features for your convenience!

For any issues you may face, you can reach out to our Customer Service team for assistance via the Live Chat bubble found on www.3cx.com or by email: [email protected]

Replied 26/09/2023
Industry: Computer Software
Company size: 11–50 Employees
Used

Daily

for

1+ year

Review Source
---
Serves small businesses very well for free.
In my opinion, it is a very good tool and hardly ever had problems, because the tool is very stable and with a very good usability, serving very well small businesses.
Pros
• It is free.
• Assists in the company's internal communication.
• It is always updated with improvements.
• Ease of receiving and transferring calls.
• Ease of configuration and installation by the end user.
Cons
• We used the trial version quietly for 1 year, but due to technical problems due to a codec, it caused a major internal problem where we stayed 3 days without a phone. For this reason the support of the company that provides the service asked us to change the application.
Response from

3CX

We are sorry to hear that you had codec issues. Can you explain which codec was used and what issues it created?
Codecs work using the SIP Offer - Answer model - a standard in SIP used for the update of session dialogs. This means that when a codec is offered by one endpoint (phone), and the receiving endpoint answers "no available codec" then a codec exchange occurs where both endpoints try to find one common codec (language) to use for their media. Like this every call is serviced and has more chances to get 2 way audio. It is important to tell us which codec you tried to use. Because firstly, we might have an issue to investigate or we might also give you an alternative codec you can use. We support all major codecs so I am surprised how the company that serves you recommended that you change the whole app.

Nonetheless, thank you for your feedback. I will forward this to the development team.

Replied 20/01/2020