About GMDH Streamline
GMDH Streamline is a supply chain management solution that helps distributors, manufacturers and retailers handle processes for demand forecasting and inventory replenishment planning. It enables enterprises to automatically generate statistical forecasts using data based on sales activities and product shortages. It provides a forecast approval workflow, which allows supervisors to grant statuses including approved, unapproved or needs attention to all stock keeping units (SKUs). GMDH Streamline lets teams manually re-evaluate and modify forecast reports based on additional information provided by vendors or suppliers. Additionally, supervisors can import data for sales history and inventory from the database and create replenishment order forecasts in real-time. GMDH Streamline comes with an application programming interface (API), which facilitates integration with several third-party platforms, such as Microsoft Excel, Quickbooks, Unleashed, Spire and more. Pricing is available on request and support is extended via phone, email and other online measures.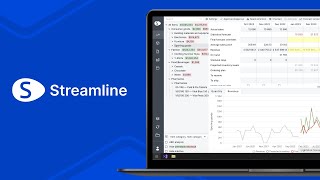 GMDH Streamline has a free version and offers a free trial.
Alternatives to GMDH Streamline
Industry: Retail
Company size: 11–50 Employees
Used

Daily

for

1+ year

Review Source
---
Excellent software
We had been using Lokad for inventory projections, unfortunately the software was not very user friendly and doesn't allow for easy user input (modifying projections). Streamline was very easy to connect to our ERP (Odoo) and it's simple to modify projections and have those changes reflected in order reports. The other very useful feature is multiple locations, this helps quite a bit as we do fulfillment from several locations.
Pros
Easy to setup
Nice interface
Continuous improvements
Fast export to Excel
Cons
Not a huge fan of desktop app, but it is very stable
Industry: Management Consulting
Company size: 11–50 Employees
Used

Weekly

for

1+ year

Review Source
---
Ovais BH
Wonderful flexible application with the ability to identify great opportunities to explore and cut your overall cost esp in current time, it can help a lot and offer great ROI. Regardless of your current application, it offers great integration and XL base input, export making it more adoptable and amazing product.
Pros
Its ease of use, connectivity and data at first. Same time it offers great flexibility to view your data with different variations while possibility to set certain additional parameters like distribution, your own rate for carrying cost etc.
Cons
Not yet available as part of ERP in different solutions for the planning area.
Industry: Publishing
Company size: 51–200 Employees
Used

Daily

for

1+ year

Review Source
---
GMDH Streamline Review - United Bible Societies
We at United Bible Societies have been looking for a tool to help our national offices worldwide do inventory analysis, demand forecasting and inventory planning and replenishment. Finding Streamline was a hit in the bull's eye, since it integrates all of these functions in one single application at a very affordable cost. In addition to the excellent functionality and ease of use the customer service we have received from Streamline has been superb. No effort was too much for Streamline in trying to understand our context and helping address our specific needs.
Pros
Integrated functionality for demand forecasting, inventory analysis and inventory planning
Cons
The software is a very good fit for our business
Industry: Consumer Goods
Company size: 1,001–5,000 Employees
Used

Daily

for

1+ year

Review Source
---
Eliminate Excessive Stocks in your Warehouse with GMDH
This software tremendously helps our organization to cut-down aging stock; therefore, we were able to capitalize the saved money for other operations and investments in the company. Furthermore, detailed graphs and fully-fledged information charts enable us to make the correct decisions on time. In conclusion, customer service performs a great role when it comes to any issues with the software; therefore, as users, we are super delighted with their service.
Pros
GMDH helps my team to place orders at the right time since the software posses the option to determine the ideal buffer stock for each SKUs. Similarly, this software is very useful when we are planning to bring new SKU, as its capable of identifying a similar type of item behavior and their seasonality performances. Based on these factors, it helps me and the purchasing team to understand the actual order requirement. Moreover, Integration to databases/Excel, is a very important feature of GMDH, since it helps to exchange the data seamlessly. Also, this software enables my organization to minimize unnecessary expenses on demurrage, insurance, third-party storage and hiring part-time Blue-collar workers due to proper forecastings generates by this software. Also, detailed graphs, charts, and dashboards provide comprehensive guidance for us on how to plan the next order for the company.
Cons
We had to find the skilled staff to read the data and information provides by the software properly. Unless you have the right set of people, we cannot capitalize on this software to the max, hence we need to spend time and money to find the ideal people to operate this software while paying a decent salary to them. In fact, some information is a bit tricky aspect and difficult to understand; however, due to superb customer service and support, we are able to resolve these concerns timely.
Industry: Business Supplies & Equipment
Company size: 11–50 Employees
Used

Weekly

for

1-5 months

Review Source
---
A Cornerstone Tool for Planning Business Operations
Streamline solved a problem that I believe is rather prevalent for a lot of small online retailers (6 - 8 figure range). There is a load of software out there for us to choose from when it comes to facilitating regular business operations; from the customer's transaction to fulfillment & shipping, managing our inventory, integrating with this sales channel and that, pushing data over to Quickbooks, showing us nifty little graphs and sales reports that look nice... you get the picture.
But when it comes to doing any real business planning, like forecasting, creating order plans with your vendors or projecting cash flow, we're left in the dark. Maybe if you have 5+ years with Excel and you export everything out of your current systems you could write some formulas and at least put something together and hope it has some semblance of accuracy, but do all that on a weekly basis and you won't have time for anything else. That was me 6 months ago before I found Streamline.
Now, twice per month, I spend maybe a half hour preparing the import to update it with new sales data (only because I don't have direct integration). Streamline does everything else. It gives us an ordering plan, revenue projections, a production plan for my staff and much more. With those, I can easily prepare cash flow reports that go way into the future, allowing us to make way better decisions now. All that time saved is now spent on deep strategy planning, not stuck in a spreadsheet nightmare!
Pros
Easy to Use!
Variety of forecasting models and adjustments available allow the software to fit you individual needs.
Great reporting with easy exports that can be directly used in other internal planning processes.
You can seriously never run out of stock again, provided you give it accurate information.
Outputs (reports) can be used to assist all departments in your business.
Awesome instruction manual that explains everything. I wish every piece of business software had something like it.
Cons
If you use a software that does not have a direct integration with Streamline, setup can be a little difficult and tedious, but nothing that can't be overcome. You just need to know where to source your data on a weekly/monthly basis and format it in a spreadsheet for Streamline. The instruction manual will walk you through it. Most of my trouble was with exports from our own software on my end, not streamline.
Response from

GMDH

Nick, we truly appreciate you taking the time to write such detailed feedback about Streamline.
By the way, I shared your review with our entire company just now and everyone was excited and proud, again thank you so much!
Best regards,
Natalie

Replied 6/04/2020