About DeskAlerts
DeskAlerts is a cloud-based and on-premise solution designed to help small to large enterprises send critical notifications to employees and clients across all corporate devices. It assists users with delivering predefined messages through pop-up notifications and by color-coding based on the level of emergency. Features of DeskAlerts include customizable templates, multi-channel delivery, one-click alerts, messaging, virtual mapping and more. It comes with a questionnaire builder, which lets users share custom surveys or polls among staff members and receive immediate feedback to improve employee engagement. Additionally, it helps users utilize scrolling the ticker tool to display high-priority messages as headlines on computer screens. DeskAlerts comes with an application programming interface (API), which allows enterprises to modify the system and integrate it with various third-party systems used for single-sign-on and active directory processes. Pricing is available on annual subscriptions and support is extended via phone, email, documentation and other online measures.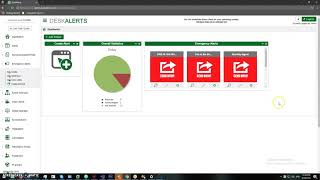 DeskAlerts does not have a free version but does offer a free trial.
Pricing Details:
DeskAlerts is available in a range of different pricing packages. Contact DeskAlerts for more information and to get a pricing quote.
View Pricing Plans
Alternatives to DeskAlerts
Industry: Mental Health Care
Company size: 201-500 Employees
Used

Weekly

for

1+ year

Review Source
---
Great for company-wide alerts
DeskAlerts has been useful for me in sending IT messages about scheduled shutdowns or technical difficulties. This has been better than using email since our email software has been experiencing bugs, so DeskAlerts makes it so that people can see the alerts even with other technical problems.
Pros
I liked that I did not have to rely on an email system and the variety of different options for who to send messages to.
Cons
Only thing is that the company has had trouble moving to outside alerts for those outside the company but that hasn't been within my scope.
Response from

DeskAlerts

Hello! Thank you for your kind words regarding DeskAlerts performance! It is great that DeskAlerts serves you as a reliable alternative for email, as this was one of the main challenges for our customers. We are proud that the software met your expectations!

In the matter of sending messages to people outside the company, you probably meant those who do not have DeskAlerts installed on their devices. In that case, tools such as SMS notifications, MS Teams integration, and Digital Signage can be the best solution.

All these tools are available in DeskAlerts and can be used simultaneously with tools like pop-up notifications and scrolling tickers.

Replied 30/09/2021
Industry: Health, Wellness & Fitness
Company size: 5,001-10,000 Employees
Used

Weekly

for

2+ years

Review Source
---
Good tool for instant notification
We were looking for an easy-to-use and nice looking "popup" tool with delegation capabilities and straight-forward notification push (we need a fast annoucement system). Deskalert do the job, with limited resources.
You may use it avery basically or even use one of the numerous features that help you to meet your specific needs.
Pros
Easy to use to reach users to inform them about important information.
Good layout and capabilities.
Delegation is possible to allw users to use the tool for their own purposes.
Cons
Deployement of agent was had but they enhanced the auto-deploy feature (not yet used) and self branding customisation remains limited even if the message content is fully customisable.
Response from

DeskAlerts

Dear Olivier, we are proud to get such great feedback!

Thank you very much for taking the time to describe your experience with DeskAlerts. We are happy that the software meets your requirements. We count ourselves lucky for customers like you!

We appreciate you mentioning the auto-deploy feature. It took some time to develop it, but in the end, we got a lot of positive feedback from our customers.

Thank you again for your opinion!

Replied 30/09/2021
Industry: Government Administration
Company size: 501-1,000 Employees
Used

Weekly

for

2+ years

Review Source
---
Works great.
Pros
Very easy to install and configure. Easy to use to send alerts. API works great to automate with scripts or security systems.
Cons
A few bugs here and there but they update often so you usually won't be dealing with them for long.
Response from

DeskAlerts

Hello Luc! Thank you for using DeskAlerts and for this review. It means a lot for our team to know you find the software easy to use. We appreciate your feedback regarding the software update.

Replied 3/03/2021
Industry: Hospital & Health Care
Company size: 1,001-5,000 Employees
Used

Weekly

for

2+ years

Review Source
---
DeskAlert for our hospital
Less calls to the help-desk - less stress for the users in case of some failure - capacity to inform people in emergency situations.
Pros
The capacity to publish rapidly to all users or specific ones important messages about use of critical product like EMR Electronic Medical Record - or important general informations
Cons
Sometimes difficulties to check who have seen or not the published messages. Some bugs like unable to stop the display - but the support team correct the bugs relatively quickly.
Response from

DeskAlerts

Hello Bruno! Thank you for your kind words! We are very proud that you chose DeskAlerts.

Our team strives to meet expectations like yours, and we're happy to hear we hit the mark for you.

We appreciate your estimation of our support team's work. They do everything possible to keep our customers satisfied. DeskAlerts is improving with every update, and we are certain that for the time passed after you left your feedback, many of the technical issues you mentioned are long gone.

Thanks again for the wonderful review!

Replied 30/09/2021
Industry: Higher Education
Company size: 5,001-10,000 Employees
Used

Monthly

for

2+ years

Review Source
---
Excellent piece of software
DeskAlerts allows us to quickly and easily communicate with our users and, critically, allows us to report on who has (and hasn't) received the alerts. The alerts are very configurable and allow us to send fully branded messages at the click of a button (or two)
Pros
Easy and intuitive to send out mass (or targeted) communications to our users. Gives simple, but clear, reports on how many users (and who) have seen them. DeskAlerts themselves (the company) are friendly and very responsive to support requests and feature development. DeskAlerts is being actively developed and improved with new features and tweaks to existing ones.
Cons
Older versions of the software could be a bit clunky and buggy, but the latest versions have been much better.
Response from

DeskAlerts

Thanks for the awesome review, Nick! We're so happy you love your experience with DeskAlerts. It is great to know you appreciate software features like acknowledgment and targeting, and you like how we develop the product. That is inspiring! We can't wait to have a chance to show you the new features we are currently working on.

Replied 28/09/2021