About CANVAS
Canvas LMS from Instructure is a cloud-based learning management system (LMS) specifically designed for K-5 on up through higher education institutions. Canvas LMS is a scalable platform that can be used by educational institutions of all sizes and types, from individual classrooms to large universities with a blended or fully virtual learning environment. The Canvas platform offers complete LMS functionality for online learning including standards-based grade books, customizable student assessments, course content authoring, mobile communication, plus more. Canvas LMS can integrate with an educational institution's existing SIS and other teaching tools. Additionally, the Canvas App Center offers mobile-ready teaching tools that can add new functionalities to the platform. Over two hundred different LTI tools allow educators to customize courses and monitor engagement with classes or individual students. Canvas also offers native mobile apps for iOS and Android devices, allowing educators, students, and parents to view key information, share and receive updates, or submit results from anywhere at any time. With these tools, Canvas LMS offers comprehensive, high-quality mobile learning experiences.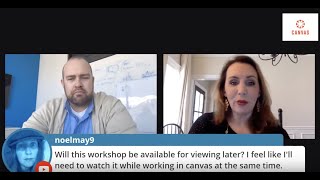 CANVAS has a free version and offers a free trial.
Starting Price:
Not provided by vendor
Pricing Details:
To learn more about pricing, please reach out to us directly. https://www.instructure.com/en-au/canvas
Industry: Information Technology & Services
Company size: Self Employed
Used for

2+ years

Review Source
---
CANVAS makes higher education accessible anywhere you have an internet connection!
CANVAS is very user-friendly and an all-around excellent way to engage in continuing education and life-long learning. Personally, as an older student, I love using CANVAS.
Pros
While I am unsure of the College's side in using this software, for me, as a student, I love using CANVAS. I enjoy travelling and with an easy-to-use, school-issued/provided LMS (Learning Management System/Software), I can take many classes online from anywhere in the world with an internet connection. The mobile application is robust and incredibly convenient, allowing 99% all-the-same functionality as the desktop version. Students can even take online quizzes and finals using their internet-connected mobile device (Smartphone). It is very user-friendly and an all-around excellent way to engage in continuing education and life-long learning as an older (personally, 42 years) college student.
Cons
The only drawbacks to CANVAS I experienced were a loss of data if the active internet connection broke while in the middle of completing/submitting assignments and quizzes. I know that CANVAS has since implemented an auto-save feature on the quizzes, so that part of the problem is resolved. Whether or not this is true of the assignment submissions, I honestly do not know at this time.
Industry: E-Learning
Company size: 2-10 Employees
Used

Weekly

for

6-12 months

Review Source
---
CANVAS - Easy e-learning Setup
It is easy and quick to set up even for no technical people. It is a reasonable cost depending on usage.
Pros
The first thing I noted about Canvas is that when creating content, the page looks like an MS Word document. This makes creating pages with content easy as the learning curse is very gentle. There is very little need to be technical. It is more a matter of formatting rather than getting to know the software platform itself.
The dashboard is clean and modern with easy navigation on the left sidebar for courses, account information, calendar, inbox and help. Your default home is your published and unpublished courses. On the courses tabs, are announcement and conversation icons that notify if a course has issues you need to attend to in a specific course.
The settings menu is straightforward with nothing cryptic even for non-technical people.
Setting up courses is a breeze with a 'Course Setup Checklist' button available inside each course shell you create. There is a walkthrough for each element of a course from content to publishing your course. If you have an existing course you can simply import the course with several formats supported including but not limited to Blackboard, Moodle and zip. For educators at various institutions, they can just import and customize where the need arises for the different institutions.
Assessment types include quizzes and assignments. It also integrates easily with other services like Google Drive, Office/Docs and others.
Cons
Video elements management needs improvement, the thumbnails are poor quality and very small. There is no option to edit them. To get a good visual of Office elements needs embedding the content hosted somewhere else. Natively on the platform PDF and PPT display poorly with just vertical scrolling. Exporting An exported courses from Canvas is in a custom format that is not compatible with other LMS platforms. This makes it hard to move between platforms. There not much customization of learning elements compared to other LMS available. Some of the support documentation is dated and needs updating.
Reasons for Choosing CANVAS
A different vendor with different needs that best fit Canvas than Accord LMS.
Reasons for Switching to CANVAS
There was a need for something quick and easy to use for instructors without the need for having technical support on call all the time.
Industry: Education Management
Company size: 10,000+ Employees
Used

Daily

for

1+ year

Review Source
---
A Good Software with Minor Complaints
Overall, Canvas is a good software. I've used Blackboard before as well, but it was outdated and had a more confusing interface than Canvas. Canvas makes it easy to see and download assignments. The two minor issues with the software are the inconvenient mobile view and the notification settings.
Pros
Canvas is useful because I can see all of my coursework on one platform that is simple to use. I can organize my courses on the home page as I like, and when I click on the course, I can see modules, assignments, and tests attached to the course. Documents load very easily on Canvas, and I like being able to "preview" documents posted before downloading them.
Cons
I have two complaints about the Canvas software. First of all, the mobile version does not work well. I never downloaded the Canvas app, but did try to go on the website on my phone. The text was so small and the menus on the left side of the screen did not load well, so I could never use my phone to get on Canvas without the app. My other complaint with the software is that whenever anything was graded for a course, even if it was an older assignment, I'd get a notification. Perhaps this is just the settings set by the instructor and not Canvas itself, however.
Industry: Education Management
Company size: 1,001-5,000 Employees
Used

Daily

for

2+ years

Review Source
---
Canvas for Online Learning, Teaching & Assessment: OK but...
Best valuable features: Share to Common, Import/export content i.e., transport/transfer files from past year or another course. It saves time, not reinventing the wheel.
Assignment Due date is very cruel to learner as 1 second late submission may cause a heavy penalty. Recently due to COVID-19 my learners in UK and International faced difficulties. I suggest to add a feature giving some window instead of a fix hh.mm.ss timestamp.
Pros
Learning & Teaching: Various useful features, e.g., upload/download files, page creation, announcement and discussion and valuable apps containing ubiquitous tools, like MS Team meetings, Panopto, Vimeo, YouTube, Dropbox etc.
Assessment: Huge variety of Quizzes, secured quizzes, quizzes SWOT statistics, lockdown browser, Assignments, anti-Plagiarism tools, Moderation, Marker Allocation, Grades,
Research: Conferences, collaborations, Canvas digital forum support.
Cons
Assessment of students: sorting may not be sync'd with local university database. i.e., downloaded grades and university's marksheet contains names of students starting differently. Imaging if you have 300+ names! this causes sorting issues while assessing online.
Quizzes are great but cannot create duplicate questions, some time academic need this feature. Also because quiz question can be an Essay therefore, this type of assessment must include anti-plagiarism tool (i.e., Turnitin etc), not available in Quizzes but only in Assignments.
Reference Manager and Library tools are not available but can be added, e.g., Talis, StudyNet etc. These features are necessary for cognitive learning and cresting your own Library does help. I need to use either Endnotes or Mendeley as an external app on my desktop or on cloud.
Its good to use integrated Email tool but its not linked to outlook or other email app. I cannot send email to other people outside my module, i.e., cannot do cc to manager, examiner etc but I need to permanently add in the list of people.
Also cannot add images etc in text but can attach files. Also cannot format the text but just plaintext is allowed. You cannot add http link to a text.
Industry: Education Management
Company size: 51-200 Employees
Used

Daily

for

1+ year

Review Source
---
CANVAS is a great tool for Courses and International competitions.
It's a nice program for communicating with students and is very organized. I really like to use it.
Pros
If you work in a school or a scientific competition, or if you wish to teach a class, you can use CANVAS. It's an excellent application because the grade book offers an Effective Teaching option for tracking progress against a set of academic criteria. Students and teachers will benefit from this mobile-friendly and easy tool. The largest business would be distance education, although it performs excellently in general.
Cons
It can be tough to cope with at first when using the application, and it takes a long time to publish a post on the student page.
Students occasionally carried assessments in the incorrect location and took time to get acquainted with the mobile phone application.
Reasons for Choosing CANVAS
I found CANVAS is an organized program in dealing and communicating with Students than other Programmes
Reasons for Switching to CANVAS
In general, I prefer to use the program, especially in making exams for students, because it appears if the student opens other programs with him, which confirms to me the credibility of dealing and the absence of cheating