About Aircall
Aircall is a cloud-based business phone and call center system that helps manage and streamline customer support and sales engagement operations. Designed for offices and teams in remote areas, it enables users to integrate the software with client relationship management (CRM) and helpdesk systems and manage calls directly from it. Features of Aircall include voicemail, queueing, recording, shared call inbox, contact management, assign, tag and add comments. It allows businesses to form employee groups based on location, responsibilities, skill set and other attributes and create business strategies to facilitate team performance. Additionally, it provides phone numbers, which can be used to make calls from anywhere and get live feeds on processes. Aircall integrates with 100+ third-party applications such as Salesforce, Hubspot, Zendesk, Pipedrive and Slack. Pricing is available on monthly subscriptions and support is provided via email, phone and chat.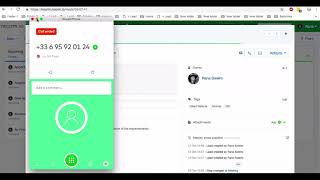 Aircall does not have a free version but does offer a free trial. Aircall paid version starts at US$40.00/month.
Starting Price:
US$40.00/month
Industry: Consumer Services
Company size: 11–50 Employees
Used

Daily

for

2+ years

Review Source
---
I love AirCall, been using it for over four years now!
I've used this for over four years and introduced it at companies I've worked and consulted with. It's easy to use, low price, and the features are top-notch.
Pros
AirCall is very user-friendly and easy to deploy. The dashboard is very streamlined, and it's easy to set up additional features like IVR. The Call Monitoring feature is critical. It is really helpful with Sales, Retention, and Account Management. Helps me to hear exactly what's happening on the call, so that I can train my team members, and help them hone specific pitches.
Cons
I have no complaints, it's the best VOIP service I've used.
Response from

Aircall

Hi Jisselle, thank you so much for your lovely review. We are so happy to hear that you're having a great experience with Aircall. If there's ever anything you need help with, please don't hesitate to ask us. Cheers! - Max from Aircall

Replied 7/06/2022
Industry: Consumer Services
Company size: 11–50 Employees
Used

Daily

for

1-5 months

Review Source
---
Overall amazing!
Aircall has been amazing, from the Support guys to the Customer Satisfaction team.
Pros
The most important part of Aircall is that we're able to sync the contacts between our different phone lines and add the contact during the calls or afterward. This feature has helped us make things easier for the agents that answer calls every single day of the week.
Cons
The only con that I have found from Aircall is the fact that you're not able to use the phone numbers to send or receive text messages. As a Roofing Company, some users choose not to call but to text or email us and the fact that there is no way to check text messages or send them.
Reasons for Choosing Aircall
Calltools never worked for us, we never got the dialer and script features working and the support team took hours if not days to get back to us or even to close a ticket. Also they made us install third party dialers to use their calling services which was not convenient because they use a complete CRM and that made us move forward.
Reasons for Switching to Aircall
Because Aircall does not require fiber optics connection to handle inbound/outbound calling, they offer a wide platform support for IOS, Android, Windows and MAC apps to be installed so if you're out on the move or in office or even at home you can work from any device in reach.
Industry: Retail
Company size: 2–10 Employees
Used

Daily

for

1+ year

Review Source
---
If you like a tons of bugs, features randomly removed, and terrible customer service that...
Aircall used to be a solid product with fair pricing and good support. I don't know what's changed in side their company, but something has gone wrong and now their product and customer service are suffering.
Pros
They have dedicated apps for all the major devices (iOS, Mac, Windows, etc). They have a good website that's easy to find what you're looking for.
Cons
I have to begin with the fact that their customer service is horrible and screwed me out of so much money after they changed the product without warning.
I was on their enterprise plan and paid for the entire year upfront for all my users and lines. 6 phone lines, 4 users. I was supposed to get an account executive, but was never assigned one until 7 months later when I had a major issue happen and asked where my rep was. She had just been hired maybe 2 weeks prior, she said.
Halfway through July 2017, the engineers accounted a bug in a feature we depended on. They issued a 'bug fix' by removing the entire feature without warning! Without this feature, we couldn't use the Aircall service. I had several phone calls with them and maybe a dozen back and forth emails, but Aircall wouldn't add the feature back.
I politely asked for a refund for the remaining 5 months of service and they flat out refused, even though the product I paid for had changed, I didn't sign a contract, and there was nothing in their TOS about it. Now, I've paid for 5 months of service I'm never going to be able to use because Aircall removed the function we needed.
This is AFTER I'd written glowing reviews on various ecommerce platforms, told other entrepreneurs to get it, and again, paid for an entire year.
Outside of that, the software always seemed to be loaded with bugs. They do not add features very often, including some that are needed badly. You also can't put customers hold hold when you dial them - only when they dial into you!
I would strongly suggest skipping Aircall and trying out something like Dialpad or Talkdesk.
Industry: Hospital & Health Care
Company size: 1,001–5,000 Employees
Used

Daily

for

2+ years

Review Source
---
Quality review of Aircall
Pros
- It's really well organized call center platform, had capability to handle any type of customer service requirement.- easy to integrate with CRM platform
Cons
- sometimes call are not getting logged through API connection. but not big issues
Industry: Education Management
Company size: 2–10 Employees
Used

Daily

for

1-5 months

Review Source
---
Accuracy meets efficiency!
Our whole team attended the demo for the software and it was great, we had the chance to ask any questions throughout and it was all made really simple.
Pros
Great visibility throughout the application, so easy to navigate. The ease of transferring calls with the 'talk first' and overall just the intelligence behind it being made for any level of experience. I feel confident if I had a junior intern put onto the phones, I would barely have to cover anything within the app, it's all there.
Cons
Sometimes it doesn't remember my log-in details so prompts me to sign in again when it's been inactive for a certain period but it's easy enough to get straight back in.
Response from

Aircall

Hi Eden,

We really appreciate you for leaving such a thoughtful review! The ease of training new reps is definitely a benefit we hear from our customers regularly, so it's great to hear this has also been your experience.

Regarding logging in, we are in the process of revamping this feature, so hopefully you won't experience issues with remembering your credentials for too much longer.

Have a great day!

Cheers,
Max from Aircall

Replied 23/11/2021