About Aircall
Aircall is a cloud-based business phone and call center system that helps manage and streamline customer support and sales engagement operations. Designed for offices and teams in remote areas, it enables users to integrate the software with client relationship management (CRM) and helpdesk systems and manage calls directly from it. Features of Aircall include voicemail, queueing, recording, shared call inbox, contact management, assign, tag and add comments. It allows businesses to form employee groups based on location, responsibilities, skill set and other attributes and create business strategies to facilitate team performance. Additionally, it provides phone numbers, which can be used to make calls from anywhere and get live feeds on processes. Aircall integrates with 100+ third-party applications such as Salesforce, Zendesk, Pipedrive and Slack. Pricing is available on monthly subscriptions and support is provided via email, phone and chat.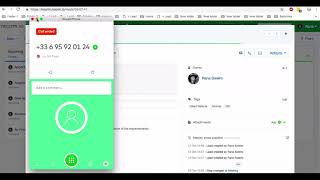 Aircall does not have a free version but does offer a free trial. Aircall paid version starts at US$30.00/month.
Starting Price:
US$30.00/month
Pricing Details:
Essentials: $30/user/month (billed annually) or $40/user/month (billed monthly). Professional call center features, unlimited inbound calls (toll-free excluded), integrations and API, smart queuing, phone support. Professional: $50/user/month (billed annually) or $70/user/month (billed monthly). All Essentials features, plus Salesforce integration, PowerDialer, advanced analytics and reporting, live call monitoring, unlimited concurrent calls, dedicated account manager and premium support. 1 number included in each plan. Add extra numbers on any plan for $6/month.
Industry: Consumer Services
Company size: 11-50 Employees
Used

Daily

for

2+ years

Review Source
---
I love AirCall, been using it for over four years now!
I've used this for over four years and introduced it at companies I've worked and consulted with. It's easy to use, low price, and the features are top-notch.
Pros
AirCall is very user-friendly and easy to deploy. The dashboard is very streamlined, and it's easy to set up additional features like IVR. The Call Monitoring feature is critical. It is really helpful with Sales, Retention, and Account Management. Helps me to hear exactly what's happening on the call, so that I can train my team members, and help them hone specific pitches.
Cons
I have no complaints, it's the best VOIP service I've used.
Response from

Aircall

Hi Jisselle, thank you so much for your lovely review. We are so happy to hear that you're having a great experience with Aircall. If there's ever anything you need help with, please don't hesitate to ask us. Cheers! - Max from Aircall

Replied 7/06/2022
Industry: Education Management
Company size: 2-10 Employees
Used

Daily

for

1-5 months

Review Source
---
Accuracy meets efficiency!
Our whole team attended the demo for the software and it was great, we had the chance to ask any questions throughout and it was all made really simple.
Pros
Great visibility throughout the application, so easy to navigate. The ease of transferring calls with the 'talk first' and overall just the intelligence behind it being made for any level of experience. I feel confident if I had a junior intern put onto the phones, I would barely have to cover anything within the app, it's all there.
Cons
Sometimes it doesn't remember my log-in details so prompts me to sign in again when it's been inactive for a certain period but it's easy enough to get straight back in.
Response from

Aircall

Hi Eden,

We really appreciate you for leaving such a thoughtful review! The ease of training new reps is definitely a benefit we hear from our customers regularly, so it's great to hear this has also been your experience.

Regarding logging in, we are in the process of revamping this feature, so hopefully you won't experience issues with remembering your credentials for too much longer.

Have a great day!

Cheers,
Max from Aircall

Replied 23/11/2021
Industry: Computer Software
Company size: 11-50 Employees
Used

Daily

for

1-5 months

Review Source
---
Expensive, Unreliable, Bad Customer Support - Avoid at all costs
Overall, I would say that I have WASTED several thousand dollars on a solution that seemed like it had everything we needed and just FAILED to deliver.
Pros
The product was easy to deploy. It checks the box on the features you want/need, but it DOES NOT deliver on any of them. System is down every week. All outbound calls are marked as SPAM. The support team is less than helpful. The call quality is HORRIBLE and has static across all staff members who use the system.
Cons
The call quality is horrible for both outbound and inbound calls.
The phone numbers are all marked as SPAM and their support team provides articles on how we have to fix it rather than resolving it themselves.
The service is SUPER expensive compared to Ring Central or other platforms that have better reliability
Response from

Aircall

Hi Garret,

Thank you for sharing your feedback with us. We are sorry that you've had a bad experience with us so far. I see that you've been in contact with our team, so hopefully we can find a way to resolve your concerns. Concerning the SPAM issue you've been having, this is an issue across all VoIP solutions for one major reason: the carriers in charge of issuing phone numbers resell numbers that have been previously abused and marked as SPAM by consumers. Instead of retiring these numbers, they get resold to us and we only find this out when our customers let us know. The best solution we can offer you is to replace these numbers. You can work with your Customer Success Manager directly, if you choose to go this route.

We hope that we can find a way to continue working together in the future.

Best,
Max from Aircall

Replied 23/06/2022
Industry: Banking
Company size: 1,001-5,000 Employees
Used

Daily

for

2+ years

Review Source
---
Improve the efficiency of the call center's day-to-day operations.
We can now see how many incoming calls we are receiving, which helps us estimate how many resources need to be allocated to a given workflow at any given time thanks to Aircall. We were also able to see what the crew was doing at all times so that we could keep track of everything.
Pros
Aircall helps us to streamline our call center operations, reduce the amount of time we spend on administrative tasks, and increase our overall managerial capacity. Easy to navigate thanks to everything being clearly labeled. As a large team's Planning Manager, it's important to me to know how to maximize the efficiency of our team members' phone calls, and I appreciate learning how to do so with the tools available to me. I appreciate Aircall's ability to keep calls in the cloud, as well as its various options for quickly returning and tracking conversations, both of which can be accomplished via the many third-party apps with which it integrates. I especially appreciate Aircall's dashboards, which provide us with all the information we need. I also appreciate how convenient the "click to call" feature is.
Cons
There isn't much to say, as Aircall is accurate and the user must have sufficient training to use the system effectively, other than that I find it difficult to set up all the tools on the monitoring page which I understand, but I don't need that because I have to monitor many teams at the same time.
Response from

Aircall

Hi Mario,

Thank you for taking the time to leave us a detailed review. We appreciate your feedback and are delighted to hear how the tool is helping to facilitate your role as the Planning Manager. If you have any questions regarding the monitoring page, please don't hesitate to contact your dedicated Customer Success Manager or our Customer Care Team via https://support.aircall.io/.

Best,
Leslie from Aircall

Replied 8/04/2022
Industry: Hospital & Health Care
Company size: 11-50 Employees
Used

Daily

for

Free Trial

Review Source
---
One of the best
I have used the free trial, worked amazingly. Integrates with Pipedrive as well. The only problem was the price. It was more than our budget
Pros
It's got everything you need for a smooth sales process. From the interface, to call recording, ease of use, transferring calls. Just perfect.
Cons
Software seems to be flawless, however, for a smaller sales operation like ours, the price was very high.
Response from

Aircall

Hi Selim, thank you so much for leaving this kind review! We are thrilled to hear that you had a nice trial experience. We hope that one day we'll get to work with you on a more permanent basis. Cheers! - Max

Replied 25/10/2021