About Deltek Vision
Deltek Vision is a cloud-based project-based solution for professional services firms that is available for cloud or on-premise deployment. It combines project accounting, resource management, project management, time/expense management and business development in one product. Deltek Vision provides critical business data in real-time through role-based graphical dashboards, customizable reports and alerts. With Deltek Vision, firms manage all aspects of financials including AP, AR, budgeting and revenue recognition with support for multi-currency and multi-company. Vision helps firms select the right people for the right projects and allows firms to monitor pipelines, track opportunities and manage client touches. Vision provides a full view of the client and the project from initial contract through project delivery and collection. Deltek Vision supports professional services firms such as management and IT consulting, market research and architecture and engineering. This solution offers tablet-friendly interfaces and mobile applications for iOS, Android and Windows mobile devices.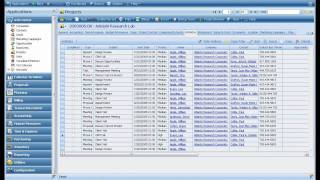 Deltek Vision does not have a free version and does not offer a free trial.
Alternatives to Deltek Vision
Used

Daily

for

2+ years

Review Source
---
Important business data in real time.
I am using Deltek Vision to identify problems affecting the performance of our company and hinder the successful implementation of some projects. I am also taking advantage of useful features to improve performance and complete projects successfully.
Pros
What I like about Deltek Vision modules are purchasing and asset management because they allow me to track purchase orders and fixed assets; It helps me to get new business, improve performance and optimize the operations of our company.
Cons
For some people within the company's user interface it is not always so friendly and does not have much ability to change the screen size.
In addition, it may not be ideal for companies that only require specific modules, since all the modules are included in the software.
Industry: Education Management
Company size: 501–1,000 Employees
Used

Daily

for

1+ year

Review Source
---
A Fully Integrated Solution Software with Great Features
Deltek Vision has a database where I can put all my information for each assignment / project. Deltek for me is a fully integrated service product that can provide Managers, Heads and other office staff detailed information about the financial status of any department or segment in real time.
Pros
Deltek Vision has easy to use tools that allow all the operators – from high level Managers to back office staff members the ability to view and understand where the company's resources and project budgets stand at any given time. Deltek Vision allows a lot of customization and flexibility that can be very helpful for any individual in his company. One amazing feature is that Deltek Vision provides extensive functions of project management all in one single program like expense reports, budget planning, time sheets, auditing etc. Managing work utilization is very useful for me because a lot of my team members are spread in distinct locations throughout the country who are working on the same project.
Cons
A major flaw of Deltek is that the system's outlook is very outdated. I personally felt that Deltek Vision was lacking in the expense report department. Reports are very hard to export. Even so, when I export the reports to excel, the formatting is completely undesirable, and I must spend a few minutes to format them.
Industry: Civil Engineering
Company size: 51–200 Employees
Used

Daily

for

2+ years

Review Source
---
Comprehensive software solution, but plan on building your processes around it
I've been the Vision champion in our organization since 2008 when we began to use it. Vision has been steadily improving over the past 10 years and also been getting left behind in innovation. Over our time with Vision we've evaluated other software at a few points and have not found a single solution that can provide a similar integrated experienced. The power of Vision and the reporting is built on Microsoft's SQL engine, but it does require users to be invested in learning it's use to get the most out of it. Without proper time devotion, training, and some trial and error it does leave users frustrated.
Along with the power of the product comes a lot of over-complication and reported amounts that often aren't as expected or isn't fully explained or clear on where the data is coming from and what it means. This is probably the primary problem with Vision in my eyes - data labeled in one area of the program isn't the same as data reported under the same or very similar label in another part of the program.
The end user experiences and ease of use is greatly lacking, but should be vastly improved as Vision is (finally) becoming modern and migrating from a .NET platform to a HTML/web-based platform. This upgrade shows promise of having better end user use and intuitiveness. We are hopeful that Vision will continue to be a tool for our company for many more years.
Pros
Powerful reporting and a mostly, all-in-one solution for managing our firm and projects
Cons
Usability. The lack of a user to be able to sit down with the product and pull the data they want without significant training. Data reported is calculated differently in part of the software - revenue in one area is actual billed amount while revenue in another is hours worked times billing rates.
Industry: Civil Engineering
Company size: 1,001–5,000 Employees
Used

Daily

for

6-12 months

Review Source
---
Great tools for Project Managers
I believe this program is a significant upgrade over my firm's previous time tracking program. We should see the benefits within several months.
Pros
This is the second iteration of Deltek that I have used and there have been great additions since the last version I used. There are so many great tools for project management and tracking performance metrics. I particularly like the ability to schedule your work and availability -- this is great for work sharing with different offices/teams.
Cons
There is a bit of a learning curve to get yourself up to speed using all of the programs capabilities, but there are good resources and tutorials available to make sure you are getting the most out of the product. If you are only using it for timesheet purposes, I am not sure it is worth the extra cost.
Company size: 11–50 Employees
Used

Daily

for

2+ years

Review Source
---
Phenomenal support and very expansive software set
Pros
Very responsive, very good support and never ending modules to make employees lives easier. We are currently using the Time and Expense mobile apps with little to no challenges. Setup took a bit of work but support was there ever step of the way. Any problem is corrected within hours instead of days.
Cons
Due to the complexity and versatility it is not as point and click for install or use as some other products. This is a very welcome trade off for me and my company as the benefits outweigh the cons.