About GetResponse
GetResponse is a comprehensive email marketing platform that provides small businesses, solopreneurs, coaches, and marketers with powerful and affordable tools to grow their audience, engage with their subscribers, and turn subscribers into paying customers. With over 25 years of expertise, our customers choose GetResponse for our user-friendly solution, award-winning 24/7 customer support, and powerful tools that go beyond email marketing – with automation, list growth, and additional communication tools like webinars and live chats to help businesses build their personal brand, sell their products and services, and build a community. GetResponse's powerful email marketing software includes AI-enhanced content creation tools, professional templates, easy-to-use design tools, and proven deliverability. Our customers are empowered with tools to build a website and unlimited landing pages, and create engaging pop-ups and signup forms. The marketing automation builder brings your ideal automated communication scenario to life with a visual builder that can grow with your needs. With our easy-to-use platform, proven expertise, and focus on user-friendly solutions, GetResponse is the ideal tool for small businesses, solopreneurs, coaches, and marketers looking to grow their audience, sell their products and services, and engage with their subscribers in a meaningful way.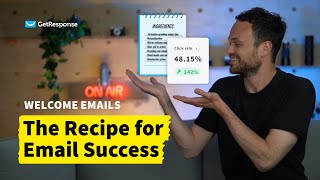 GetResponse has a free version and does not offer a free trial. GetResponse paid version starts at US$19.00/month.
Starting Price:
US$19.00/month
Alternatives to GetResponse
Industry: Accounting
Company size: 201–500 Employees
Used

Daily

for

2+ years

Review Source
---
getresponse the software that will help you increase your sales by 50%.
very happy as it made me reach 1m dollars in 2 years, in my course store business.
Pros
Hi,I am a frequent user as I have a business selling courses and the software helped me to bill 1m dollars in these 2 years because it helped me to get my potential customers to buy my courses,as well as it helped me this software will help you to have more sales,believe me it is better than other alternatives like clickfunnels as it costs less than 15 dollars a month compared to their competition,what are you waiting for!
Cons
nothing, since it is better to use templates, everything is already implemented so that your sales will be boosted.
Reasons for Choosing GetResponse
because it has all the necessary tools and at an affordable cost.
Reasons for Switching to GetResponse
its more complete interface and more varied content, but above all the cost per month is much lower.
Response from

GetResponse

Hi Jose!

Thanks for taking the time to leave a review. Your feedback is important to us! -Taylor

Replied 15/05/2021
Industry: Marketing & Advertising
Company size: 2–10 Employees
Used

Daily

for

1+ year

Review Source
---
My Getresponse Review
I absolutely love Getresponse and I use it daily. I easily design my marketing campaigns and even get customers to my landing page with the built in advert creator for Facebook and Google. My business cannot run without Getresponse.
Pros
Getresponse is a complete marketing automation tool. You don't need any other platforms. You can host your website, build beautifull landing pages, capture leads, place adverts in social media and google, and send unlimited emails to your list.
Cons
The only thing I can think of is that there are cheaper autoresponders on the market. However, these cheaper autoresponders do not provide the functionality and ease of use of Getresponse.
Reasons for Choosing GetResponse
Getresponse had more integrations with other software and more functionality to build an automated campaign on one platform.
Reasons for Switching to GetResponse
Getresponse had a whole lot more value to offer than the others. Email marketing is included and no need for smtp accounts. No hosting required as Getresponse has hosting. Landing pages are included which you normally have to design through wordpress or other hosting.
Response from

GetResponse

Hi Fabian!

Thanks for taking the time to leave such a detailed review! We really appreciate your feedback.

We'd love to collect more insights from you. If you're interested, please send us an email to [email protected]! -Taylor

Replied 2/08/2021
Industry: Electrical/Electronic Manufacturing
Company size: 5,001–10,000 Employees
Used

Daily

for

1-5 months

Review Source
---
THE SERVICE IS SIMPLY UNRELIABLE
5. Landing pages don't work on Internet Explorer and it takes 3 to 5 seconds to load them on Google Chrome (for one second you can see a landing page with original ugly fonts which is one of the software bugs I guess)
6. During our first meeting I specifically asked [SENSITIVE CONTENT HIDDEN] if customization is available for registration pages. She said yes. Later we found out that we can only use GetResponse registration form and cannot add custom fields to it. It was very important for us since we hoped to acquire more information about our attendees and use our own branding. She gave us misleading information. We had to create registration form by using landing pages which significantly reduced automation of the webinar (we had to set up reminders and thank you pages by ourselves) and eliminated calendar reminders for our webinars which significantly reduced our attendance rate.
7. There is a limit of 3 speakers.
8. You cannot prepare webinar room in advance. Each time during rehearsals we had to upload all materials (PPT, videos, polls etc.) 1 hour before the webinar which was quite inconvenient.
9. Our colleagues from China couldn't enter the webinar room, load the pages or had terrible connection during the webinar.
Pros
Nice e-mail marketing tools and wide choice of templates.
Cons
We purchased MAX account for 3 months.
1. During our first meeting sales representative [SENSITIVE CONTENT HIDDEN] "forgot" to mention that the minimum contract period is 3 months not 1 month as we initially planned to use MAX account for only 1 month. She dropped this information on us during our second meeting and we had to go with 3-months contract because of the schedule.
2. After we signed the contract, [SENSITIVE CONTENT HIDDEN] never ever again responded to my e-mails (I sent her multiple e-mails with important questions regarding the payment conditions).
3. We signed the contract in the end of August and informed our Account manager that the payment will be made within 2 to 3 weeks (which is a standard amount of time for large organizations). We hoped to start working on the platform immediately but our Account manager didn't want to move to the next step without seeing the receipt. The response time from him was 2 to 3 days despite on the fact that we are in the same time zone and some features were unavailable to us until the payment was made. We end up paying for 3 weeks (end of August - mid of September) during which we couldn't even use the platform at its full potential.
4. Be ready that Getresponse (Clickmeeting) webinars simply won't work on multiple browsers including Internet Explorer, Edge and some Chinese browsers. Our attendees also had connection problems when using iOS Safari browsers and Firefox. (By the way System Requirements on their website state completely different information)
Response from

GetResponse

Hi there. I do apologize that you had these experiences with GetResponse. If you would like me to look into this further for you, please email me at [email protected]. -Taylor

Replied 7/12/2020
Industry: Health, Wellness & Fitness
Company size: Self Employed
Used

Weekly

for

1-5 months

Review Source
---
Targeted digital marketing at an affordable price
GetResponse is a very valuable asset to streamline lead captures and segmented email marketing without compromising quality and the bank account.
Pros
Getresponse offers a user-friendly platform to create and execute email marketing campaigns. The landing page and website creator is easy to setup, the AI email generator and segmentation features lets us capture leads and send personalized offers saving time while ensuring consistent content, all at an affordable price. Its a great platform to start your business and scale.
Cons
If you are seeking intricate designg might be slightly limiting, but the remaining features make up for it.
Response from

GetResponse

Hello,

Thank you for your valuable feedback. We're delighted that you find GetResponse user-friendly, efficient, and affordable for email marketing. Our AI email generator and segmentation features aim to save time while maintaining personalized content.

We appreciate your input about design limitations, and we're committed to improving our platform continually. We're thrilled to be your asset for streamlining lead captures and email marketing.

Should you have any questions or further feedback, please reach out to our dedicated support team. Your success is our priority.

Best Regards,
Abbie

Replied 21/08/2023
Industry: Pharmaceuticals
Company size: 501–1,000 Employees
Used

Daily

for

Free Trial

Review Source
---
Efficiency and Effectiveness Combined: Unveiling the Capabilities of GetResponse
I used GetResponse during my internship at the University's Department of Pharmaceutical Development and Research to inform our stakeholders, such as researchers, colleagues, and industry partners, about updates and research findings. The program worked well in organizing our email marketing and keeping our audience interested. GetResponse's user-friendly UI and adaptable templates made creating emails simple while maintaining brand coherence. Through the delivery of customized messages based on subscriber behavior, the automation features facilitated the simplification of communication. We were able to improve our plans thanks to the statistics of the platform, which gave us information on how effective our advertisements were. GetResponse significantly improved our research communication and stakeholder participation thanks to its dependable deliverability and helpful customer service.
Pros
GetResponse provides organizations with a full range of email marketing solutions that enable them to establish and maintain relationships with their audience. Even for amateurs, it is simple to design professional-looking email campaigns with its user-friendly editor and drag-and-drop functionality. The automation features of GetResponse make it possible for targeted and tailored communication, which helps businesses save time and engage subscribers when it matters most. The platform's advanced analytics offer insightful information about the effectiveness of campaigns and enable data-driven adjustments. GetResponse is a flexible all-in-one solution for digital marketing because it also provides a variety of extra capabilities including landing page development, webinars, and e-commerce connection. GetResponse is a great option for companies looking to improve their email marketing strategies because of its dependable deliverability and quick customer service.
Cons
Despite GetResponse's extensive feature set, there are a few things to keep in mind. The user interface's wealth of options and capabilities may be a little too much for some users to handle. Even if the automated workflows are effective, setting up more complicated scenarios may involve a small learning curve. A further drawback for companies on a tight budget may be the fact that some advanced features and integrations are only offered on higher-tier contracts. Despite these minor flaws, GetResponse is a dependable option for companies trying to streamline and improve their email marketing efforts because of its extensive feature set, deliverability rates, and customer service.
Response from

GetResponse

Hi Angelica,

Thanks for writing a review. We're so glad you're loving the GetResponse platform and our email marketing features!

Justyna

Replied 23/06/2023