About ActiveCampaign
ActiveCampaign's category-defining customer experience automation platform (CXA) helps over 130,000 businesses in 170 countries meaningfully engage with their customers. The platform gives businesses of all sizes access to 500+ pre-built automations that combine email marketing, marketing automation and CRM for powerful segmentation and personalization across social, email, messaging, chat and text. Over 75% of ActiveCampaign's customers use its 850+ integrations including Microsoft, Shopify, Square, Facebook, and Salesforce. Pricing starts at just $9/month. - Automate personalized experiences across all your customer touchpoints - Track buyer preferences, behavior, and many custom attributes across the entire customer lifecycle for deeper segmentation and more effective outreach - Customize sends based on almost any parameter, so your messages are always targeted for the right audience - Use data from the entire customer lifecycle to choose the best content, send time, and delivery channel for each customer - Create entirely customized campaigns with minimal effort, then improve your send strategy in real time based on customer behaviors - Replicate the 1-1 personal experience for every customer, no matter how big your business gets ActiveCampaign offers free customer service, including live chat and phone support, a self-help knowledge base and complementary data migration from other programs. It also offers one-on-one consulting, expedited support and free custom design services for enterprise customers.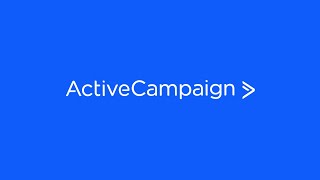 ActiveCampaign does not have a free version but does offer a free trial. ActiveCampaign paid version starts at US$15.00/month.
Starting Price:
US$15.00/month
Alternatives to ActiveCampaign
Industry: Printing
Company size: 201–500 Employees
Used

Daily

for

2+ years

Review Source
---
Marketing with passion and purpose, ActiveCampaign is a deal-breaker.
Marketing is the heart of any business and achieving well performing marketing activities that are yielding results is something we can attribute to ActiveCampaign. It helps us have more yielding marketing activities which has seen us improve on our customers attraction and retention.
Pros
ActiveCampaign opens the door for rendering more dynamic and resilient marketing campaigns that are strategized to attract a d bring onboard more customers. It ease the communications during the marketing stage which is a crucial aspect for building trust with new customers. ActiveCampaign simplifies the time consuming marketing activities by offering automations to take care of the repetitive tasks which takes up a lot of time and energy.
Cons
Am yet to come across any aspect about ActiveCampaign that i can say does not please me or meet my expectations.
Industry: Marketing & Advertising
Company size: 2–10 Employees
Used

Monthly

for

1+ year

Review Source
---
Beware of annual billing!
They are eager to help you use their product but not helpful when you decide to leave.
Pros
ActiveCampaign is generally a good ESP for basic email automation.
Cons
I am frustrated that I moved off of ActiveCampaign, and they billed my account without a reminder notice. I contacted them 1-day after the charge showed up, and they won't provide a full or pro-rated refund. I find this to be deceptive. If they are going to use automated annual billing, the very least they can do is send you an email reminder before the payment is billed.
Industry: Music
Company size: 2–10 Employees
Used

Monthly

for

2+ years

Review Source
---
It was better and now is stripped, expensive, no customer support when I need it. Ready to...
I moved from Constant contact many years ago and now I have to move again.
Pros
The looked professional few years back and was easy to talk to support.
Cons
I can't get to talk to anybody and and all templates and support is extra paid. And it's confusing who do you need to talk to?
Industry: Marketing & Advertising
Company size: Self Employed
Used

Daily

for

2+ years

Review Source
---
ActiveCampaing is the best tool for marketing an customer management!
From the moment I began using ActiveCampaign, it transformed the way I approach email marketing. The platform offers an amalgamation of depth and simplicity. While the features are advanced, they are laid out in a manner that's easy to grasp. The support team deserves special mention. They've been consistently responsive and helpful, guiding me through any challenges. Whether it's managing contacts, setting up automations, or diving deep into analytics, ActiveCampaign has provided a reliable and efficient experience.
Pros
ActiveCampaign truly stands out in its user-friendly interface and powerful automation capabilities. The platform offers an extensive set of tools that make email marketing, segmentation, and automation a breeze. The built-in CRM is a game-changer, seamlessly integrating all my contact details and interaction histories. It also provides insightful tracking features, ensuring I understand my audience's behavior and can tailor my campaigns accordingly. Moreover, the level of customization available for emails, combined with the intuitive visual automation builder, has helped in crafting high-performing campaigns.
Cons
Honestly, there's not much to criticize given its overall performance. However, for newcomers to email marketing or those used to more basic platforms, there might be a bit of a learning curve initially. The vast array of features, while advantageous, can be a little overwhelming.
Reasons for Switching to ActiveCampaign
When considering other products in the market, it was clear that while many offered bits and pieces of what ActiveCampaign provides, none encapsulated its entire suite of tools. Platforms like Mailchimp and HubSpot were on the list, but ActiveCampaign's robust automation capabilities, combined with its CRM and pricing structure, made it the most attractive option. The positive reviews and its reputation in the community further solidified the decision.In conclusion, ActiveCampaign has become an indispensable tool in my marketing arsenal. For anyone serious about elevating their email marketing game, I wholeheartedly recommend giving it a try.
Industry: Information Technology & Services
Company size: 2–10 Employees
Used

Daily

for

1+ year

Review Source
---
A great all round tool for an customer lead generation, email and marketing automations
Positive experience even with the learning curve and on-going deliverability issues.
Pros
The tool is affordable, which is great for startups and SMEs looking to get up and running with an all-inclusive tool that can be a great fit for today and continue to be as you scale up or down.
Cons
We have had ongoing problems with consistent "deliverability", which is resulting in lost revenue opportunity. Apart from this, we have to mention that there is a slight learning curve to becoming proficient with activecampaign. Therefore, definitely consider hiring a professional to help you get up and running.