About Nutshell
Nutshell is an all-in-one CRM and email marketing platform that helps B2B organizations work together to win more deals. Simple enough for any user and sophisticated enough for any business, Nutshell is built for teams who are tired of juggling separate sales and marketing tools and don't want to pay a full-time admin to manage their software. Every Nutshell subscription includes unlimited CRM contacts and data storage, fully customizable reporting tools, free data migration assistance, and world-class live support, all at an extremely affordable price. Nutshell integrates with the software small businesses already use, including Google Workspace/Gmail, Microsoft Office/Outlook, QuickBooks Online, Intercom, and Slack. Nutshell also offers native iPhone and Android apps, allowing sales reps to create, search, and edit contact information while in the field. Launched in 2010, Nutshell serves thousands of businesses around the world and has been named a top CRM for both user-friendliness and affordability. Nutshell has been honored as a "Leader" in G2's Grid® Report for CRM every quarter since Fall 2020. In 2021, Nutshell released Nutshell Marketing, which allows Nutshell customers to design and send beautiful marketing emails and automated drip sequences, and instantly measure their engagement, directly out of Nutshell. Nutshell Marketing seamlessly connects to your CRM data, so you can target custom audiences in a snap and manage all your outreach out of a single tool.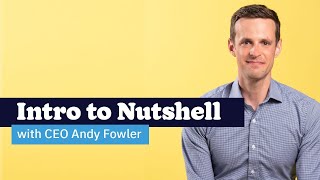 Nutshell does not have a free version but does offer a free trial. Nutshell paid version starts at US$19.00/month.
Starting Price:
US$19.00/month
Industry: E-Learning
Company size: 11–50 Employees
Used

Daily

for

1+ year

Review Source
---
Perfect CRM for service companies for B2B
Easy to implement, with loads of tailor-made features for Small or medium-sized businesses. The connection to Outlook is good!
Pros
The list of functionality is impressive and very easy to learn, customize and implement. Customize list, merge contacts or companies, and the reporting features were all great ones for software at this price
Cons
Some of the reporting is limited, but it is still better than most we have tried, Also, the interface is not the sexiest around, but it does the job.
Reasons for Switching to Nutshell
The price versus quality was much better with Nushell. And the B2B sales features that allowed us to serve individual customers were also solid.
Industry: Computer Software
Company size: 51–200 Employees
Used

Daily

for

2+ years

Review Source
---
I used to sell CRM and Nutshell is a fantastic value with great features
Our team is extremely happy with Nutshell. I sold CRM for 6 years before coming to this company and right before using Nutshell. I have been pleasantly surprised by the platform. I have used Sales Force and many other CRMS that can be overkill in features and size for a small team. We are 60 employee company with only a handful of users in Nutshell. For a small team, this tool has been perfect for us.
Pros
I love the ease of use. Intuitive UI. They launch new features and improve existing ones.
Cons
It has been really difficult to manage duplicates. Lots of dups are created instead of updated. Dups are also suggested when they are no where close to being the same.
Industry: Mining & Metals
Company size: 11–50 Employees
Used

Daily

for

2+ years

Review Source
---
leads don't allow you to easily sell services, only products. After sale service is hindered.
We get a cost effective CRM that frees up cash flow for use elsewhere in our business.
Pros
Nutshell offers a unique ability to tag people in activities and run reports on calling activities for my sales reps.
Cons
Every lead typically has a company or contact. But if you don't save the activity in the lead, and instead under the company or individual contact, you can't see it when your client calls in regarding the sale they want service for, so your customer service is hindered and your sales people look like they don't know the history of the account. It's embarrassing to use this software because Nutshell says they are only helping to land the sale, not support it, but this mindset about how they build their software results in a horrible disconnect with regards to how we are forced to serve our customers, and thus we are using a CRM that doesn't support the full life cycle of a sale. We keep hoping Nutshell will fix this and improve because their customer service is great, and their people mean well, but after several years of patiently waiting, we are concerned that we may never see this problem fixed. The mobile app also has so many glitches with the UX that it can't even compare the experience to how you can use leads in a web browser. Further, when we have a customer call in to ask about their account, the recent leads puts the oldest first in the list, which means we have to scroll through several hundred orders just to open the last order we did for that client. If you are trying to sell to a major corporate account with multiple facilities / departments, forget it with Nutshell; linking subcompanies / vendors / partners / other locations is a nightmare in Nutshell.
Industry: Leisure, Travel & Tourism
Company size: 2–10 Employees
Used

Daily

for

2+ years

Review Source
---
A value for money product but be warned it is very buggy!
Generally speaking, the software is easy to use and also easy to setup however it is frustrating that there are bugs in some of the basic software components
Pros
Nutshell is a cost-effective product. Most other similar products are a lot more expensive. One of the unique things about Nutshell is its custom email templates which engage placeholder settings. This means you can customise an email template but include elements or placeholders that need to be customised on a per-email basis so the software will not let you send the email unless the placeholder is attended to.
Cons
Sadly Nutshell is very buggy and the CS and developer teams seem completely uninterested in resolving my complaints about the software. These are basic features mainly within the templating software which I have told Nutshell about countless times, yet they seem uninterested in resolving them. Sadly the bugs can make for a frustrating experience on some occasions. What is even more annoying is that they continue to turn out useless features that are half-baked rather than spending some time fixing the issues at the centre of their core product.
Reasons for Switching to Nutshell
Nutshell felt a lot easier to setup and use and the sales team were a lot more attentive and helpful!
Industry: Hospital & Health Care
Company size: 51–200 Employees
Used

Daily

for

2+ years

Review Source
---
One of the best CRM platforms! User friendly and very engaging for our agency!
Overall I am extremely please with Nutshell! I like how the platform is laid out. The tools used to help are incredible and the agents that work for Nutshell are easily available to chat with 24/7. They have prompt response time and can almost always solve the issue!
Pros
I like how the platform is laid out. The tools used to help are incredible and the agents that work for Nutshell are easily available to chat with 24/7. They have prompt response time and can almost always solve the issue!
Cons
The base platform doesn't have as many perks as Nutshell Pro, but it has to work for your company. Being in home care industry the Nutshell pro made sense for us!