About 3CX
3CX Phone System is an open standards communications solution, suitable for any sized business that wants all the features of an advanced contact center at a fraction of the cost. 3CX can take your business communications to the next level, helping to improve collaboration, boost productivity, increase mobility and enhance the customer experience. Installation and maintenance can be handled effortlessly by anyone, whether installed on-premises on Windows or Linux on an appliance or server, or in the cloud.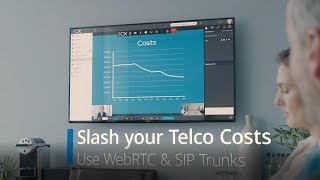 3CX has a free version and offers a free trial. 3CX paid version starts at $0.00/year.
Industry: Information Technology & Services
Company size: 11-50 Employees
Used

Daily

for

2+ years

Review Source
---
The best VoIP phone system for small businesses
We had a customer that had 3 different companies within the walls of the building. We were able to configure each company separately so that their rules, hours, and each had different SIP providers that needed to be configured up properly. Each had their own digital assistant and the system setup took only a few hours to complete with all the complexity that was involved. Technical support was outstanding in assisting with the troubleshooting and setup.
Pros
The 8 concurrent call Standard License is free to all companies. This makes it a perfect solution for churches, small businesses, and as the small businesses grow into medium sized businesses, the annual cost for the license with higher concurrent calls is nominal. When companies switch from the POTS lines, they need to figure out a good solution for VoIP. 3cx is lower cost than RingCentral and 8x8 as well as many other competing VoIP softwares.
Cons
Putting in supported APAP adapters is great, but when a customer has a non supported adapter, it usually works, but doesn't play nicely with the software as far as configuring it easily.
Response from

3CX

Sincere thanks for your feedback.

Replied 29/11/2019
Industry: Logistics & Supply Chain
Company size: 11-50 Employees
Used

Daily

for

1+ year

Review Source
---
3CX is fine, but it is all about who handles the hosting
3CX feels like it is a step up from a normal landline, but I don't see any wow factors that I feel like I could get from some of the other VoIP names.
If you're looking for something less expensive than Ring Central, Phone.com, and OnSip, then you should be able to find a small VoIP provider willing to offer you a hosted package with 3CX for a lower price.
Pros
3CX is straightforward. It seems to have all the necessary features for a small business. Still, as a business owner who cannot work on the admin side, I can only comment on the usability and stability.
Compared to other softphone apps, I've never had significant issues. I use 3CX as a softphone on an iPhone, through a Yealink desk phone, via Chrome plugin, and on an iPad. Surprisingly, the limitations I see are not due to the daily functions.
There are some features I would like, but there is nothing about this app that hinders my company's ability to operate without delay. We have users in China, Thailand, the Philippines, Jamacia, Venezuela, and the US. All locations work well, and the apps work even with limited internet access.
There are times when the connection is not great, but this is usually due to the internet and not the apps.
Cons
There is no way for my ringer on my softphone or desk phone to be customized to ring differently when someone calls my extension vs. ring group. I wish there were connectivity with Zapier so that I could push contacts from other services into our address book.
It would be nice if the SMS chat feature worked more similarly to a shared inbox, where everyone could see it. You can only transfer the chat to another extension, which makes SMS hard to use as a group.
Overall, the cons are not about the ability to use 3CX but the features I wish it had that could provide a better overall experience.
Response from

3CX

Hi Sam and thank you for your review! We are glad to hear that you are enjoying using our software and that it has helped you stay in touch with your employees throughout the world!
Regarding the points you raised, desk phones can be configured to have distinctive ringtones for Queue Calls, so you should certainly consider switching to using Queues instead of Ring Groups. Apart from this, you would also get better reporting capabilities and a lot more polling strategies to choose from.
For syncing you phonebook contacts, we do currently offer integration with Microsoft 365, but in the coming updates we will have a REST API that may also allow you to interact with the 3CX Phonebook, giving you the maximum flexibility in syncing your contacts between various platforms.
Incoming SMS messages can be sent either to an Individual Extension or to a Queue, in which case all logged in members of that Queue will see incoming messages.

Replied 1/06/2022
Industry: Computer & Network Security
Company size: 501-1,000 Employees
Used

Weekly

for

6-12 months

Review Source
---
3CX is useful, but setting it up has been hard
Pros
My apartment complex does not intercom set up on every house, so the central simulates this communication using 3CX.
It is very handy, since no physical installation had to be done to the apartment.
Cons
The setup depends on the configuration file sent by the central. It worked on the first use, but then, if you migrate to a new phone, then it needs to be set up again, instead of associating the configuration profile with an account the user can create and use in different devices.
Response from

3CX

Hi Fabio and thanks for your feedback!
3CX has many features that make it a perfect option for many types of businesses and environments, so we are glad to hear that 3CX helped you.
In regards to the configuration of the phones, this is mainly done for security reasons. There are very easy ways though to configure a new phone with your 3CX, e.g. by scanning a QR code through your WebClient.
For the best experience, we suggest you contact a 3CX Partner to help you with your setup and also walk you through all the capabilities and options you have.

Replied 27/05/2022
Industry: Veterinary
Company size: 11-50 Employees
Used

Daily

for

1+ year

Review Source
---
3cx
Pros
I think that the call recording is very useful, we have had to listen to recordings multiple times for different scenarios and it has always come in handy. I love that all of our voicemails come directly to our email address, because we are able to check for new ones frequently throughout the day.
Cons
The only complaint I have about this software is the messaging feature, the messages only come to one computer so if that computer is not routinely monitored the messages never get read.
Response from

3CX

Hi Jacqueline, thank you for sharing your review. It looks like your team is making good use of the call recordings, and finding the feature really useful. We are happy to hear you have had such a great experience with 3CX!

Replied 15/06/2022
Industry: Computer Software
Company size: 11-50 Employees
Used

Daily

for

1+ year

Review Source
---
Serves small businesses very well for free.
In my opinion, it is a very good tool and hardly ever had problems, because the tool is very stable and with a very good usability, serving very well small businesses.
Pros
• It is free.
• Assists in the company's internal communication.
• It is always updated with improvements.
• Ease of receiving and transferring calls.
• Ease of configuration and installation by the end user.
Cons
• We used the trial version quietly for 1 year, but due to technical problems due to a codec, it caused a major internal problem where we stayed 3 days without a phone. For this reason the support of the company that provides the service asked us to change the application.
Response from

3CX

We are sorry to hear that you had codec issues. Can you explain which codec was used and what issues it created?
Codecs work using the SIP Offer - Answer model - a standard in SIP used for the update of session dialogs. This means that when a codec is offered by one endpoint (phone), and the receiving endpoint answers "no available codec" then a codec exchange occurs where both endpoints try to find one common codec (language) to use for their media. Like this every call is serviced and has more chances to get 2 way audio. It is important to tell us which codec you tried to use. Because firstly, we might have an issue to investigate or we might also give you an alternative codec you can use. We support all major codecs so I am surprised how the company that serves you recommended that you change the whole app.

Nonetheless, thank you for your feedback. I will forward this to the development team.

Replied 20/01/2020