About Absorb LMS
Absorb LMS is a powerful cloud-based learning management system (LMS) designed to boost engagement and learning outcomes, while still being incredibly scalable and usable. Clients marvel at how quickly they can get up and running, gaining productivity with automated features and reporting, while feeling supported by in-house experts with direct access to the team building the software. Whether you are training internal employees, external audiences or worldwide partners, onboarding staff or developing new skills, Absorb LMS empowers you to thrive by tapping learning technology, proven to scale as your business grows. Users can create unique branding for different departments, customers or clients. Additionally, its responsive learner interface works on any device, includes full e-commerce out-of-the-box and supports xAPI, SCORM and AICC. Absorb takes compliance and data security very seriously, offering WCAG 2.0 compliance for both learners and administrators, SOC 2 Type 2 compliance, GDPR compliance and worldwide AWS servers to power international training operations. Join a growing community of customers building learning cultures—and driving tangible results.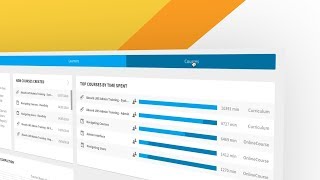 Absorb LMS does not have a free version but does offer a free trial.
Pricing Details:
- A one-time setup fee includes: Portal Configuration and UI Branding, Absorb Shopping Cart Integration with Select Payment Gateways, Admin Training, Unlimited Storage, Premium Client Support - A tiered user fee based on usage - Upgrade learners' experiences with Absorb Engage - For deeper more customized analytics upgrade with Absorb Analyze Contact Absorb for a personalized quote.
View Pricing Plans
Alternatives to Absorb LMS
Industry: Telecommunications
Company size: 201-500 Employees
Review Source
---
Absorb is the perfect LMS!
Absorb is so powerful and easy to use. The company itself is great to work with. Their customer service staff is so nice and friendly, and the project manager and account manager I worked with helped me every step of the way. The interface is gorgeous and importing your learners is a snap. I love that Absorb has built-in quizzes that I can create in seconds. I also love that I was able to work with Absorb's designers to customize the branding for our company. Creating certification programs and badges was easy. You can upload or link to practically any type of media. Customized reports can quickly be generated. Grouping learners into categories to deploy specific training is also painless. You can create contest, polls and gamify the learning experience. Ultimately, Absorb is fast, easy, gorgeous and even if you're a staff of one or two (like me) you can easily manage hundreds of learners and dozens of online courses. I love Absorb!
Pros
Fantastic customer support
Easy to use design
Quick import of new learners
Easily upload any type of multimedia
Customizable interface for branding
Out of the box solution at a reasonable price point
No extra IT or web developer support required
Cons
It would be great to:
- Quickly switch between Admin and Learner to see a course
- Create a "test" user who can take courses over and over again just to test functionality without having to enroll, un-enroll and then re-enroll
- Show and disable the contest feature (without having customer support perform this function)
Industry: Computer Software
Company size: 201-500 Employees
Used

Daily

for

1-5 months

Review Source
---
Easy to use LMS platform with the right amount of features for our needs
We were looking for an LMS platform for internal training that could be expanded to customer training afterwards. The sales engagement with Absorb LMS has been a great experience, providing us with the tools and knowledge to properly evaluate the platform (including a trial portal which we could test with our own content).
Onboarding was well structured, with a clear plan of tasks to accomplish both on our side and on the vendor side. Absorb provides a series of well-made self-training modules to go through, which complemented the training provided by the implementation project manager.
Compared to other LMS, the platform itself is easy to use while providing a good breadth of features for our use. It's a mature product, with a solid backend. We did not experience any performance issues or security concerns.
Look and feel customization is relatively basic. The interface is also quite rigid: for example, thumbnails or banners must have precise dimensions, otherwise images are stretched. Because of that it requires a lot of efforts, trials and errors, if you want to have a visual experience distinct from the Absorb default.
The main shortcoming we experienced is that some common workflows could be streamlined. They can involve a lot of clicks, which is irritating when you're repeating the same workflow several times in a row. Keyboard shortcuts could be introduced to facilitate some operations, which would alleviate this.
Pros
Easy to use
Solid onboarding training for admins
Provides content hosting
Supports SCORM and xAPI (Tin Can)
Supports Instructor Led Classes
Zoom integration
BambooHR integration
Salesforce integration
Overall mature platform
Great customer support
Cons
Look and feel customization lacks flexibility
Some workflows could be streamlined, especially for course management
No actual course authoring functionality: users need to import learning objects created with external tools, such as 3rd party eLearning authoring tools. This is fine for our needs, but it would add flexibility if there was at least some content authoring functionalities.
Reasons for Switching to Absorb LMS
The intersection of ease of use, features, customer service and costs of Absorb was superior to all other alternatives we considered. Some were superior in terms features but were too expensive for our needs. Some were less expensive but the customer service was a concern. Some were not as user-friendly. It all came down to that equation: ease of use + features + services + costs. Absorb LMS hit the sweet spot for us.
Industry: Construction
Company size: 1,001-5,000 Employees
Used

Daily

for

6-12 months

Review Source
---
Great Software, Suffers terribly from its customer service.
I rushed into this purchase a little and didnt investigate the level of support that would be offered. In hindsight this would have been a game changer for me as I would have went elsewhere.
The software is good, though it doesnt manage blended learning easily which is frustrating.
Customer Support is absolutely non existent.
Pros
Good User Interface,
Good Course Management.
Good sync with BambooHR on most things.
Good Learner interface.
Good Customisation options.
Cons
Difficult to manage blended learning.
Some factors in course management could use improvements. (Managing assessments)
Cannot see how many absences from courses that users have.
Some issues with how it syncs with Bamboo(overwriting course information)
Customer Support is non existent. 10+ days to resolve any issues. Most issues I have to try and resolve myself by resetting and that causes me other issue.
Can sometimes be 'buggy' and will introduce random bugs which can be time consuming to fix and result in me resetting the system sync.
Industry: Oil & Energy
Company size: 201-500 Employees
Used

Daily

for

2+ years

Review Source
---
Making My Life Easier
My overall experience has been great. The LMS has allowed me to build an entire corporate training program while simultaneously building the LMS to support it. The time-based credential reporting and compliance tracking has allowed to avoid those possible awkward moments with clients' specific training requirements. With this tracking and reporting, we're also able to respond to a client's immediate need by knowing who is qualified and current on a given access or occupational training requirement.
Pros
The Absorb LMS is easily customizable and Admin/Learner user-friendly. This allowed me to expand my Training effort and capabilities with not only scope but greater efficiencies in that I can customize the LMS to meet the varying needs of my different stakeholders.
Cons
If there is a negative, it is in the format of the Training Transcript when printed, or exported as an electronic file. The courses appear in alphabetical order without the ability to filter for a time period, or sort chronologically. This frustrates Supervisors who then have to review the entire transcript to find what training an employee has completed in the last year. I understand the Transcript are being reworked by Absorb for 2022, so this may become a non-issue.
Reasons for Choosing Absorb LMS
I was seeking a fully supported proprietary platform with the enhanced features and functionality my training program had grown to demand.
Reasons for Switching to Absorb LMS
Absorb met the overlapping sweet spot between cost, features, supported company size, and alignment with the structure of our training program.
Industry: Information Technology & Services
Company size: 11-50 Employees
Used

Weekly

for

6-12 months

Review Source
---
Cloud-based learning management system.
It is the leading eLearning solution. It delivers consonant, on-brand training nonetheless of location or learning requirements. It supports branded interfaces, responsive design, and social learning. It remains available 24*7 from anywhere. If you need any help, you will always find a absorb employee. One major benefit is that it maintains the LMS compliance standards for privacy protection and data security. It empowers learning even if you do not have an internet connection. Its mobile app maintains consistency with web LMS and learners can train offline. When the internet connection restores, course progression syncs automatically.
Pros
It is designed for all kinds of learners and organizations no matter you are a large corporation, mid-size business, or small business. It has made it easier to develop and manage training programs for both external and internal shareholders. Its main focus is on lining up learning needs with the demands of the business. It inspires business productivity. It empowers organizations all over the world to deliver training efficiently.
Cons
It is pretty expensive. Its tech support is not able to solve an issue. Sometimes, it does not do reporting at the level that you need it and results in reports that require much more manual work to meet the requirements. Also, dashboards of repotting have various column options that make it difficult to see information in one place. It lacks versioning. Thus, whenever you update a course, you will have to re-enroll all users. It has limited assessment options. So it should more options so that learners will have various paths leading to the same goal.