About Paylocity
Paylocity is a cloud-based human capital management (HCM) platform that provides human resources and payroll management tools to help businesses manage core HR functions. Key features include payroll processing, benefits administration, time management, talent management, employee engagement, an integrated applicant tracking system (ATS) and data insights. Paylocity's payroll module allows businesses to simplify payroll operations, automate processes, and stay tax compliant. With expense management, payroll administrators can eliminate spreadsheets and payroll calculators by automatically pulling expenses into Paylocity. With the pre-process register, users can preview, correct and verify employee paychecks before processing payroll. Businesses can also utilize Paylocity's payroll service to manage tax filings and wage garnishments. Paylocity's core HR enables businesses to manage HR functions using quick-edit templates, custom checklists, action forms, position management, and dynamic reporting.
What is Paylocity?
Paylocity is an all-in-one HR and payroll suite that provides modern workforce management solutions.

How do you use Paylocity?

With Paylocity's web application, users can access a unified HR and payroll dashboard with all employee details. A self-service portal allows employees to complete HR tasks, access pay information, and read company news.
Who uses Paylocity?
Paylocity is used by HR and payroll professionals in U.S. based businesses of any size across many industries including financial services, healthcare, manufacturing, education, and others.
How much does Paylocity cost?
Paylocity does not share pricing details publicly. Please contact Paylocity for information on starting price and available plans or tiers.
Does Paylocity have an app?
Yes, Paylocity has a mobile app (for iOS and Android) where employees can clock in/out, request time off, access pay info, and more.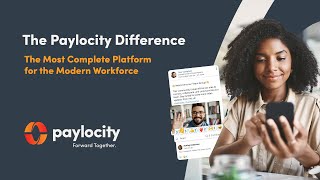 Paylocity does not have a free version and does not offer a free trial.
Alternatives to Paylocity
Industry: Machinery
Company size: 51–200 Employees
Used

Daily

for

6-12 months

Review Source
---
Best HCM software I've used!
This is the best HCM software that I've used compared to ADP, Sage Abra, Paychex, and PlanSource.
Pros
The ease of use is great, the software is so user friendly and easy to learn.
Cons
There are a couple of functionalities that I wish we had within the system and that the report write tool would be easier to use.
Reasons for Choosing Paylocity
We wanted a more user friendly and update software planform.
Reasons for Switching to Paylocity
It had all the product features and planforms we were looking for.
Industry: Hospital & Health Care
Company size: 10,000+ Employees
Used

Daily

for

2+ years

Review Source
---
Paylocity can be used effectively with little to no training
Paylocity is a highly flexible solution that can grow with a company of any size. From an employee's point of view, the interface is simple and the selections are straightforward.
Pros
Paylocity has a great interface. We use it to manage payroll for a client base of 100+. It's simple to use, learn, and manage from a managerial and end-user perspective. The technology simplifies the process of hiring new staff members, managing existing ones, and making necessary changes. We're satisfied with it internally, and so are our customers.
Cons
Too many checkboxes to fill out, cumbersome document uploading, and an inaccessible "cause for termination" form are just a few of the complaints that have been voiced about the system.
Industry: Hospitality
Company size: 201–500 Employees
Used

Weekly

for

2+ years

Review Source
---
Hospitality / Country Club Review
Paylocity is good at getting the answers to questions and follow through but they do not proactively have the answers ready for when we ask.
Pros
Paylocity has some really great features like a payroll import for one-off charges, reimbursements, etc. They also offer a preview payroll register so multiple people can review before it gets transmitted.
Cons
When we started with Paylocity, we had a dedicated point of contact who everyone in the office used from HR to accounting-we all spoke the same language. That person seems to change very frequently now so there is less of a feeling of comfort like someone knows our business needs.
Industry: Restaurants
Company size: 201–500 Employees
Used

Weekly

for

2+ years

Review Source
---
Paylocity is great!
Overall, we are very pleased with Paylocity. We've tried all the big ones (ADP, Paychex, etc) but have never had great experiences with those companies. Paylocity takes care of our every payroll need and reports tax information to the government accurately and timely on our behalf.
Pros
Paylocity makes processing payroll easy. I process payroll for 6 entities and Paylocity makes this an easy task by allowing data imports from POS systems for some locations and time & labor tracking within Paylocity for others. Additionally, all onboarding is done within Paylocity so no need for paperwork or saving employee legal documents outside of Paylocity.
Cons
Sometime customer service can be hard to reach for questions but they do eventually get back to you with resources.
Industry: Hospital & Health Care
Company size: 10,000+ Employees
Used

Daily

for

1+ year

Review Source
---
All HR processes can be automated using Paylocity
One-stop payroll processing for maximum convenience. It files payroll taxes and does the math automatically. It's also a great tool for getting new hires up and running. Because of how easily it can be done now, no special training is required.
Pros
Excellent service is provided to customers. Every time I've had to contact customer support, I've been blown away with the kind of service I've received. I've never had to wait more than a minute to get an answer to a query I've had.
Cons
There isn't anything about Paylocity that bothers me. Everything is explained clearly and in terms that a newbie can grasp. Those links to assistance are a big help. Additionally, navigating the menus and links is simple. Simple and obvious in its construction.