About Emburse Tallie
Tallie is a cloud-based expense management application built with smaller businesses in mind. It offers various features such as approval workflows, expense reporting, receipt processing, expense policy management, mobile access, multi-currency support and data synchronization. First launched in 2012, Tallie facilitates third-party integration with various accounting applications including QuickBooks Online, Xero, QuickBooks Desktop, NetSuite, or Sage Intacct. Additionally, its partnership with Bill.com enables users to streamline their payment processing process. The platform is a part of the Emburse and enables small businesses to streamline their expense management operations via mileage tracking, duplicate de-duping, employee reimbursement, credit card reconciliation and more. Support is offered via live chat, email or phone. Tallie is priced on a per-user, per-month basis. A free trial is also available.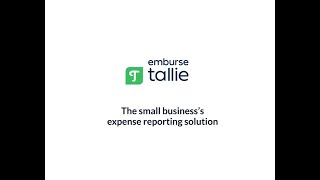 Emburse Tallie does not have a free version but does offer a free trial. Emburse Tallie paid version starts at US$90.00/month.
Starting Price:
US$90.00/month
Alternatives to Emburse Tallie
Industry: Professional Training & Coaching
Company size: 11–50 Employees
Used

Daily

for

2+ years

Review Source
---
It does everything I need it to do
I am able to use Tallie for expense tracking and payroll projection reports. I have only ever had to rely on tech support once in the nearly 3 years I have been using the product and the response time was excellent, with my problem being resolved in less than 2 hours.
Pros
The system is very configurable but is still pretty quick and easy to setup and deploy. My staff is able to figure out how to use the features intuitively meaning I spend very little time having to teach or train on how to use.
Cons
Can' t think of any challenges that I currently have or features that I wish were present.
Industry: Information Technology & Services
Company size: 2–10 Employees
Used

Weekly

for

6-12 months

Review Source
---
The potential to be one of the best software solutions I've ever used or implemented
Overall, the product has improved over the past year and has the potential to be one of the best software solutions I've ever used or implemented. When everything is working, the software is awesome and really supports a fast, electronic, seamless expense reporting process for Quickbooks. For the price, there are no other solutions anywhere near this level of functionality. Just set expectations accordingly for CC sync, pay for the premium support, and you'll have a solution that you'll absolutely depend on for smooth, paperless expense reimbursements.
Pros
This software is very intuitive and easy to use. The best features are the integration with personal credit cards, and the direct integration with QuickBooks. When you combine Tallie, QB, and Bill.com, you can have a 100% paperless expense reimbursement process.
Cons
I gave a couple of 4/5 scores, so these are not things I don't like, just challenges. First of all, on Quality, the platform seems fairly young and there were several issues that delayed processing reports initially. They are good about addressing and fixing the issues, but that brings up my next 4/5, which is support. Regular support takes 2-4 days for a response and resolution, which seems like an eternity when trying to reimburse expenses. If you want great support, you have to pay for the premium support. It's worth it, as they reply within hours to issues. The only other issue, which is somewhat beyond their control, is the credit card sync. It often doesn't work or is very slow. In talking to support many times, they are at the mercy of 3rd party solutions, but they also only display a few "default" CC sync options, and once you get them on the phone, they can open up multiple CC Sync options for you. Some of these work better than others, but be prepared for it to stop syncing periodically. It doesn't keep you from submitting reports, but is a bit of a pain when trying to reconcile with your CC statement.
Industry: Broadcast Media
Company size: 11–50 Employees
Used

Weekly

for

2+ years

Review Source
---
Slow Customer Support - Won't Fix Bugs
Pros
Tallie is excellent at handling expense and credit card reports between end users, Quickbooks, and Bill.com. It works well most of the time. It does a really good job and is easy to use.
Cons
I have become increasingly frustrated with the development team and support team at Tallie. It's absolutely horrible. There are bugs which have plagued us for years, and they won't fix them. I've pointed them out and gone through proper channels of reporting. They just don't seem to care. Some of these are minor graphical bugs that confuse my users. But it doesn't matter, they don't improve their software. As a result of other bugs they refuse to fix, I have to regularly contact them to do "back end syncs" to fix glitches. But their customer support has become absolutely horrible. So, just to get them to click the button on their end to do the "back end sync" I have to wait at least 24 hours. And if I have a support issue that requires back and forth, they take at least 24 hours for each reply - so be prepared for 3-4 days to get something simple resolved. I suspect that because they refuse to put time into development and fixes, their support staff is overburdened dealing with lingering bugs. When we onboarded them a few years ago their support was great - but at this point I can no longer recommend them.
Industry: Sports
Company size: 51–200 Employees
Used

Weekly

for

2+ years

Review Source
---
Easy to Use Reimbursement Platform
I am extremely satisfied with the platform, and very good tech support.
Pros
Ease of use, intuitive, reliable, dependable, cost-effective.
Cons
I can't really think of a feature or something specific that I do not like about Tallie.
Used

Weekly

for

2+ years

Review Source
---
Useful for recordkeeping as well
Pros
We've tried other expense reporting systems and what Tallie does that we've had difficulty finding elsewhere is its ability to be used to capture receipts. The app and website are both intuitive. The expense reports are easy to read. We love that it connects to Bill.com, which we use to reimburse our clients' employees! However, some clients also use it to store receipts for everything they buy with their credit cards. The receipts are automatically matched with each downloaded transaction. Their QuickBooks integration is great because unlike some other systems, they import each transaction individually with vendor, account, and class data. This makes reconciling credit cards at the end of the month quite easy.
Cons
The only thing about Tallie that could still use some work is their OCR. We've found that it's about 80% accurate in matching receipts to downloaded transactions. Every month we do have to go in for a little cleanup to remove duplicates and merge transactions. Duplicates are pretty easy to find, so it's not too troublesome.