About Kaseya VSA
Kaseya VSA is a cloud-based IT management and remote monitoring solution for businesses of all sizes across various industries. It provides a central console for managing IT operations including handling complaints, ticketing, auditing, monitoring performance and reporting. Users can receive complaints, generate complaint tickets and service complaints around systems, servers, networks and mobile devices remotely. Designed for in-house IT staff, Kaseya VSA provides an integrated IT management platform to manage IT issues and service complaints remotely. The patch management module automatically updates servers, workstations and users' computers with the security patches and software updates. IT staff members can schedule updates at an individual system level, departmental level or throughout the entire organization. The solution provides information on CPU, network bandwidth and server load through an integrated console to monitor the performance of IT infrastructure in real-time. Kaseya VSA is available on a per user per month basis that includes support through an online knowledge base.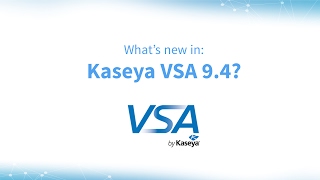 Kaseya VSA does not have a free version but does offer a free trial.
Alternatives to Kaseya VSA
Industry: Information Technology & Services
Company size: Self Employed
Used

Daily

for

2+ years

Review Source
---
Great Product
I have been using Kaseya VSA for about 10 years now. It has transformed my business. I travel less and less to clients sites and do most if not all work remotely for them. Their customer support is top notch and they work hard to help you. Their billing department could be improved, but they're working on it. They have Kaseya Connect every year in Las Vegas. I wish they would hold it somewhere other than casinos and strip clubs.
Kaseya is a must for your business. They can scale with you as you grow your business too.
Pros
Kaseya is awesome in the automation department. I am able to set scripts in place and have them run in the middle of the night. No more staying up after hours pushing out patches and fixes. I can set the patch management to scan for new updates, then push them out on a schedule that I determine.
Cons
The product works great on Windows machines, but updating a Mac can be tricky. I would like to see them move into the Android field more too. There are more and more Android devices coming into the work sphere that having an option to remotely fix androids would be great.
Industry: Executive Office
Company size: 201–500 Employees
Used

Daily

for

2+ years

Review Source
---
Kaseya VSA - Not just for MSPs
Kaseya VSA has helped me overcome hurdles with outdated software, missing updates, and deployment of new software. I used Kaseya to locate which devices are using old version of Office and using Windows version XP, 7 and and 8 and 8.1. This has helped me in the process of updating all of our devices to the newest Office and Windows 10.
Pros
Kaseya VSA is not only for MSPs, but for anyone who needs help managing their assets in the office and in the field. I'm the IT Security Manager with all the hats in the IT world at a large confectionery broker. I manage over 250+ devices on my own, with the help of Kaseya VSA. I could not do my day-to-day job without Kaseya VSA.
Cons
I'm not a fan of the app as the functionality seems to be spotty. Right-clicking the client app sometimes brings up a menu, and sometimes it only offers a simple selection of "Refresh". This is my only gripe in the 3 years I've been using this product.
Industry: Real Estate
Company size: 1,001–5,000 Employees
Used

Daily

for

2+ years

Review Source
---
A powerful engine marred by lazy, ongoing GUI problems
We took on Kaseya largely for remote control of clients and Windows/Office patching. We quickly made use of its Agent Procedures and reports modules and then continued on, slowly integrating module after module.
Pros
Many powerful modules:
- I would not even consider Windows patching without Kaseya: it is granular, easy to use, pretty complete
- Agent Procedures and Policies allow enormous customization in what you can do - practically any script you can think of can potentially be run through here
- LiveConnect is smooth and fast and provides a wealth of tools
- Reports, Alerts, and Audit modules are clear (once understood) and provide tremendous detail and customization
Cons
Persistent, unfixed, obvious GUI issues spanning years and years after being reported:
- screens not refreshing;
- inconsistent filtering;
- misleading word choices in scheduling boxes;
- selecting multiple is a chore;
- "View" is powerful to *use* but clumsy and unwieldy to *manage/administer*
The way installation packages are created is terrible. If you have more than about a dozen OUs, you will see what I mean: you must create a new install package for each OU. We have 90. EVERY ONE OF THEM must be updated every time there is a new Kaseya client release (about four times a year). There should be one package that asks the user its OU based on a database that IT sets up.
Kaseya Anti-Virus and Kaseya Anti-Malware (which we used to use) frought with problems, in accurately reporting what was out there & in reliably installing or uininstalling packages. KAM in particular was so broken it caused us to dump the entire thing and switch to Webroot (though the Webroot integration module is a bad joke: it looks like an alpha product, nowhere near beta).
Patch rollback is difficult and usually impossible (though this may not be Kaseya's fault).
Industry: Computer Software
Company size: 501–1,000 Employees
Used

Daily

for

2+ years

Review Source
---
Kaseya user experience
Pros
It is a secure remote connection software that allows you to assist anyone and give the power to deploy software.
Cons
It disconnects sometimes and doesn't want want to always connect.
Industry: Design
Company size: 11–50 Employees
Used

Daily

for

1+ year

Review Source
---
Overall positive experience with Kaseya so far, but getting down to brass tacks.
This software allows my company to support and manage the networks, workstations, servers, and technology of our customers. It allows our technicians to remotely access and administer customer systems, automate maintenance tasks, monitor security and end user behavior, and also gives us a direct link into Kaseya's BMS product for support desk access with direct customer asset access and information. It has saved us many labor hours through automation of system patching and simple end user request or issue resolution.
Pros
I very much like Kaseya VSA's patch management capabilities, discovery, remote control and Live Connect, as well as the many integrations with 3rd party products. VSA has made troubleshooting and reporting on ours and our customer's networks exponentially easier. I like that Kaseya is plotting out a roadmap to a software version that encompasses all aspects of Managed IT Services, and am looking forward to the next release.
Cons
I am not particularly fond of Kaseya's Cloud Backup integration with Acronis, and while customer support was exceptionally good prior to our purchase, and for almost the next full year after, it seems that there have been some internal changes of late. We've had 4x account representatives in the 1.5 years we've been using VSA, and this last fellow just isn't cutting it. I've also noticed that our version (permissions) to the SAAS VSA do not reflect the same dashboard as others and getting features added or removed has been a process.