About Zoho Mail
Zoho Mail, a secure, business-oriented email service, is made to cater to all your emailing needs. With top-notch collaboration and communication features, Zoho Mail offers much more than your usual inbox. Unique and custom email address Increase your brand visibility and credibility with a custom email address using your domain name. With Zoho Mail, you can add multiple domains, users, and alias addresses for a single user, all under the same organization. Make sure your emails always look their professional best. An inbox with a suite of apps Zoho Mail provides you with an integrated calendar to manage all your events, contacts to manage your personal and official acquaintances, tasks to manage your workload, notes to jot down everything on your mind, and bookmarks to keep a track of necessary webpages, all directly from your inbox. Be more productive with everything you need in one window. Extensive Integration In addition to integrations within Zoho applications, Zoho Mail also supports third-party integrations with all your favorite applications. Have an integration idea that would benefit everyone in your organization? You can easily create your own with Zoho Mail's code-free Developer Space. Modern collaboration tools for a modern inbox Make your conversations more productive with Zoho Mail's collaboration features. With Zoho Mail Streams, a social media-style integration platform, you can collaborate with your colleagues by simply @ tagging them in your emails, folders, and drafts and avoid the hassle of email forwarding. Admin Console for centralized management Make sure your users conform to your company's policies by centrally managing all emails. Give access to only a select set of users to manage your organization's password policies, user management, email delivery, and retention, among other things. Zoho Mail also offers extensive audit logs and other reports to help track administrator operations. Switch with our secure migration tools Our migration tools are designed to help you bring all data from your previous email service in the easiest and fastest way possible. Are you using Google Workspace or Office 365? Migrate with just one-click and sit back. If you want to check the status of your migration, Zoho Mail allows you to track the progress of your switch in real-time. Enterprise features While Zoho Mail offers everything your normal email service does, like out of office settings and custom email signatures, we go one step further and give you enterprise-ready email that is scalable and customizable. With S/MIME, Huge Attachments capabilities, White Labeling, Spam Processing, and many others features, we make sure you have everything you need to effectively run your business. Carry your email with you wherever you go with our offline mode and mobile apps in addition to our desktop app. Enjoy Zoho Mail Lite—the Zoho Mail Desktop App, available for your Mac, Windows, and Linux operating systems. Take your emailing experience to the next level with Zoho Mail.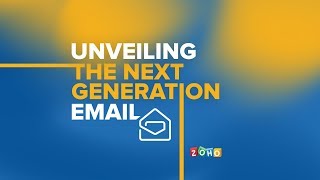 Zoho Mail has a free version and offers a free trial. Zoho Mail paid version starts at US$1.00/month.
Starting Price:
US$1.00/month
Alternatives to Zoho Mail
Industry: Mining & Metals
Company size: 2–10 Employees
Used

Daily

for

2+ years

Review Source
---
Great functionality with available set-up resources
I recommend Zoho mail 110%, I have been using it for years now with minimum to no issues.
Pros
I have used Zoho for about four years now, and I was attracted to it by Zoho mail. Zoho mail allows you to have five email addresses with individual mailboxes under one custom domain for free. This is great especially for entrepreneurs and startups, even though you have to purchase the custom domain.
The level of functionality is great, it ranks well even when compared to paid services. Another important aspect is that it's not "spammy" and it does not have compromised security.
Zoho mail works well, I would recommend it to other business owners and entrepreneurs. It is also continually improving and adding more useful tools such as the MX record checker.
Cons
I like Zoho mail's performance and reliability that is enabled by aspects such as adding SPF and DKIM entries in the domain DNS and adjusting MX records.
But depending on skill level, these settings could be seen as challenging and could deter some. I found the manual webpage that's available for setting up for a range of domain providers to be quite helpful. There are other sites that cover how to set up Zoho mail, which I also found to be helpful.
I realized that it can take long for Zoho mail to pick up added entries to a domain DNS. This is probably split between Zoho mail and a specific domain provider but perhaps some improvements can be done.
Industry: Luxury Goods & Jewelry
Company size: 2–10 Employees
Used

Daily

for

2+ years

Review Source
---
A simple email client that is far more superior to any other
I love Zoho mail. It is easy to use and even the free version has so much more functionality and support than GMail for example.Inbox management is convenient, especially the option to use aliases for different email inbox delivery.
Pros
I started using Zoho Mail as a free mail client that could be configured with a custom domain, and I switched with all 3 of my businesses.It is easy to use and can be integrated with the whole Zoho suite, which makes running your business so much easier.The voice typing is really great, especially if you are on the road and have to respond quickly and can be done via the app.The Workdrive is like Google Drive, where you can store all your documents for easy access, and you can add events and meetings to the calendar or create tasks.The collaboration feature between employees in an organization is excellent and helpful with quick chats or keeping a response history without having to email the responses back and forth between employees. Channel can be created for each department to keep them separated as well.
Cons
This is a straightforward email client like Gmail or Outlook, so for any additional features, such as an autoresponder or CRM, you have to use the rest of the Zoho Suite. This is expected though, and the extra features of Zoho mail make it far superior to the other email clients.
Industry: Human Resources
Company size: 51–200 Employees
Used

Daily

for

2+ years

Review Source
---
Zoho The Promising Mail !
My experience was excellent with Zoho in providing classic mail services for exchanging messages and using it in the field of work. I think it deserves five stars
Pros
What I like about this mail is that it is easy to use, whether in private or work, as it allowed me to access several features
Cons
Nothing , Zoho Mail is good in his field
Industry: Computer Software
Company size: 11–50 Employees
Used

Daily

for

1+ year

Review Source
---
Good for Startups trying to keep the cost low but there are issues
Zoho is definitely okay to use to start with for companies and also if you use emails lightly. But you will feel the difference if you move on to a pro software like Google Workspace. The overall experience needs to be improved in Zoho.
Pros
The cost was the main thing I liked about Zoho mail. It was just a dollar per user with limited storage. For startups getting started it is always good to keep the cost low. So zoho did work for us in the first two years. Basically does the work.
Cons
The overall user experience is not that great. It looks outdated. Sometimes emails do not sync up well. Also, it is easier to use google login when signing up for services rather than using a custom email. For example, if you are given access to a google doc for your work mail it is really hard to access that document because you do not have an account in google for that mail. Setting up email clients was harder as well with IMAP configurations.
Reasons for Choosing Zoho Mail
Yandex was unreliable.
Reasons for Switching to Zoho Mail
It was way cheaper than them
Industry: Health, Wellness & Fitness
Company size: 2–10 Employees
Used

Daily

for

2+ years

Review Source
---
Zoho has played a huge part in my business ventures for the past 4 years.
Amazing
Pros
I have built 5 companies in the past 4 years. For each one, I have used Zoho and have utilised different products including Mail, Inventory Manager, the HR platform and more. It is amazing how seamless the intergration between these products is and how user friendly the platform is, providing what seems like hundreds of different products. Although I have a technical background, many of my employees do not and yet they can manage customising and setting up new domains fine. Zoho will always have my heart!
Cons
Nothing really, at points it might be frustrating when I make mistakes in integration setups, but this is on me haha.