About Webgility
Webgility is flexible, powerful ecommerce automation software that connects your ecommerce apps to your accounting solution. Connect QuickBooks Online or QuickBooks Desktop to ecommerce stores, marketplaces, and point-of-sale systems — no IT necessary. Webgility makes it easy to adopt new sales channels, so you find new customers and sell more. Webgility integrates with over 50 business applications, sales channels, and marketplaces, including Shopify, Amazon, BigCommerce, Etsy, Wix, WooCommerce, Walmart, eBay, ShippingEasy, ShipStation, and UPS. Easily adopt new sales channels, reach new customers, and sell more. Automation syncs ecommerce data — shipping, purchasing, inventory, pricing, and more — and accounting data automatically and securely across your sales channels. Reduce errors and manual data entry, and never worry about bookkeeping accuracy. Plus, track cash flow and profitability, sort tax revenue across jurisdictions automatically, and so much more. Webgility was founded in 2007. Today, it's the No. 1 integration for QuickBooks users. The platform serves over 5,000 businesses and processes over 80 million transactions annually. All plans include free five-star onboarding and support. Save time and money: Automation reduces overhead and labor costs, so you can adapt faster and focus on your growth. Connect your ecommerce systems: Webgility integrates with over 50 ecommerce platforms, including Shopify, Amazon, eBay, Walmart, Etsy, and Wix. Eliminate manual data entry: Webgility records your online income, transactions, sales tax, and fees in your accounting platform automatically. Keep your books current: Transactions and payouts record in real time, so your books never fall behind. Close your books quickly: Accounts neatly match bank deposits, so you or your accountant can close the books quickly every month. Organize tax revenue automatically: Webgility collects and records sales tax from all sales and organizes it by jurisdiction in your accounting platform for easy filing. Never oversell inventory: Manage pricing and inventory across your sales channels and your accounting software automatically. Improve operational efficiency: Automate purchasing, fulfillment, returns, refunds, and other workflows to improve operational efficiency. Manage your ecommerce business from one place: Improve organization and never toggle between sales, payment, and shipping platforms again. Stay compliant: All accounting entries are compliant and tagged, so you can easily audit and roll back changes. Collaborate with ease: Easily share your account with your bookkeeper, accountant, or outsourced accounting firm. Track expenses accurately: Get a closer look at marketplace, payment, and shipping fees, and identify more ways to save. Customize to meet your needs: Personalize your Webgility settings by sales channel with field-level mapping control.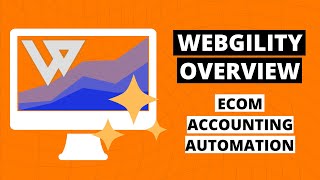 Webgility does not have a free version but does offer a free trial. Webgility paid version starts at US$199.00/month.
Starting Price:
US$199.00/month
Alternatives to Webgility
Industry: Consumer Electronics
Company size: 2–10 Employees
Used

Daily

for

2+ years

Review Source
---
Webgility keeps the moving parts moving
We have an online store hosted using Volusion. We use QB online for accounting purposes. We use Infusionsoft as our CRM. Webgility connects all the pieces and keeps the orders synchronized in QB, and allows us to use a class that keeps Infusionsoft current. The customer service is great, although there have been times where I had to wait an hour or 2 for a call back. When we connect, the problem is always solved.
Pros
Webgility posts all of our transactions to Quickbooks online every evening. Set it up and forget about it.
Cons
Occasionally the link will break, but I don't know which piece of the puzzle causes that to occur.
Industry: Publishing
Company size: 11–50 Employees
Used

Weekly

for

6-12 months

Review Source
---
with a large sales volume things gets messy without Webgility
we use the software to have a big picture of what is going on with our inventories and e-stores and to deal with our accounting processes. and we found out that the software did good job in that matter.
Pros
the most valuable feature for me in Webgility is the dashboard itself. you can import all your sales/orders/receipts data and everything is sorted out. in a breeze.
Cons
the software struggle with importing some sort of transactions data that are vital for the eCommerce like refunds and disputes form some platforms.
Industry: Media Production
Company size: 2–10 Employees
Used

Daily

for

2+ years

Review Source
---
Decent Software / Horrific WooCommerce Integration
Horrible. Have been bringing this to their attention for months with no resolution. Keep promising to look into it, but they don't . They finally send reluctant email admitting that the reason the competitors plugins work properly is because the competitors (like ShipStation) are PROPERLY using the WooCommerce API and Webgility is not. When asked why they can't use the API and properly make a decent plugin, they say they'll get back us - but don't.
IF YOU ARE USING WOOCOMMCERE - TRUST ME - AVOID WEBGILITY AT ALL COSTS. We have switched to ShipStation and it is working amazing, their support is amazing, and it's 10x cheaper.
Lesson learned. Sorry Webgility - we tried to help you, and you ignored us.
Pros
The software has many great features, is able to ship using wide variety of carriers and presents your orders in useful ways, posts back to store channels and posts to QuickBooks.
Cons
Awful non-standard WooCommerce integration is ruining the software, and management has no desire to fix it. Instead of following industry standards and adhering to WooCommerce & plugin API's and documented best practices, they have written some crazy mess of spaghetti code years ago and try to band aid it with updates and customizations, making it so that every time WooCommerce updates (as well as their many plugins), various things stop working. We've spent hundreds hiring outside developers to customize the code to work properly with standard Woo plugins like Product Variations, Shipment Tracking, and more. Every developer has commented that the Webgility WooCommerce plugin is the biggest mess they've ever seen.
Whenever we update plugins like reviews, tracking, WooCommerce, etc - Webgility will break, because they don't follow standards. We've been telling them this for years.
So, just for fun this past week, we downloaded and installed default plugins from competitors like ShipStation and Atandra's T-Hub - guess what? They worked immediately with all plugins and no problems. That shows you Webgility is doing it wrong.
Industry: Transportation/Trucking/Railroad
Company size: 501–1,000 Employees
Used

Daily

for

2+ years

Review Source
---
Great customer support
Webgility is a software that offers several advantages, including efficient technical support and the ability to resolve issues quickly.
Pros
One advantage of using Webgility is that the technical team is able to troubleshoot and resolve issues efficiently.
Cons
The implementation process for Webgility can be somewhat complex due to its high level of functionality and options. It is important to use the Webgility implementation service in order to ensure a smooth setup process.
Industry: Sporting Goods
Company size: 11–50 Employees
Used

Daily

for

6-12 months

Review Source
---
Great tech support
Pros
The tech support is great when we need it, especially with our customization.
Cons
Everything is working well so far, no issues.