About Zoho Desk
Zoho Desk is a cloud-based help desk solution from Zoho Corporation, catering to businesses of all sizes. Key features include management of customer support tickets, a customer support portal, contract management and report creation. Zoho Desk collates interactions from various media (email, phone, chat, social media, a self-service portal, forums and forms) and presents them in one place. Tasks such as ticket assignment, service escalations, notification rules and time-based actions can be automated by setting workflow rules. The solution provides customizable and scheduled reports, happiness ratings and a graphical dashboard for analyzing customer satisfaction. Integration with Zoho customer relationship management (CRM) facilitates feeding of customer information into tickets logged in Zoho Desk, which enables service agents to know more about the customers. The solution also enables users to make custom changes, such as renaming tabs, adding new departments, customizing email templates, defining business hours and adding of help folders. Zoho Desk can also be integrated with clients' in-house systems.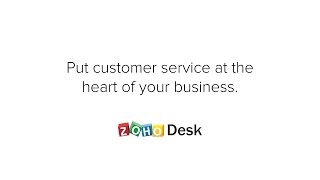 Zoho Desk has a free version and offers a free trial. Zoho Desk paid version starts at US$14.00/month.
Starting Price:
US$14.00/month
Alternatives to Zoho Desk
Industry: Hospital & Health Care
Company size: 10,000+ Employees
Used

Daily

for

1+ year

Review Source
---
Using Zoho Desk as a ticketing based solution is great
A single glance at this program was all it took to fix the ticketing problems we were facing. When we were looking for a new software, I was simply able to get the things I required and could display them to my team with no trouble at all.
Pros
As a ticketing system, Zoho Desk allows us to keep tabs on and respond to customers' questions about our bespoke goods, whether they reach out to us via email, phone, or in person. Although we have just begun to understand how the system works, we already have a good idea of how beneficial it will be after we have fully implemented it.
Cons
When it comes to cost, Zoho should be more transparent when incorporating additional tools like Zoho Assist. Although Zoho's huge amount of modules is a great asset, it would be even more helpful if there were a means to track the potential financial impact of implementing various configuration options.
Industry: Banking
Company size: 10,000+ Employees
Used

Daily

for

1+ year

Review Source
---
Zoho Desk: easy to use, customizable, and evolving service desk suite
We looked at a few others (Salesforce, FreshDesk, and others) and were surprised by many of the features. There were many Zoho branded products and services available that seemed to work well during testing. The interface and mobile apps were fairly intuitive and we were able to get a fully functional demo up and running in a matter of hours without much trouble. We evaluated it with other software at the same time, so let's compare how long it took us to get it up and running and use it functionally with other systems.
Pros
The initial setup wizard worked smoothly. Navigation through the configuration menus is simple and intuitive. The customer access portal home page is in place and ready for further customization of content. A clean design that displays the functions that are needed at this time.
Cons
The initial 14-day trial period is fine for "getting started", but trying to juggle a new set of desktop services and day-to-day work seems to work against the clock. A 30 to 45-day trial period would be excellent, as it allows you to become so familiar with the software that you are more willing to use it.
Reasons for Choosing Zoho Desk
We are creating the first in-house service solution for the company. Having a managed solution to handle requests that other team members can monitor and resolve is much better than trying to handle email support requests that sit in an inbox with many other unrelated emails.
Reasons for Switching to Zoho Desk
We are a growing company and we need to track our issues not only by the customer but also by specific serial number. We had a very rudimentary system to do this, but our size is pushing us to modernize to stay on top of everything. This system should help us.
Industry: Financial Services
Company size: 201–500 Employees
Used

Daily

for

1+ year

Review Source
---
Efficient customer support management
Zoho Desk has allowed us to effectively manage our security incidents and requests, providing quality support to our customers.
Pros
I like its customer-centric approach and the ability to create and customize specific incident handling workflows. Zoho Desk allows us to efficiently assign and track security issues, which helps us resolve them in a timely manner. It provides a complete view of our customers and allows us to provide more effective support. I also appreciate the reporting and analytics capabilities.
Cons
At times, it can be a bit limited in terms of fully accommodating our specific security needs.
Industry: Computer Software
Company size: Self Employed
Used

Weekly

for

1+ year

Review Source
---
Zoho Desk isn't a favourite option of mine, but it works.
Zoho Desk is a great tool with many features, it seems some features may need ironing out or better documenting but otherwise it is a very useful tool that could be extremely valuable to many businesses in all different industries and niches. It is perfect for anyone who just wants a simple email ticketing solution but for those wanting to use the help desk knowledgebase solutions you may want to set aside some time to fully understand how it works and how to best use it.
Pros
Zoho Desk offers a range of tools to make sure that customer success rates are high. Their self service options are empowering and wouldn't be possible without their awesome ticketing tools which allow for agents to identify regular questions and support individual customers in a per-user tailored way. Being able to receive tickets in many different ways is also a great feature enabling customers to contact us in many different ways and always get the same level of support from the same great knowledgeable team. The ability to send branded emails directly from Zoho Desk with correct SPF records to keep the email safe is also a great feature that I couldn't be without.
Cons
Unfortunately the creation and customisation of the help desk and the posts within it come across as difficult to create and maintain even from the perspective of someone working in computer software. It is unclear what features are available for this and how they should be used to create a perfect self-service help desk to enable customers to get help immediately and free up time for agents to answer more complex and user specific problems.
Reasons for Switching to Zoho Desk
I was already a Zoho Mail user and it made sense to me to try to use all tools by the same company to keep everything more simple and make connecting two tools easier. This also meant less account creations and such.
Industry: Health, Wellness & Fitness
Company size: 1,001–5,000 Employees
Used

Daily

for

1+ year

Review Source
---
A fantastic tool for answering customer queries
Questions about orders or invoices, tickets, and customer administration. We were able to streamline our operations with the support of Zoho desk's improved visibility, timeliness, and visibility into the resolution of open questions.
Pros
Managing a staff to answer client questions and navigating the system itself is a joy thanks to the system's simplicity, intuitiveness, and the extensive personalization choices provided by its automation and workflow features.
Cons
Getting help, including clear responses to my inquiries, has proven challenging. In my experience as a ticketing system manager, I have never encountered anything more irritating.