About Farseer
Farseer is a cloud-based software helping companies to eliminate manual work, improve accuracy and security, and gain new insights in the domain of financial planning and analytics. It is like an Excel specialized for finances, with the robustness of a web application, amplified with predictive features. Our target clients are companies overgrowing spreadsheets, 200+ employees, with multiple people doing financial planning, and are struggling with spreadsheet tools on a daily basis. Benefits: 1. Rapid modeling - Easy, intuitive, and flexible modeling. All spreadsheet benefits, none of the downsides. 2. Demand Forecasting - Collaborative top-down and bottom-up planning blended with machine forecasting. 3. Interactive Dashboards - Live dashboards with powerful interactive widgets and real-time reports. 4. Collaborative planning - Centralized financial planning designed for teams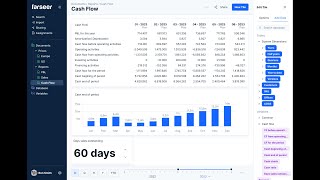 Farseer does not have a free version and does not offer a free trial.
Industry: Information Technology & Services
Company size: 51–200 Employees
Used

Daily

for

6-12 months

Review Source
---
Farseer: the data crunching machine
We started using Farseer recently, and it's been a real eye-opener. The software's analytical power is simply incredible. We can do so much more with our data now, and it's all thanks to Farseer. Sure, it's different than using Excel, but it's a great tool that we're happy to have in our arsenal.
Pros
The analytical power of Farseer is just amazing. We can do complex calculations in a fraction of the time it would have taken with Excel. The software's ability to handle large datasets is also a big plus. We can crunch numbers in ways we never could before, and it's making a real difference in our financial planning.
Cons
Farseer is different than Excel, so there was a bit of a learning curve at first. It took us some time to get used to the new interface, some extra materials would be nice.
Industry: Luxury Goods & Jewelry
Company size: 51–200 Employees
Used

Weekly

for

1+ year

Review Source
---
Easy to use customizable solution for S&OP forecast & demand planning
Great experience mostly due to the great Farseer team of people always friendly and ready to jump in and help improve our ways of working. They worked so hard to learn how we work and show us how to do it much more simpler with their tool. Long hours of excel calculations and formula writing are now minutes in Farseer, even when management decides to change the whole process upside down. Farseer developers make it easy to calculate everything you need. Best way it has great dashboard module for tracking your forecast accuracy and sales trends in simple and easy-to-create dashboards and visualizations. I would recommend to all medium-sized companies to try this tool.
Pros
Online platform replacing excel in planning and budgeting daily, monthly, or quarterly operations. This tool helped in making the forecast process much smoother and uncomplicated. It generates forecasts using multiple algorithms and it learns based on historical data how to spread your numbers across multiple organizations, channels, or product variations. It is versatile, in a way that combines generating forecasts top-down or bottom-up, while showing results both in quantities of products or in revenue numbers. Collaborative, could be used by all departments - factory, supply, marketing & sales.
Cons
When using it at first it could look crazy and unlogic, but with time and great effort by Farseer developers, it gets better and better and is so easy to work with.
Response from

Farseer

Thank you!

Replied 22/02/2023
Industry: Computer Software
Company size: 11–50 Employees
Used

Weekly

for

1-5 months

Review Source
---
Very useful software
Pros
Once it's all set up, it's simple to use and gathers all the important financial information.
Cons
Everything is fine. All the features are useful.
Industry: Computer Software
Company size: 51–200 Employees
Used

Daily

for

1+ year

Review Source
---
Tool that replaced Excel for us
Pros
I reviewed so many tools before we selected Farseer and Farseer is absolutely the best. It is very user-friendly, it is fast and it is very helpful when planning. It fully replaced excel in our FP&A function including company-wide reporting. The tool can also integrate well with other tools we are using as well as with accounting software directly. Also, the support is very good and we can get things resolved very timely by their customer support representative.
Cons
Nothing really comes to my mind as something I'd like least.
Response from

Farseer

Thank you for the kind words, Martin, we're glad Farseer was such a success for your company.

Replied 22/02/2023
Industry: Oil & Energy
Company size: 201–500 Employees
Used

Daily

for

6-12 months

Review Source
---
Farseer - The most intuitive and flexible planning software
We replaced Excel completely and we do all our financial planning and reporting in Farseer. Additionally, we implemented balance sheet and cash flow planning in Farseer. Our planning process is faster and more accurate now, and we are covering all three financial reports now, which would be very difficult to achieve in Excel.
Pros
Modelling in Farseer is extremely easy and allows great freedom for the modeller. We have managed to implement very complex scenarios with multiple drivers, very fast. Using those drivers on the dashboard to see how the change impacts the financial KPIs is a phenomenal feature. It works blazingly fast.
Cons
I would love to see some more advanced features in the analytics part, like questions and answers. We saw some beta versions for Q&A and we can't wait for that feature to go into production. Also, waterfall graphs would be a nice add-on. Slicers for date that effect the whole dashboard would also be useful.
Response from

Farseer

Thank you Bruno. We're constantly working on adding new features that will increase Farseer flexibility even more! Stay tuned! :)

Replied 17/03/2021