About Zoho Campaigns
Zoho Campaigns is a cloud-based email marketing and SMS marketing software from Zoho's suite of applications. This product enables businesses to reach out and engage with their customers by automating the marketing process, from the creation of custom email-based and SMS campaigns to maintaining and segregating lists for sending, automating, and analyzing emails and SMS. Zoho Campaigns lets users create email campaigns using either pre-defined or customized templates. The system features mass mailing to lists, including the tracking and reporting of emails and SMS campaigns to improve audience engagement. Zoho Campaigns provides integration with third-party applications like Sugar CRM, SurveyMonkey, GoToWebinar, etc. It also provides integration with in-house applications like Zoho CRM, Zoho Meeting, Zoho Survey, Bigin by Zoho CRM, etc. Users can share their campaigns on social media platforms. Zoho offers a forever free plan where 6000 emails can be sent to 2000 contacts. Other plans are Professional, Standard, and Pay-as-you-go pricing plans. Moreover, support is offered via phone, email, and live chat. Now mix your marketing efforts with SMS and email marketing since Zoho Campaigns provides its own gateway for sending out SMS. Broaden your reach by sending short messages to your contacts. Zoho Campaigns' own gateway helps you send messages without even having any third-party integrations.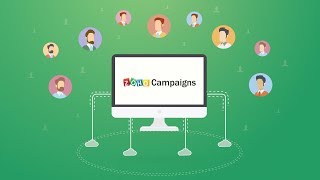 Zoho Campaigns has a free version and offers a free trial. Zoho Campaigns paid version starts at €4.00/month.
Starting Price:
€4.00/month
Alternatives to Zoho Campaigns
Industry: Chemicals
Company size: 51–200 Employees
Used

Weekly

for

1+ year

Review Source
---
Advantages of using Zoho to create and document a successful digital marketing campaign.
It is an excellent tool, the campaign management is very complete, as well as the role administration for the assignment of tasks within Zoho. It guarantees the number of email outputs for each period of time that we want to establish, design default templates, have generalized views of our campaign, and much more. It also allows us to inform senior management of the results achieved and how leads become customers.
Pros
Zoho Campaigns makes it possible for us to launch entire marketing campaigns with a couple of clicks and without having to hire an advertising agency, which has really allowed us to reduce costs and increase leads in the organization. It is one of the most powerful and easy-to-use tools currently on the market, and it guarantees us to manage the monitoring of our campaigns to get our products and services to the correct audience.
Cons
Every good campaign requires good research, which is why we must fully consider, carry out a preliminary investigation of other digital marketing campaigns that have been carried out related to our product, plan in advance the objectives to be achieved in the short, medium and In the long term, research our competition well, find out what they are doing now, and after that, through Zoho campaigns, design in the tool the way we can communicate our added value.
Industry: Retail
Company size: 11–50 Employees
Used

Weekly

for

1+ year

Review Source
---
Good Entry Level Product
You can find almost all features that other email marketing software offer in Zoho Campaign at a very affordable price. Rather than burning cash on on expensive software, marketing teams can choose this software to get started with their email campaigns. Supports automation workflows, transaction emails and can build complex user journeys.
Pros
The best thing about this product is the native integration with Zoho CRM. We use Zoho CRM and it seamlessly integrates with it allowing us to run workflows and basic email automation campaigns. I would totally recommend it to marketing teams that use Zoho CRM.
Cons
I feel sometimes the email templates aren't mobile-friendly. This could severely impact the performance of the campaigns. I generally prefer HTML templates that work pretty well with this application.
Reasons for Switching to Zoho Campaigns
Zoho Campaigns was bundled in Zoho One plan which also includes CRM software.
Industry: Broadcast Media
Company size: 2–10 Employees
Used

Daily

for

1-5 months

Review Source
---
Sending campaigns
Pros
Zoho campaigns is integrated with many zoho app such as zoho survey which is used to asses businesses productive and this helps in campaigns sending.
Cons
Promotion of business and marketing of company is easy using Zoho campaigns.
Industry: Media Production
Company size: 2–10 Employees
Used

Daily

for

6-12 months

Review Source
---
I feel like I'm a beta tester.
Clunky, slow and an overall terrible user experience.
From a distance, it looks shiny with a ton of functionality. But when you actually start using it, you'll see a myiad of small aesthetics that don't look right (loading bar doesn't extend full width, loading dots are blurred) and the loading times are among the slowest for any software I've ever used.
Now all of those things are OK, because functionality is what matters the most, right?
This would be true if the functionality of the platform actually worked as intended. We've run into issues like:
-Duplicating a workflow gets stuck and never duplicates. The bug required Zoho team to fix it on their side which took 3-5 business days.
-Changing a font color for an HTML email doesn't work. You'll see the updated font color in the HTML code, and in the email preview you will see the font color you want. But when you send the email, the font color is almost always wrong.
-Their simple condition filter in their workflow component didn't work originally. I had to speak to their engineering team twice to show them the problem, and then they fixed it 5 days later.
The list goes on and on. I wish this program just worked and I didn't have to write this review.
The one good thing about this software is that their customer service team is very responsive, and they normally fix the problems. But again, I feel like I'm a beta tester working with them through all of these bugs.
I don't recommend this software to anyone.
Pros
Campains has a lot of features out of the box and is a very affordable option for startups looking for an email solution.
Cons
This entire platform is riddled with bugs, quirks, and errors that make your job so much harder. When things don't work, you normally assume you're doing it wrong with most software. Not with Zoho Campaigns.
When things don't work, it's most likely broken on their side. 3 months into using this software every day, and we've already reported 3 different instances where their software was not working as intended.
If I was getting this software for free, that would be OK. But since we're paying hundreds of dollars each month to use it, this is not acceptable.
Reasons for Switching to Zoho Campaigns
Because campaigns was cheaper and had similar functionality. Plus, we are using Zoho CRM so we wanted the two programs to have a seamless sync.
Industry: Computer & Network Security
Company size: 2–10 Employees
Used

Daily

for

2+ years

Review Source
---
This product fits small businesses for newsletters and training emails.
Excellent platform for our email needs. I'd recommend it to anyone.
Pros
I love how simple it was to setup and how easy it is to create new campaigns and emails.
Cons
The email editing feature can be more simplistic. There are a lot of clicks and you have to redo the TXT version each time.
Reasons for Choosing Zoho Campaigns
Cost
Reasons for Switching to Zoho Campaigns
Hubspot was too expensive and too many offerings. We wanted something simple and straightforward.