About eM Client
eM Client is a fully-featured desktop email client for Windows and macOS. Beyond email management, the system also offers features for management of calendars, tasks, events, contacts and notes, and integrates chat. The software supports all major email services including Gmail, Exchange, iCloud and Outlook365 while deployment is quickly implemented thanks to automatic setup and data import from all major email apps (including Microsoft Outlook, Outlook Express, Windows Mail, Thunderbird, Incredimail and more). eM Client provides a multifunctional sidebar containing daily agenda, communication and attachment history with a selected contact, tasks or chat. Additionally, the system has a snooze email feature that can literally postpone selected emails and return them back to inbox only after a set time. You can also use email encryption via PGP and S/MIME. The app also provides email archive, signatures, templates, QuickText, email rules (local and synchronized), conversations and threads. Integrated spell-check and automatic message translation is also available.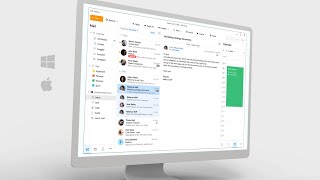 eM Client has a free version and offers a free trial. eM Client paid version starts at €34.95/one-time.
Starting Price:
€34.95/one-time
Alternatives to eM Client
Used

Daily

for

2+ years

Review Source
---
Great email, calendar, contacts, and task manager.
It has completely replaced MS Outlook. I use it multiple times a day for all my email, calendar, contacts, and task management functions.
Pros
Synchronizes well with Google email and calendar. Easy to use layout with all of the features I want in a combination email, calendar, contacts manager. Pulls up email correspondence chain in separate view. I can customize views, categories, themes, etc.
Cons
Does not have a corresponding Android version. The contacts sync has sometimes resulted in duplicate entries. There is a duplicates tool to remove duplicates but it would be nice to have an easier to use merge contacts function added.
Industry: Translation & Localisation
Company size: Self Employed
Used

Daily

for

2+ years

Review Source
---
The A Team of E-mail Client
I used to spend too much time logging into different e-mail providers just to check e-mail messages and communicate with colleagues and clients. Now I only need to open my eM Client software and see all e-mail accounts in one integrated dashboard. There is no more hassle and productivity has increased manyfold during my use of this software.
Pros
I like its superb functionality and flexibility. You can add accounts for the majority of e-mail providers, create contacts and tasks, subscribe to internet calendars, use Google Hangouts directly from within the software without having to logging into your Gmail account, assign labels to e-mail threads with different colors. The greatest advantage is that you can purchase a lifetime license at a bargain and receive all future updates for free.
Cons
It lacks official themes and seldom releases feature updates.
Reasons for Choosing eM Client
I made the switch because I was looking for a more flexible and secure software at a great price.
Reasons for Switching to eM Client
I chose eM Client over this alternative product because I liked the pricing scheme and all features and benefits that it might offer to users.
Industry: Computer & Network Security
Company size: 2–10 Employees
Used

Daily

for

1-5 months

Review Source
---
Not recommended
Again, I like the concept and the thought behind the product but would consider it too unstable for business use. The good thing is that the repair process works, the bad is that you have to do it so often.
For a product that has so many nice features for efficiency, to have the conversation thread backwards so that for each email you have to page down to find the last response is hard to understand why they did that. They seem to be confused between a texting program that shows the most recent at the bottom (but also opens at the bottom so the most recent is where it opens) and an email client where the most recent is normally at the top so you see the response immediately.
These items make this program an also run that I will be keeping an eye on because I really like the design and if they get them resolved then it will be one of my favorites. But still cannot be recommended at this time.
Pros
The concept and design of the program is excellent.
At least in theory it is well thought out and has several useful features. I particularly like the ability to click on an email and see on the right side the contact information as well as every email to and from that person as well as every attachment sent and received. This is a huge feature for me.
The ability to quickly generate a task from an email or create a calendar event is also really nice.
Unlike some other reviewers, I found the tech support to be reasonable. Then again, I am a computer expert and provide expert testimony on computer systems and software for court purposes and so had very few issues with setup.
Cons
Although I like the design of the software, I could never recommend it for use in a business. I view it more as a curiosity for personal use. The primary reason is that in the five weeks I have used the software there have been multiple instances of being unable to read email or the software attempted to display an attachment inline and so it just looked like garbage. Each time I contacted tech support and the fix was the same... either rebuild the software account or delete it and create it again. Luckily I was using IMAP so it was not an issue deleting and recreating the accounts. So, I used it five weeks and rebuilt or deleted and recreated email accounts seven times. This is a big issue.
Another problem is the very strange an unusual way they display an email conversation. I wrote to tech support about this and they indicated that it is the way it is supposed to work and the way that all email clients work. Uh, no. I have not seen any other email client that displays your email conversation starting with the oldest email and continuing down to the most recent. I understand that is the way a conversation occurs and you can read it from the beginning to the end but in reality I do not know anyone who wants to open their email and page down multiple times to find the person's response. I want to see the response when I open the email. If I need to see the prior email they are responding to then I will scroll down and see that one.
Industry: Information Technology & Services
Company size: 2–10 Employees
Used

Daily

for

2+ years

Review Source
---
The most complete mail client
Pros
Has every features that you need to manage all mail, task, contact, notes, calendar and it's perfect with icewarp server because it's very well integrated. You can use smart attach directly from emclient and use video conferencing.
Cons
I have not found anything to bad, Now thay are developing also android app.
Industry: Computer Software
Company size: Self Employed
Used

Daily

for

2+ years

Review Source
---
A modern email, calendar and contact manager
I have a very large mail database which can make it slow, however most things work very well.
Pros
Integration of the different features. GMail and Exchange integration.
Cons
Mail filtering is too simple. Need to be able to create complex rules, using different headers.
Calendar should alert conflicts when accepting an invitation or scheduling a new meeting.
Reasons for Choosing eM Client
Calendar, Contact and Mail integration. Look and feel.
Reasons for Switching to eM Client
Desktop application that mostly just works.