About Lavu POS
Lavu is a Point of Sale solution designed for use by restaurants, bars, and nightclubs - from full-service, quick-service, and franchise restaurants, to food trucks, coffee shops, and lounges. Users can choose between bar, restaurant, and quick-service interfaces, each designed for the correlating environment. The system allows users to customize most aspects, including unlimited menu modifiers, custom menu item icons, and layout. Lavu gives establishments the option to implement tableside ordering, supports take-out and delivery routing, and offers rewards and loyalty through an integration with Loyaltree, as well as an in-house program. In addition to the POS, Lavu also gives users inventory management tools, including low-count warnings and an '86 countdown. Employee scheduling, shift-trading, and payroll reports are examples of what's offered for Employee Management. Lavu offers a host of sales, inventory and expense reports that can be accessed anywhere with an internet connection. Currently being used in 89 countries, Lavu can be translated into any language.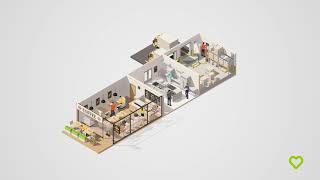 Lavu POS does not have a free version and does not offer a free trial. Lavu POS paid version starts at US$59.00/month.
Starting Price:
US$59.00/month
Industry: Wine & Spirits
Company size: 11–50 Employees
Used

Daily

for

2+ years

Review Source
---
Love Lavu and the team !
My experience with Lavu is second to none insofar as POS systems. We love this system and look forward to seeing the new implementation once released in November.
Pros
This software continues to grow with the customer demands. We seem to never be outdated or lacking. The servers have an ease of use on the floor with the iPads at table side. We love the software so much so that we will be implementing it at two other facilities.
Cons
There are cons to each software but there is not a dealbreaker for us with this software. It continues to grow and with that growth sometimes there seems to be the older than time conflict between tech and accounting due to reports however, the Lavu team are able to populate these reports in a timely manner. We have gotten everything we need from this program to meet the consumer demand of our growing winery.
Reasons for Switching to Lavu POS
The service team was extremely helpful in designing the system to meet our needs. Ironically we are more busy than we ever have been and this software and the tech team have been amazing in helping us realize the potential of what we can do with this software and realize efficiency through growth. We are happy to have made this decision.
Response from

Lavu

Hi Gladys, thanks for your feedback. We appreciate hearing firsthand from our customers, and it really helps to hear what works so great and what can be improved upon. We appreciate your business and we thank you for being a loyal Lavu customer!

Replied 11/07/2022
Industry: Food & Beverages
Company size: 11–50 Employees
Used

Daily

for

2+ years

Review Source
---
Great inventory and POS software
Great inventory and POS software. Ease of use and easy to teach employees to use.
Pros
Ability to have multiple locations. Ability to make inventory items easily. Ability to use an iPad for inventory counts.
Cons
Have to manually bath credit cards at end of day.
Response from

Lavu

Hi Michael, thanks so much for your review! We're very happy that Lavu helped your multiple locations streamline operations. We appreciate your business!

Replied 7/07/2022
Industry: Food & Beverages
Company size: 11–50 Employees
Used

Daily

for

1+ year

Review Source
---
Do not trust Lavu with payment information
My longer story is under BF on the BBB website. [sensitive content hidden]
But essentially, after a miserable year of trying to get Lavu to stop incorrectly and excessively charging my credit card. I switched away with a zero balance. Then this morning, a year and a half later, got a new bill for $188 which the customer service representative refused to cancel. When will they stop?
Pros
For a short term, I saved money on processing with Lavu/PayPal over when Square increased their rate, until Lavu started randomly charging amounts to my credit cards.
Cons
Relentless billing issues. New charges without disclosure or agreement. Absolutely incompetent customer service. Less functional product than other POS.
Response from

Lavu

Hi there,
Thank you for taking the time to share your experience. We sincerely apologize for the inconvenience you faced regarding the incorrect billing. We understand how frustrating such situations can be, and we're truly sorry for any stress this may have caused.
We're glad to hear that we were able to resolve the issue promptly and that you were not charged for the bill.
Our team is committed to providing top-notch service and ensuring our customers' satisfaction, and we regret that we fell short of your expectations.
We truly appreciate your understanding and patience throughout this process. Should you have any further concerns or questions, please don't hesitate to reach out to us directly. We would be more than happy to assist you in any way we can.

Replied 28/08/2023
Industry: Restaurants
Company size: 11–50 Employees
Used

Daily

for

2+ years

Review Source
---
Fast simple and reliable
They have a phenomenal suppprt staff that have always tried their best to help me on 1 call. Very rarely does it take more than one interaction to fix something I can't do myself
Pros
The iPad approach with pictures and point and press make it easy for new hires to catch on quick.
Cons
The inventory program could be better designed to allow scanning of bills. It's very labor intensive to try to keep inventory up.
Response from

Lavu

Hi Hilton, thank you so much for sharing your experience with Lavu. We are glad to hear that overall, you are happy. As always, please reach out if you need anything!

Replied 8/08/2023
Industry: Restaurants
Company size: 11–50 Employees
Used

Daily

for

2+ years

Review Source
---
Excellent POS for beginners
Pros
Is an easy to use, easy to program POS system. We use it from the beginning of our opening. Easy to use for employees and low cost for owners.
Cons
Probably make improvement on the schedule part to be more robust.
Reasons for Switching to Lavu POS
Prices, and easy use and opportunity to grow
Response from

Lavu

Hi Angel, thank you for your feedback! We are always trying to improve our POS system, and scheduling is on that list!

Replied 22/02/2022