About CounSol.com
CounSol.com offers a cloud-based practice management solution that includes management tools for electronic medical records (EMR) such as client notes, insurance claims, appointments and billing. It is best suited for solo practitioners and is HIPAA compliant. Users can configure a client web portal that allows patients to view emails from users' practices, schedule appointments, pay bills and write in a patient journal. Clients can also access online video and chat sessions with their practitioner. Clients can also receive automated appointment reminders via email, text message or phone recording. CounSol.com also offers configurable client forms, practice terms and policy agreements, which clients can fill out online. Billing and invoicing tools support integrations with Stripe, Braintree, BluePay, Forte, Payscape and Authorize. Users can also sync iCalendar with the calendar feature to help manage scheduling. Pricing is per user per month. Support includes an account manager, email and phone support.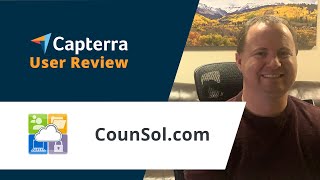 CounSol.com does not have a free version but does offer a free trial. CounSol.com paid version starts at US$49.95/month.
Starting Price:
US$49.95/month
Pricing Details:
Standard - $49.95/month (Best for practices that do not accept insurance) Standard Plus - $59.95/month (Best for private practices that accept insurance) Premium - $64.95/month (Offer online video and chat sessions, don't accept insurance) Premium Plus - $69.95/month (Accept insurance and offer online video and chat sessions)
Alternatives to CounSol.com
Industry: Mental Health Care
Company size: 2-10 Employees
Used

Daily

for

2+ years

Review Source
---
Small Group Private Practice LIFESAVER
Overall, I am staying with CounSol. It allows me to have a virtually paperless practice and automates things that save me both time and money such as self scheduling and appointment reminders. My client report they like the portal and find it relatively easy to use. Although it is customizable, it again is not the prettiest looking thing, although I haven't had any client complaints about this.
Pros
I love almost everything about CounSol! I used it when I was a solo practitioner and have continued as my company has grown into a group practice.
What I like:
- Electronic intake forms as well as all other forms
- FULLY customizable forms including progress notes
- Client self scheduling/ Client portal
- Online payments
- Calendar sync with phone
- Secure messaging- staff and clients
- Quick claim submission and ERA reconciliation
- Customer service- its amazing really!!
- Generally accurate monthly payment reports
- Appointment reminders via text, email and phone
- I also love that they don't tack on costs for features- it is included in the plan you pick!
Cons
I have been with CounSol long enough that I have been able to see them grow, including them implementing suggestions I have personally made for the EHR. That said there are a few things I still don't like:
- the interface itself is not as pretty as some of the other ones out there
- there can be a lot of button clicking sometimes (this has improved)
- my staff report they do not find it intuitive to use
- the way the payment report screen handles refunds (however, if you know how it does, then it is easy to account for- just more button clicking)
- Use of Office Ally for clearinghouse, but bc of changes on the part of Office Ally not CounSol
- They don't have an app and I dislike the mobile view
- Not a monthly all clinician view calendar, but there is a weekly one, but it doesn't show openings, just booked appointments
Reasons for Switching to CounSol.com
CounSol has the features I need to be truly paperless, has secure messaging and doesn't add on costs for features!
Industry: Mental Health Care
Company size: Self Employed
Used

Daily

for

1+ year

Review Source
---
Tammy's Review of CounSol.com
Pros
Overall this has been a great product to help with the backend of my private practice in keeping track of income and number of sessions. It provides texts, emails and alerts for scheduling which is invaluable to keeping appointments full and it provides professional looking invoices for clients to use for out of pocket reimbursement. I also like that client credit cards are stored in the system for ease of payment.
Cons
As I am using this to manage my entire practice, I think it would be beneficial to have a more robust reporting options with regard to the financial features. It would be nice to be able to print out sales by month, quarter or year. If there is this mechanism in place already, I have not found it.
It would also be helpful to have a smart feature when typing notes into the system that autocorrects. It is frustrating to be typing a word in and the system does not recognize it to give suggestions for the correct way to spell the word.
When client's credit card expires, it is a pain that a new card has to be keyed into the system, that a simple expiration change can not be done instead, as most keep the same credit card number.
Reasons for Switching to CounSol.com
I was testing CounSol.com in March of 2020 because it had an online tele-health feature when covid hit. Because everything switched to remote, I was ready to meet with clients online because the feature was already a part of the program. So I decided to stick with CounSol.com and feel it has been a good decision for my company.
Industry: Hospital & Health Care
Company size: Self Employed
Used

Daily

for

6-12 months

Review Source
---
Lots of positives and can be a much better product with changes
My notes are getting done quicker bc it's easier to get them done, I've realized although it's cheaper and there are some features that are better than my old product, it's not as professional as my old product and doesn't offer as many resources for measures that I would use as a LCSW
Pros
The invoice feature, the ease of calendar, birthday emails,
Cons
The intake measures aren't pulled into the initial intake note. This doesn't create a professional looking intake note like the other system I used. No ability to write a formal short note about a phone session, or missed sessions when you void the invoice you can't document it. Can't send attachments in an email via this site that I don't want to make available to all clients. The billing feature pages are very confusing and can be very overwhelming. The measures offered are limited and personally I don't want to have to input them and/or recreate them and it doesn't allow me to send specific measures to individual clients. It's like a one size fits all with this product.
Industry: Mental Health Care
Company size: Self Employed
Used

Daily

for

2+ years

Review Source
---
Software that Streamlines Mental Health Practice
Any time I've had a question or problem I've contacted my account manager and he has responded immediately. Customer service is excellent.
Pros
This software sends appointment reminders, has helped me organize client information, file insurance claims and collect practice data (like number of monthly sessions, monthly income taken in, etc.) It has a nice, clean layout and offers many customization options.
Cons
It was a little challenging learning how to use the billing features, but there would be a learning curve for this with any practice software.
Reasons for Choosing CounSol.com
At the time, Therapy Appointment had some clumsy features, but I can't remember the details.
Reasons for Switching to CounSol.com
Some of the others seemed more geared to a medical practice than mental health.
Industry: Health, Wellness & Fitness
Company size: 2-10 Employees
Used

Daily

for

1-5 months

Review Source
---
Great product for bililng but not so great for clinicians
It has its pluses but the minuses tend to outweigh its good points. I am still on the fence as to whether this was a good move. Only time will tell.
Pros
Its ability to protect client data but allowing us to invoice, send claims, use telehealth, communicate electronically, and chat. Great for getting documents signed and completed. Great for creating new clients as the system is user friendly (outside of very small font).
Cons
It is made for one type of bill... outpatient therapy sessions (90832,90835, 90837). Things like, crisis, client contact, groups, case management, peer support specialists, and prescribers, are no billable due to the documents that are tied to invoices/ claims.
It also allows you to bill without regard as to whether the appointment actually happened or not. No need for notes or documents, just make an appointment and send in the bill.
The calendar is very clunky and hard to use.
The font is extremely small with no way to make it bigger.
There is no ability to do groups/ couples treatment unless everyone is piled up under the same webcam (so much for 6 feet).
It is very difficult to make appointments. There is no way to edit an appointment after it has been made either... it has to be canceled.
There is an overlord of your account who has to help you do most everything.
Reasons for Choosing CounSol.com
The EHR is very user friendly but has few billing features. We couldn't send clients invoices causing HIPAA issues. We needed a reliable telehealth platform. We needed a better way to get clients to sign/ complete intake documents. and we needed a more developed billing program to keep a budget for our company.
Reasons for Switching to CounSol.com
It had the features we needed to make our business work better.