About Paycom
Paycom offers user-friendly HR and employee-driven payroll technology to enhance the employee life cycle, in a single software. Paycom drives efficiencies, increases data integrity and gives employees power over their HR information through a self-service app. Employees already manage their timecards, PTO, benefits and more. Now they can own their payroll, which results in improved accuracy, reduced employer liability, increased process oversight and unparalleled employee insight into their pay.
What is Paycom?
Paycom is a human resource and payroll software that provides talent acquisition, talent management, time and labor management and more.
How do I use Paycom?
Paycom helps users automate the entire process of talent acquisition. It includes a fully featured applicant tracking system that automatically posts to online job boards and filters out unqualified candidates. The onboarding process is self-serve, assigning candidates checklists and online forms to be completed. The system automatically finds tax credits and monitors the federal tax code for any updates. The automatic payroll system allows employees to manage their expenses through an intuitive app. Paycom also allows users to conduct background checks and e-verify candidates.
Who uses Paycom?
Paycom is used by CEOs, owners, finance executives, HR managers, IT decision makers, operations executives, and payroll managers.
How much does Paycom cost?
Contact Paycom for pricing details.
Does Paycom have an app?
Paycom has an iOS and Android app, called Beti, for employees to manage their benefits, expenses, and payroll.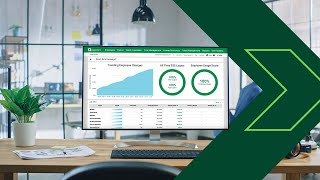 Paycom does not have a free version.
Industry: Information Services
Company size: 51–200 Employees
Used

Daily

for

2+ years

Review Source
---
Human resource management simplified
Paycom is a wonderful tool for small to medium organizations looking for a single system to manage Human Resources related tasks and processes. Employees spend less time managing their time, information, and benefits which results in more productivity. Performance management has become more visible organization-wide
Pros
Performance management is a key feature that allows me to efficiently track and manage my team's performance. Instead of a one-time, resource consuming performance review cycle, Paycom allows me to add notes throughout the year so end-of-year performance reviews become a snap.
We recently implemented Paycom expense which has streamlined submitting and approving team and department expenses. A key feature is the ability to create expense templates for monthly recurring expenses, saving valuable time and energy.
Benefits management simplifies what could be a complex process to research, understand, and enroll in company sponsored benefits. In particular, a single dashboard displays all of your employee benefits making it easy to find what you're looking for and make changes along the way.
Cons
We've recently tapped into Paycom's My Learning module. I'd like to see an investment in content development areas like security and compliance to further leverage Paycom as the main source for employee training.
Paycom's UI design and navigation feels outdated compared to similar software.
Response from

Paycom

Ricky, thank you so much for your positive and detailed review of the partnership between your organization and Paycom. We will share your feedback regarding our training content and product development teams. We also recommend the resources on the Paycom blog and the HR Break Room podcast regarding the topics you mentioned. Please reach out to your Paycom specialist if you have any additional questions or feedback.

Replied 18/09/2018
Industry: Automotive
Company size: 501–1,000 Employees
Used

Weekly

for

6-12 months

Review Source
---
A complete emplyer-employe tool
As general user i find it usefull to keep tabs on everythin time related it just needs to fix a bit of the way the app is strucutred even more for older people besides that it is a complet tool
Pros
It provides access to clock in-out.
Timesheet management
PTO request
Even courses to improve your team capabilities.
Cons
It can get a bit complicated to travel the application, I assist with it and finding the righ options gets a bit confusing since a lot of menus sound like the provide the same functionalities.
the courses even if you complete them sometims it does not provide with the checkmark and you have to take it again.
Response from

Paycom

We appreciate your feedback, Eddy. It's great to hear about the specific features that have benefited your work life! Thank you for the positive review!

Replied 2/11/2023
Industry: Transportation/Trucking/Railroad
Company size: 2–10 Employees
Used

Daily

for

1-5 months

Review Source
---
Go Through a Staffing Agency Instead!!
Pros
It can be more affordable compared to other software programs.
Cons
Once you get sold on the product and pay your fees the "consultant" disappears, then you're left to figure out this dense accounting system on your own. For extra fees you can get assitance. The software is not user friendly. I would not recommend Paycom. During the paperwork processing after payment I heard from the consultant often and was told he would my direct contact for assistance. Once my paperwork was complete I was switched to another consultant without notice. This consultant was only worried about rushing me to add more services (very abrupt and callous). After declining to add more fees to my monthly payments I was stuck to figure everything out on my own; if I wanted to do that I could have purchased a software WITHOUT a monthly subscription! The reason why I paid Paycom is to have the processing and management of payroll! I didn't receive that.
Response from

Paycom

Shamika, client service is our top priority. We're disappointed to read your review as the experience you're describing does not align with Paycom's standard. Please reach out to our team at [email protected] so we can learn more about your experience.

Replied 16/10/2023
Industry: Hospital & Health Care
Company size: 10,000+ Employees
Used

Daily

for

1+ year

Review Source
---
Paycom simplifies payroll processes for our company
Employees will be responsible for their own actions going forward. Our company's cultural flaws have been exposed through Paycom software. It's making us evolve, but in a positive direction.
Pros
Your sales representative and the service staff are committed to answering your inquiries and resolving any problems that may arise. I've worked in similar roles with other services before, and they're just not the same.
Cons
Since our previous leader left the organization, communication with our new leader has been difficult. No one else was as helpful in guiding me through the steps as he was. Considered myself safe because I had previously used Paycom. I was completely unfamiliar with the Betti component.
Response from

Paycom

We are happy to hear that Paycom's software has been instrumental in your organization's growth. Our team is committed to providing solutions that meet your specific needs and we appreciate your trust in us.

Replied 21/08/2023
Industry: Hospital & Health Care
Company size: 51–200 Employees
Used

Daily

for

1+ year

Review Source
---
The Crescent
I loved it it's a great app to use I hope more companies use it
Pros
I loved the app to clock in and out with and using it for sick Time too
Cons
There wasn't anything that I did not like about it
Response from

Paycom

Keiarra, we're thrilled to hear how our product has streamlined your HR and payroll processes! Thank you for the 5-star review!

Replied 24/11/2023