About iSpring Learn
iSpring Learn is an award-winning learning management system. With iSpring, you can quickly launch online training in your company. Just upload eLearning content you already have or create it from scratch using a built-in editor for creating longreads, adding webinars and one-to-one sessions (if you want to set up blended learning), assigning learners, and keeping an eye on their results. You can also create a specific learning path for each department. By establishing rules, users can be assigned automatically to any course by their job position, department, group, and other filters. The platform is perfectly integrated with iSpring Suite, the robust authoring toolkit. With it, L&D professionals can create engaging eLearning content enhanced with video lectures, screencasts, quizzes, interactive assessments, dialogue simulations, and e-books, and publish it to iSpring Learn LMS. With advanced statistical reports, you can keep track of the progress of individual users or groups and assess the effectiveness of your training programs. Also, course developers can view content reports to see which learning materials are performing well and which are less effective. iSpring Learn LMS offers a comprehensive list of features that continue to draw attention. The system is straightforward and offers a clear, attractive user interface.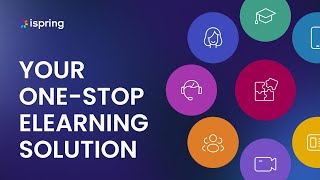 iSpring Learn does not have a free version but does offer a free trial. iSpring Learn paid version starts at US$2.87/month.
Starting Price:
US$2.87/month
Alternatives to iSpring Learn
Industry: Financial Services
Company size: 201–500 Employees
Used

Weekly

for

6-12 months

Review Source
---
iSpring Learn is Hands Down the Best Authoring Software!
We have 400+ employees across the U.S. Ensuring that each employee receives continuity of training concepts and practices is important to us. Our employees appreciate the ease of accessibility to online training. They can access courses from their smartphone, iPad etc. iSpring Learn makes tracking training completions easy by way of reports. Our employees appreciate receiving an automatically generated certificate of completion for each course.
Pros
There is a lot that I can mention here, but there are a couple functions that rank high on my list. 1. I like the fact that I can set up learning paths for various groups. For example, I can create a learning path of multiple courses specific to Supervisors and easily assign it to them.
2. I appreciate the fact that I can brand iSpring Learn to match that of our company.
Cons
Honestly, I can't think of anything I like least. It's such a great software that is continually improving.
Response from

iSpring Solutions

Hi Margarita,
Thank you very much for sharing your kind feedback about iSpring Learn LMS.
We are happy to hear it fites your needs perfectly!
Keep up the great work :)

Replied 3/12/2018
Industry: E-Learning
Company size: 11–50 Employees
Used

Daily

for

2+ years

Review Source
---
iSpring Learn is a great tool for content management!
Pros
We (the Institution of New Technologies in Education) discovered iSpring tools in 2013 and have been using them to organize the training process in the Continuing Professional Education field. Initially, iSpring Suite 6 was the main tool we used to create learning modules in the SCORM format and upload them to the Moodle LMS.
We have created around 500 Continuing Professional Education learning modules using iSpring Suite.
In 2016 we launched eSchool and designed more than 11000 courses for Junior, Middle and High School as well as for preschoolers.
Right now we are doing another project which involves iSpring Learn LMS incorporation into the learning process. We are developing new learning modules aimed at students who have mobile devices ' smartphones and tablets. One of the features we are excited about is offline viewing. Students download the assigned to them courses to their iPads and Android tablets using the iSpring Learn app and can view them practically anywhere even without an active Internet connection. iSpring Learn also allows us to make it possible for the users to register themselves inside the system and to take the courses gradually and for us to track their progress.
Not only we develop the courses for our students, we also build them for the teachers.
The last but not the least thing I have to mention is a high-quality tech support iSpring provides. All the issues are resolved in the most positive manner possible.
Response from

iSpring Solutions

Hello, Elena!
Thanks A LOT for your kind words!
We are sure your review will be helpful to anyone looking for an LMS here on Capterra.
Keep up the great work! :)

Replied 15/01/2018
Industry: Transportation/Trucking/Railroad
Company size: 2–10 Employees
Used for

6-12 months

Review Source
---
Expensive and Not User Friendly
I used for roughly 6-months at my past role in association marketing.
Pros
This program is very robust and has many features for users of all skill levels. The training platform looks very professional.
Cons
This is not easy for the back end user. We had some issues deploying. This is also costly and takes a lot of effort of the administrator's end to create the training. More assistance would be appreciated.
Response from

iSpring Solutions

Hello Madeleine,
Thank you for sharing your thoughts about iSpring solutions! We very much appreciate it!
Regarding your Cons, have you contacted our Support Department? Our specialists are always here to help: [email protected]. We also have lot's of helpful materials on our website, such as articles, videos, help docs, etc. that can help you get started in a snap: https://www.ispringsolutions.com/support

Replied 19/08/2020
Industry: Computer Hardware
Company size: 201–500 Employees
Used

Daily

for

2+ years

Review Source
---
Learning from the best!!
Our account rep is always responsive, and proactive as our renewal time rolls around. Honestly, the product is terrific on it's own -- but the support puts it completely over the top!!
Pros
iSpring Learn is the only LMS I have worked with, so I knew NOTHING going in! We chose it because of the success we've had with the iSpring course authoring tool, a PowerPoint add in. And iSpring Learn did not disappoint!
There are many powerful features that we do not necessarily use, as our use is for a very specific program. But it has everything we need -- and more -- to deploy high quality online training to our customers in a way that is easy and seamless for them.
Getting started with the product could not have been easier! And the support is beyond anything I've experienced! Agents are always available, knowledgeable and interested in my issues -- which are usually "how-to" kind of questions. They take their time to fully understand my question, answer it in detail, even providing screen shots and quick little screen casts if I need to "see" how to accomplish something.
Cons
It is so powerful, and does much more than we need. For that reason, the help docs can be difficult for me to navigate. There is so much information, and I don't always know exactly what to look for.
But a quick chat to Tech Support, and they clarify it and point me in the right direction!
Response from

iSpring Solutions

Hello Bekie,

Thank you so much for reviewing iSpring here on Capterra! We appreciate it tons.

It's great to hear that you are happy with the iSpring solution. Our tech support team always puts clients first - it's amazing that you had a positive experience!

Keep up the great work!

Replied 13/09/2022
Industry: Computer Software
Company size: 2–10 Employees
Used

Weekly

for

6-12 months

Review Source
---
iSpring Learn, all the essential features of a LMS at an attractive price
We use iSpring Suite to develop e-Learning courses. Right now we use iSpring Learn to demonstrate the benefits of e-Learning courses and the use of a LMS such as iSpring Learn. We really like iSpring Learn because it offers all the essential features of a LMS, but also because it is an affordable and easy-to-use solution. We are going to use it to sell e-Learning courses in the near future.
What we really like is that you don't need to be an expert to set iSpring Learn. From the Settings tab, you can configure the account, branding, backend and frontend, as well as the e-commerce feature. You can also set your PayPal account to receive payment. Another key point is that the user portal can be localized. That's really easy! You just need to edit the CSV-file (to translate the strings in your native language) and to import it.
iSpring Learn offers great content management capabilities. The Learning Path feature is an essential feature. It allows you to combine lessons into chapters within the learning path and to set different rules and permissions. If you use iSpring Suite, you don't need to upload your content from iSpring Learn. You can directly publish it from iSpring Suite which is really convenient.
We found the User Management very easy. It is located in an only one tab (People) and it's where you can add and edit Organizations, Groups and Users.
And iSpring Learn offers a couple of reports about user activity. We can export these reports as Excel files or save them as PDF files.
Pros
iSpring Learn is an affordable and easy-to-use solution. You don't need to be an expert to use it and you can set the solution in just a couple of hours! Thus, you can quickly offer e-Learning courses to your customers.
The users can also access to courses on their mobile devices with the app, which is a really great feature.
iSpring Suite is perfectly integrated with iSpring Learn, so you can directly publish your presentations to the LMS. That means time saving.
Cons
A couple of great requested enhancements: More customization features for the user portal would be very welcome as well as a sharing desktop/chat feature.