About WizIQ LMS
WizIQ is a cloud-based learning management solution (LMS) for higher education, test preparation, tutoring and business users. WizIQ helps users develop self-branded teaching or training programs, delivered either in real time or as recorded lectures. Also, WizIQ's course builder lets users create, run and sell online courses. It supports multiple teacher accounts, online courses, HD video streaming and live classes. The solution also provides testing functionality and the ability to track students' performance, as well as the ability to set milestones for learners. Additional information is available to users and teachers via analytics dashboards. These tools provide information on student progress and engagement, instructor performance and the performance of particular training content. WizIQ supports all major web browsers and offers a mobile app for iOS, Android and Windows mobile devices. WizIQ is available on a monthly subscription basis that includes support via email, phone and through an online knowledge base.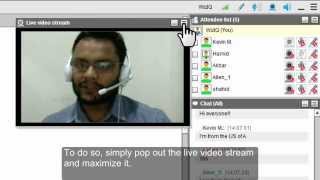 WizIQ LMS does not have a free version but does offer a free trial.
Alternatives to WizIQ LMS
---
WizIQ is My Choice
I''m an education leadership and technology consultant, instructor at Atlantic University, and community builder. I currently provide teacher training and professional development for educators worldwide using Moodle LMS and WizIQ. I had been teaching English as a foreign language for over 30 years when I started looking for an online synchronous environment to complement my face-to-face classes. I learned about WizIQ virtual class (VC) in 2007. I found WizIQ a welcome change after using other VCs. I use WizIQ's for webinars, online conferences, and MOOCs in blended and fully online programs.
Pros
The CEO, developers, support, and sales team at WizIQ listen. There is no hierarchy when it comes to catering to educators and students. The team at WizIQ are always ready to listen and implement suggestions. The VC is easy to use and very engaging.
Cons
WizIQ has been listening to my suggestions and improving its features since 2007. It takes time to implant new features. I would like the process to be faster even if these features are in the planning stages. I urgently need the following. I would like to see a mobile App that is compatible for both uses and presenters that allows users to have the same experience that is currently available on the VC desktop. I would like to be able to send the recording directly from my account to Youtube and Vimeo. I would like to be able to edit the recording before I share it.
Response from

WizIQ

Thank you so much for your feedback, Nellie. Your words of encouragement mean a lot to us. We have made a note of your suggestions and will make sure that efforts are put into making things better.

Replied 24/02/2016
A Wonderful Tutoring Experience
Based on my 2 years experience I really recommend this VC hosting provider for anyone that aims to arrange online classes or meetings. So, if you are seeking for a wonderful teaching experience, go on use WizIQ Virtual Class Platform and I guarantee you will never regret it.
Pros
- When you schedule an online class (or meeting) you can get its link easily and share it with whoever you want; you can also enter to the class before the start date and upload your files or simply choose them from your library, etc.
- The class link page shows its details.
- You can get the class link from your platform to invite more attendees during the class.
- You can check your connection, your microphone, and your speaker's settings and volume; and you can change their settings as well. By the way, installing WizIQ Desktop App makes it easy for you and your attendees to avoid plug-ins issues.
- You can upload your files in your library to get a quick access to them in your classes and you can choose to share them or keep them private.
- You can also upload files in the class from your PC within the session, but they won't be stored in your library.
- You can write, draw, highlight any kind of text or graphic whether on the white board or on a file (PDF, PPT, DOC, etc), you can use the pointer as well to make it easy for your attendees to follow your explanation.
- You can create as many boards as you want, change their names and their colors.
- Once you upload or open a file in the class its name will automatically be displayed in the tab bar of board that includes it and you don't have to rename it to know in which board it exists, especially when you create a lot of boards.
- A lot of text formatting and editing tools are available there, and you can use the screenshot tool to save your whiteboard shots in your PC to may be use them later or share them with your attendees.
- You can make a poll and you can share the results with your students.
- You can display audio or video files from your library or from a youtube link.
- You can share your screen with them.
- You can move your students into different rooms within the clasd.
- You can chat with them in public or even privately, and you can change the text size and color to distinguish your messages from the other attendees, and they can do the same as well.
- Attendees can use the "Hand" icon notify you if they have some questions, comments, or control requests, and this will help you to stay focused with no interruptions.
- You can allow your attendees' microphones, cameras, or give them control to surf within the class and make some changes such as writing, screen sharing, file uploading, etc. and you can take that back.
- You can extend the class duration within the class.
This was what I remembered for now, and there are more options that I don't usually use such as tests, Math tools, etc.
Cons
- No monthly payment plans.
- Most of non English Speakers face some troubles entering first classes, especially when it comes to App installation.
- no recurring class schedule option.
Industry: Education Management
Company size: 11–50 Employees
Used

Daily

for

1+ year

Review Source
---
Great Marketing .... Poor Service
I have experienced to services.
Service 1 - VLC:
- Needs improvements on the technical issue that appears continuously.
- Needs better support, especially for premium subscription client.
Service 2 - Developing a learning platform for my institute:
- The project started on 17 Oct 2018 with a delivering date in 75 days. Today is 28 Oct 2019, and WizIQ still stalling!
- Review the "Cons" part, because I feel sorry for myself when I write down my horrible experience with WizIQ again and again.
Pros
The recording and enrolling features. The ability to customize your platform. (I subscribed to the highest package)
Cons
- Poor support (they blame you first for any issue, and when you proof they are wrong, they apologise and the supervisor call you :D ... this happened many times)
- Continuous issues during live sessions.
- Uploading problems.
- The treatment before payment is not the same as after, and not the same as when your subscription is about to expire.
- The sales manager has no control over his subordinates. They don't respond to his emails. He even requests clients to contact the founder to complain about the poor support so his subordinates may react!
Industry: E-Learning
Company size: 201–500 Employees
Review Source
---
Squeezed my Teaching World with ease to be with any bio-student globally !
I am privileged to be part of wiz IQ LMS since 2007. I got the opportunity to let my students to be with me whether I was in India or US or Canada or whether my students were sitting anywhere globally . The best part I liked was prompt response of help-desk team. I have used screen casts, animations, you-tube videos in my sessions very smoothly using this LMS. I have even combined my face to face sessions with my online attendees in many of the sessions. Honestly I shall feel incomplete without this LMS reason that when I tried other similar systems, they were helpless to load my PPTs loaded with animations and videos.
Pros
1. Customer support too good.
2. Many attendees in one go can be interacted smoothly.
3. Audio is very clear and smooth during sessions.
4. Recording is perfect.
5. Large PPTs can be loaded easily.
6. Library contents are very well maintained.
7. Making of Tests is too easy.
8. Marketing ideas supported by support Team are too good enough though there is room to improve.
Cons
Shall Love If Wiz IQ Team is more Proactive!
Industry: Education Management
Review Source
---
WizIQ is the Backbone of our company!
We have been using WizIQ's services since 2007.
Initially we didn't know what to do with it and how to use it but with the training given to me
I started using it a bit to train selective client in the field of Vedic Mathematics.
Fast forward some years and Wiziq has become the backbone of our company. The Virtual Classroom is amazing and fits entirely with the products and services which we offer. WizIQ is constantly innovating new things to keep up which keeps us up to date with the latest in technology and trends.I would recommend the value provided by WizIQ to every educator and learner.
Pros
#1 Innovative
#2 Robust Virtual Classroom
#3 Amazing Customer care and support
Cons
#1 The Audio of the Virtual Classroom can be better
#2 How about having a Skype like messenger service which would coordinate between learner and teachers.