About Oracle Fusion Cloud ERP
Continuous change requires continuous innovation Tomorrow's leaders are those most capable of adapting to change today. Oracle Fusion Cloud ERP is a complete, modern, cloud ERP suite that provides your teams with advanced capabilities, such as AI to automate the manual processes that slow them down, analytics to react to market shifts in real time, and automatic updates to stay current and gain a competitive advantage.
Predict, detect, and act on new situations No one likes big deltas between forecasts and actuals. Most models though are too limited, relying on sample datasets or just gut feel. Oracle Cloud ERP introduces machine-learning to predictive planning and forecasting so you can utilize broader datasets, reveal hidden bias, uncover significant deviations, and speed your overall response time.
Automate and eliminate your manual business processes Spend less time compiling data and more time understanding what it tells you. Whether preparing your narrative for the street or assessing potential M&A activity, Oracle Cloud ERP gives your team more time for strategic work by automating the most time-consuming, mundane business processes. With AI, up to 96% of transactions can be automated.
Simplify and speed everyday work Oracle's AI-powered digital assistant simplifies and speeds common tasks, allowing you to ask simple questions like "what's the status of my open purchase requisitions?" and "what reconciliations are due today?" Personalized tasks like invoices or over-budget notifications are delivered to you proactively, so approvals move faster too.
Launch new business models, faster Staying ahead of customer trends and emerging competitors gets harder every day. With Oracle cloud ERP, it's easier to identify and launch new business models—and monitor results in real time so you can constantly refine your approach. Paired with machine learning insights like customer churn, you'll predict and avoid problems before they can do harm.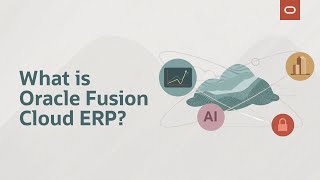 Oracle Fusion Cloud ERP pricing
Oracle Fusion Cloud ERP does not have a free version but does offer a free trial.
Alternatives to Oracle Fusion Cloud ERP
Oracle Fusion Cloud ERP Reviews
Industry: Textiles
Company size: 10,000+ Employees
Used

Daily

for

2+ years

Review Source
---
ERP for Business effiency
its good for textile sector.every textile firm use it to Create pipline for their business.
Pros
Its multi madule system is best. We can connect all madule and create a busniess formulation plan.secondly i can access anywhere anytime due to its cloud services.
Cons
Its programming is very senstive, a small type error can leads towards differnt results.
its implimentation are tough.
Industry: Textiles
Company size: 10,000+ Employees
Used

Daily

for

2+ years

Review Source
---
Planning, Costing & Inventory Controlling with Oracle ERP
Stratigic helper and assistant in finance with Business Intelligence, we got optimized results in finance,supplychain.
Business software for planning, tactics and execution of business scenario is totally on your screen, you can run/manage business and set business direction then monitor and control accordingly.
Pros
First, Due to Covid-19 pandemic, I am getting benefit of its cloud sevices By working from home.
Secondly, Its Middle ware services, We have different madule of ERP like Meterial Management System,Apperal Management system and Inventory Management system.All of three Modules are interlinked and Show results on one window. its save a lot of time and consumed less human resource for operations controlling .
Third its very easy to build new forms and reports as per organzational requirement.
As for as its security Concerns, We can give partial access to the outsider (Supplier) and customized access to the company employees.
Cons
Security Setup in Cloud services is time taking. Its very difficult to linked it with Website, E.g Many times We need updated exchange rate then we need to link it with api to get live exchange rates, which is difficult and almost we have to do it manual.
Reasons for Choosing Oracle Fusion Cloud ERP
Not meeting business requirement,Less efficient,expensive and time taking queries.
Industry: Utilities
Company size: 201–500 Employees
Used

Daily

for

6-12 months

Review Source
---
Project Manager Can't use this PM Suite
The sheer amount of time it takes oracle to get setup could bankrupt your company of resources. We are going on a two year implementation time frame and still do not have a functional product. When we submit a bug oracle does not fix the process, they just give you work arounds, which take 5 more steps than the original software we booted in order to become more effecient.
Pros
For a finance tool it is mildly functional. Oracle ERP cloud has many modules that potentially could be used in your business.
Cons
The project management tool is virtually useless for any kind of portfolio management. If you manage tons of small projects the sheer time it takes to setup oracle will nearly bankrupt your business.
The "implementations partners" do not understand how to use oracle let alone setup another companies ERP.
Customer service does not fix problems, they just offer lengthy work arounds.
Industry: Apparel & Fashion
Company size: 1,001–5,000 Employees
Used

Daily

for

1+ year

Review Source
---
Manage Your business through ERP
its best for multi branches business which can be connected at one data base.Data mining is more easy rahter than to get collect data from every site.
Pros
Its multi madule system is owesome, company can connect different stake holder through different madules with a custmized access.i can access it anywhere through internet.
its immediate integration help business to to perform tasks more efficiently.
Report building is so easy.
Cons
Multi modules packed in one suite confuse our less trained Employees.
Security setup should be imporved.
server up time is too low.
Industry: Biotechnology
Company size: 1,001–5,000 Employees
Used

Daily

for

1-5 months

Review Source
---
Not very user friendly, but allows for powerful record tracking
We use the Oracle ERP Procurement solutions to manage orders and goods in our organization. Although the UI can be cumbersome, it is a great tool on the back end to manage procurement and services for a large organization. It greatly simplifies the chain of escalating approvals and can establish a trail for audit record keeping. With further training, the system becomes easy to use and actually can speed up services because you are not waiting for someone to batch approve orders.
Pros
Although for me it is cumbersome to use, my friends in management and finance say that it is a lifesaver for them in organizing expenses and following chain of command, especially for financial approval of large purchases. It allows for tracking of approvals through to the highest level of mangement which automates the process. Before, we were having managers manually go through each list and approve each individual item; with this, they are able to automate the approval process and integrate that with our vendors to make purchasing more streamlined and to keep strong records for audit purposes.
Cons
It is not very intuitive to use. Oracle training for procurement had to be given multiple times at our institution so that people could try out the software and subsequently ask questions about what each form and button actually does. It's certainly not the most user friendly interface, and many people have asked me if their orders are actually in the system because they can't find the order after they approved it.