About CYPHER Learning
NEO is an award-winning intelligent learning platform used by schools and universities worldwide. The platform is known for delivering a great user experience while incorporating all the essential tools K-20 institutions need to support effective teaching and learning. NEO offers a centralized environment for class creation and makes it easy to organize learning resources. NEO makes it easy to build personalized classes, deliver learning materials, assess students, track their progress, collaborate with classmates, manage all learning activities, and transform education. NEO is a product of CYPHER LEARNING, a company that transforms education by providing an intelligent learning platform for every learning need, whether it's teaching students, onboarding employees, or selling online courses. CYPHER LEARNING provides a similar LMS for use by businesses called MATRIX and an LMS for use by entrepreneurs called INDIE. CYPHER LEARNING products are used by over 20,000 organizations, have millions of users, and have won several awards. For more details about NEO, please visit www.cypherlearning.com/neo.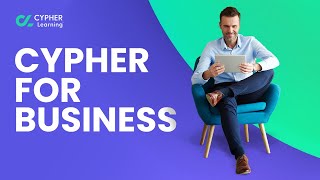 CYPHER Learning does not have a free version and does not offer a free trial. CYPHER Learning paid version starts at US$0.05/month.
Starting Price:
US$0.05/month
Alternatives to CYPHER Learning
Industry: Education Management
Company size: 2–10 Employees
Used

Daily

for

2+ years

Review Source
---
Awesome next gen digital learning
With a world class solution, the super responsive & customer focused support function make Matrix LMS best of breed!
Pros
Beautiful interface - ease of use - mobile responsive - inbuilt gamification - social community - Inbuilt Apps - automation of everything with innovative rules engine - this solution has it all!
Cons
Copyright attribution feature would assist with government focused applications
Industry: Construction
Company size: 10,000+ Employees
Used

Daily

for

2+ years

Review Source
---
Flexible learning portal with fast support
We've streamlined our training offer since starting with Matrix LMS, and increased number of people attending our training by at least 200%.
Pros
It's our one stop shop for managing training, whether it's online or in a classroom. Before using Matrix we spent a lot of time managing classroom training. Users can self enrol, we can manage waitlists and assessments can be uploaded for marking, providing an excellent audit trail.
We can also manage multiple brands within the one portal, which is both a cost saving and saves on administration effort.
Cons
There was a hefty price rise about 2 years after we started using it. It's still reasonable value for money, but it left us in an awkward position if we didn't get approval for the extra funds, as we would have had to move learning portals again, which is a big effort. However, they did ease us into the change and we appreciate that enormously.
Industry: Education Management
Company size: 501–1,000 Employees
Used for

2+ years

Review Source
---
Love NEO, but hate NEO LMS (the app)
Pros
Love how through apple classroom you can lock students to this app to force them to not cheat on a NEO quiz.
Cons
The app is very glitchy! Sometimes it just shuts down when a student is working in it. Also not all of the quiz features work on the app. The first time students log in to the app is very confusing for them since they have to exactly type in the name of their district.
Response from

CYPHER Learning

We are very sorry for the unpleasant experience you've had using our mobile app. Your feedback is very well noted, and we will ensure that it reaches our Engineering team to fix the issues in our app. If you're still with us, please feel free to contact your dedicated ACE representative about this.

Kind regards, CYPHER LEARNING team.

Replied 6/10/2022
Industry: Banking
Company size: 201–500 Employees
Used

Daily

for

1+ year

Review Source
---
Overall great product, not so admin friendly
As mentioned, overall the product is great and is doing what we need it to do, so far. It has been a long and slow process getting things off the ground as we are learning as we go since there are no user manuals even for the admin functions. There is still so much more that we want to do and believe MATRIX will be able to, it's just taking the time to figure out how to do it.
Pros
There are a lot of features that can be turned on/off. It seems to have everything we need to accomplish out goals for an LMS.
Cons
There could be better documentation, there are not user manuals at all. Searching for help is time consuming and may not always get exactly what you are looking for. You have to implement a lot of things to discover how they work. Wish the relationship was more of a partnership; we are on our own pretty much until we message for help and that can even take a while to get the response we need. Wish there was someone we could call to get direct answers.
Response from

CYPHER Learning

Hi Donna, thank you for your feedback. We do have user manuals for all types of users: administrators, instructors, and learners. The guides can be found on our website https://www.matrixlms.com/info/resources#section2 or in the platform in the Help Center, under Getting started guides. I hope this helps and please let us know if you need assistance with something in particular.

Replied 28/09/2018
Industry: E-Learning
Company size: 201–500 Employees
Used

Daily

for

2+ years

Review Source
---
Teacher's partner amidst Pandemic
Overall the partnership between LMS and Teachers or Berkeley, in general, is a blessing amidst the chaos, for we were able to find a partner that help us solve most of the issues and difficulties that we and our students had during the pandemic where face-to-face is suspended, they gave us a platform where we could ensure that students are learning.
Pros
Neo LMS or Blink as we call it, have had been with Berkeley during the pandemic up until now that helping us to ease the learning gap between teachers and students. With the use of the LMS, it is easier to embed videos that we use in our lesson, where we could check if they watch it or not with the use of different assessment tools.
Cons
There's no particular least favorite part on my end, for I appreciate every tab, every function of the LMS. What I would suggest is to train us on how to use gamification so we could utilize this part more.