About QuickBooks Live
QuickBooks Live is a tech-enabled solution that helps businesses of all sizes with their bookkeeping needs. This solution allows businesses to partner with a virtual bookkeeper to manage and maintain their books. Via a web-based platform, users can upload their documents to be reviewed by QuickBooks-certified bookkeepers. Businesses can then collaborate virtually with their bookkeepers by tracking real-time progress, scheduling video calls, and more.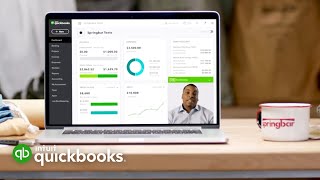 QuickBooks Live does not have a free version and does not offer a free trial.
Alternatives to QuickBooks Live
Industry: Consumer Services
Company size: 2–10 Employees
Used

Daily

for

6-12 months

Review Source
---
Great Overall Product
Great experience. You do get tossed around some with the customer service as everyone is trained in specific areas. Easy to use though and setup.
Pros
Once everything is set up everything is automatic, especially that payroll portion. You don't have to back it up, it is automatically saved. You can access from anywhere.
Cons
You do get tossed around some with the customer service as everyone is trained in specific areas. It did take some learning to understand and setup everything properly.
Reasons for Choosing QuickBooks Live
QB Desktop Pro is way to out dated nothing is automatic. You really have to know what you are doing with Pro.
Reasons for Switching to QuickBooks Live
I like the automation and how you can access everything anywhere and anytime. You also don't have to back up your stuff all the time.
Industry: Veterinary
Company size: 11–50 Employees
Used

Daily

for

2+ years

Review Source
---
QuickBooks Live is really a no brainer for managing my company's finances.
Prior to starting on QuickBooks Live my business finances were a mess. I was on QuickBooks but it was up to me to put all of the invoices and expenses where they go and I was not good at this. When I upgraded and also got a live bookkeeper it was a game changer for me. She helped me fix the errors in my past and get me on track. I feel so much more confident now and really enjoy learning this side of my business.
Pros
Cloud-based so able to access from numerous computers.
Cons
Inability to change all of the items / charts on the home page.
Industry: Research
Company size: 2–10 Employees
Used

Daily

for

2+ years

Review Source
---
QuickBooks - Not so Quick
After the effort it required to get this up and running, I am not planning on going anywhere, but it is costly, and the support network, consideration for customers who use this product daily and can not afford the time to figure out what's wrong or relearn something that has changed is truly aggravating. Some real consideration for the customer would go a long way here. The Live Bookkeeper component is of value - although the sub-optimal messaging process makes it difficult to know when I need to do or provide something, not to mention the dozens of empty messages I receive from the mail robot.
Pros
All elements of bookkeeping requirements in one place.
Cons
Developers keep changing the interface and templates with zero notice. They have overwritten my primary templates on several occasions, and there is no way to recover them. The "help" people are useless, insisting on recreating issues repeatedly, but being unable to correct issues, and zero follow-up.
Industry: Construction
Company size: 11–50 Employees
Used

Daily

for

1+ year

Review Source
---
Stone Creek Surfaces
Live Bookeeping has been one of the best features we have used. The consultants are patient and very willing to help. If they don't know the answer, they get it.
Pros
Being web based, it is so much easier to stay updated on my business from anywhere. We were able to tie it in with our industry specific quoting and scheduling system which cut down on wasted time in the office.
Cons
It took a little longer to learn the software than I anticipated. I thought it would be easier since I had used the Desktop verson for years.
Industry: Individual & Family Services
Company size: Self Employed
Used

Weekly

for

1-5 months

Review Source
---
From Chaos to Calm
Great experience, love that it's incorporated into the financial management piece. It's easy to align QB with other apps.
Pros
I had Quickbooks come in and clean my books over the course of several months. If I'm honest, they were a bit of a mess. I fell into my business, with an understanding of the back office business of business. I don't have an MBA or an accounting degree. My books were not in order, and I was embarrassed about it. However. Quick Books team came to the rescue. They captured all the data in a streamlined way. They asked clear questions. They clarified what was missing and helped me find what I needed. In a few weeks, by books were clean and ready to be managed for the long haul. I'm still learning the ins and outs, and their team has been great with giving tips and sharing how I can manage the day-to-day business. I now feel more confident that I'm moving in a direction that will help my business grow, and stay out of the way of the IRS! Thanks to the Quick Books team!
Cons
The software is great, intuitive, and useful. I do wish I'd gotten more information on the back end about how they use the chart of accounts, and what information is well. I had to ask for someone to teach me that when I didn't understand.