About Pyplan
Pyplan, as an advanced Planning and Analysis platform, possesses the adaptability to cater to personalized planning methodologies while also exhibiting the capability to effectively govern an entire organization. By seamlessly merging Sales, Operations, HR, and Finance into a cohesive environment, it fosters a comprehensive perspective and streamlines decision-making processes, thereby saving valuable time. Seamlessly establish connections with and automate a wide range of data sources, enabling real-time data processing, scenario planning, and simulation. Additionally, effortlessly generate and distribute interactive applications for enhanced collaboration and sharing.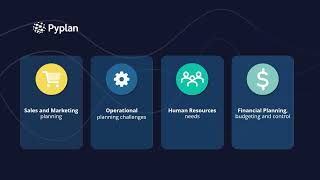 Pyplan has a free version and offers a free trial.
Industry: Utilities
Company size: 5,001–10,000 Employees
Used

Daily

for

2+ years

Review Source
---
Pyplan como ferramenta de planejamento econômico/financeiro
Uma ótima ferramenta, com confiabilidade dos resultados, ótima estabilidade de operação, boa disponibilidade de licenças, boa capacidade de processamento, raramente ocorre problemas relacionados ao software, ocasionalmente algum problema relacionado à capacidade do servidor.
Pros
O que mais gosto é a flexibilidade de edição do modelo, permite que se faça qualquer alteração desde que se tenha conhecimento, mas sem a dependência do fornecedor. A programação por objetos é relativamente simples e visual, e podem se utilizar diversas livrarias. O fornecedor atua em casos mais complexos que demandam tempo e agilidade, porém atendem sob demanda quase que em real time com team dedicado.
Cons
A linguagem de programação de base (Python, Pandas, Scipy, Sparce, etc), é necessário adquirir conhecimento específico, não precisa ser de uso exclusivo de pessoal de IT.
Industry: Health, Wellness & Fitness
Company size: 5,001–10,000 Employees
Used

Weekly

for

2+ years

Review Source
---
Ferramenta ampla, versátil e robusta
O software é realmente muito bom. Pautado em estatística consagrada pela literatura e com ferramentas ágeis de manuseio.Apesar de ser fácil executar um modelo no PyPlan, torná-lo robusto e adaptável às diferentes características do mercado / segmento é o verdadeiro desafio. Nesses momentos, será necessário desenvolver bases de dados sólidas para sustentar os cálculos do PyPlan.
Pros
O PyPlan é muito completo nas soluções estatísticas e fluxo organizacional de colaboração. A ferramenta permite disciplinar o processo e garantir assertividade nos números base.
Cons
A disciplina que o software exige, no entanto, é sempre uma barreira cultural a ser vencida. Assim sendo, maneiras de tornar o software mais amigável e user-friendly serão sempre bem vindas pois facilitarão a aceitação e capilarização do uso do software na Companhia. Quanto mais amigável for, menor será a insatisfação das colaboração comercial.
Industry: Food & Beverages
Company size: 10,000+ Employees
Used

Daily

for

2+ years

Review Source
---
Excelente!
Atualmente a Pyplan suporta o abastecimento de produtos terminados entre fábricas e CD´s. Com sua implementação, evoluimos na forma com que esse processo é realizado. Trazendo tecnologia de ponta para otimização dos modelos, perimitiando que o planejador atue na validação da proposta e não mais em desenha-la.
Pros
A flexibilidade com que a ferramenta se adapta ao processo de nossa empresa. Além da velocidade com que trabalha os dados.
Cons
conectar a seleçao entre graficos poderia evoluir. Acredito que na versao 3.0 esta funcionalidade esteja disponivel
Industry: Oil & Energy
Company size: 1,001–5,000 Employees
Used

Daily

for

2+ years

Review Source
---
Excelente ferramenta para modelagem financeira
Estou satisfeito com o uso do Pyplan no dia a dia. O sistema é utilizado para projeções financeiras de curto, médio e longo prazo, estando conectado com módulos de temas distintos, gerando facilidade de modelagem financeira e confiança nos dados gerados.
Pros
Praticidade de uso, dashboards e relatórios, alta capacidade de processamento de dados.
Cons
Não poder fazer comparações simultâneas entre modelos diferentes
Industry: Oil & Energy
Company size: 51–200 Employees
Used

Weekly

for

2+ years

Review Source
---
Excelente Herramienta Gerencial para reporte y toma de Decisiones
Pros
Haber podido centralizar informacion critica para la gestion de nuestro negocio. Lograr que los niveles gerenciales y directivos de la Organización cuenten con DB personalizados de acuerdo a sus necesidades con solo ingresar a la plataforma.
Cons
Un punto de Mejora podria ser el manejo de la interfaz de Un DB a la data para carga de informacion. Esto a nivel operativo.