About HoneyBook
HoneyBook is a cloud-based customer relationship management (CRM) solution designed for small businesses. The solution helps users manage business processes from inquiry through to invoicing. HoneyBook lets users manage projects, book clients, sign contracts online, send invoices and handle payments. HoneyBook features task management that lets users view and track various stages of a project. Users can keep invoices, contracts and other documents in one place. Also, users can respond to clients with automated appointment requests and follow-ups using personalized templates and notifications. In addition, automated payment reminders can be sent and task reminders can be created based on the projects. HoneyBook integrates with tools such as QuickBooks, Calendly, Zapier, Gmail and Google Calendar. HoneyBook provides its services on a monthly subscription basis. The solution offers a mobile application for Android as well as iOS users and support is provided via email, an online help center, community forum and over the phone. Get started with a 7 day free trial today.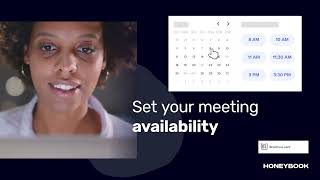 HoneyBook does not have a free version but does offer a free trial. HoneyBook paid version starts at US$19.00/month.
Starting Price:
US$19.00/month
Alternatives to HoneyBook
Industry: Photography
Company size: Self Employed
Used

Daily

for

2+ years

Review Source
---
The BEST investment for my business
Love love LOVE HoneyBook! I've been using it for several years now, and can't imagine using anything else instead. And their customer service is QUICK and helpful for the few times I haven't been able to figure out how to do something.
Pros
It keeps my business organized and on track! From digital contracts and invoicing, custom brochures and questionnaires, to email tracking and a simple way to see what step I'm at with each project, HoneyBook keeps me on track.
Cons
The worst part about it is getting started, but even THAT is pretty simple with their "concierge service" where you can send them your current forms and they'll digitize them for you!
Industry: Design
Company size: Self Employed
Used

Weekly

for

6-12 months

Review Source
---
I'm glad I found Honeybook!
My experience has been great. It keeps my organized and I have recommended to other people for their business.
Pros
I like that the interface is easy to use and navigate and is visually appealing. I can track my leads and communicate with them and send emails and send updates and invoices, contracts, and receive payments all in one place. It keeps my business organized. I like the mobile app for business on the go. The customer support is helpful and responsive. Love the scheduling app! It has replaced my previous scheduler.
Cons
I want more email customization - better html features - add photo to my signature, add gifs, rename buttons and add them wherever I want in the email.
I'd like it to manage my items better - have a place where I can update item pricing and descriptions and archive old items.
I'd like better customization around the contact forms. Be able to match the text and font and fields closely to my website so that it integrates better onto my design. Be able to change colors of text and lines, and fonts and customize the lead contact form better.
Reasons for Switching to HoneyBook
The other product had a high learning curve. I took training courses to get started and it was still confusing. The interface wasn't that pretty or easy to navigate. The scheduling app was ugly. Even though it allows for more customization than Honeybook, I chose Honeybook because the entry level price matched my business and I like the clean look of the interface and easy to use navigation and the mobile app is great!
Industry: Hospital & Health Care
Company size: 2–10 Employees
Used

Daily

for

2+ years

Review Source
---
Traumatized: 2 Years of Headaches then back Square 1
Traumatizing. They've got the right idea but not a single clue about operating a business. In the end, the lesson learned in my own business is to stop paying for headaches sooner rather than later.
Pros
Customizing the aesthetics of Client facing files was the reason we used it and the time invested in getting those things created, was why we stuck with it far longer than we should have. Regret every penny and every hour spent on this software, ultimately they "updated" their format (again) and we had to start all over - at our expense and time investment. They lost every payment dispute, dispute our never having lost one when we could handle them: our contracts are iron clad. You're not given the choice to handle dispute: they must do it - they charge you for it too!
Cons
Customer service is pass-the-buck and no phone number and call backs hours to days later…don't bother calling on a Friday afternoon, and if u do biz on weekends - too bad for you. Extremely slow to create something, it freezes, slow to upload assets, not intuitive to use whatsoever, help docs are vague. I once begged them to add non-gmail email and they told me their software was "not sophisticated" enough for me.
Reasons for Switching to HoneyBook
Already using Notion for biz operations, added the functionality of Honeybook to Notion myself using Typeform integrations. I wouldn't have had the knowledge to do this 3 yrs ago when I started w Honeybook, learning Notion has been a fantastic investment of time and very inexpensive.
Industry: Information Technology & Services
Company size: 2–10 Employees
Used

Daily

for

1+ year

Review Source
---
LocallyHost.Com use of HoneyBook
It enables us to create, send and manage contracts, invoicing and billing like no platform we have ever used
Pros
Easily sending out contracts and enabling the clients to sign them electronically
Cons
The cost of transitions when collecting online payments from clients
Reasons for Choosing HoneyBook
We stopped using QuickBooks Online to send out invoices as we couldn't use it to sign documents electronically
Reasons for Switching to HoneyBook
We used DocuSign for some time and stopped because HoneyBook provides significantly more value
Industry: Professional Training & Coaching
Company size: Self Employed
Used

Daily

for

6-12 months

Review Source
---
A Great Resource For Small Businesses
Pros
One, they created flexibility with pricing; for someone who wants to use the platform but uses a different checkout option, there is a very affordable tier. That tier is also fantastic for those just getting started. I've always found it crazy that more platforms don't carry an option like this for beginners.
Since I've been with Honeybook, they have been improving the software; they recently just came out with a fantastic feature to take your lead or on a streamlined journey.
Cons
I hope they allow us to ACTUALLY customize our project pipeline at some point.
Not everyone has the same process, and there is stuff I can't take off because it's default.
I also wish there was an easier way to just send someone to the item to be sold page rather than taking them to a pipeline, we all get leads differently, and I'd like to skip a step for some people.