About SKU Science
SKU Science is a simple, smart, and secure demand forecasting and planning solution. It's easy to use & can be deployed within 2 days. Unlike other supply chain management solutions, you don't need to pay to see the value. SKU Science is built for operations managers, S&OP managers, supply chain managers, and demand planners. Each demand forecast is unique and determined from 644 statistical combinations. Not all products are equal: Demand forecast KPIs are automatically generated and sorted to quickly identify critical items for your supply chain and business. Operational follow-up dashboards are instantly generated to ease your S&OP process and business reviews. Our technology is supported by the publication of several books from author and consultant Nicolas Vandeput: "Data Science for Supply Chain Forecasting" and "Inventory Optimization: Models and Simulations"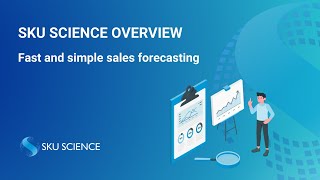 SKU Science offers a free trial. SKU Science paid version starts at US$295.00/month.
Starting Price:
US$295.00/month
Alternatives to SKU Science
Industry: Medical Devices
Company size: 51–200 Employees
Used

Daily

for

6-12 months

Review Source
---
Simple, intuitive, yet powerful tool for demand forecasting
I find it rare these days to find product that not only do EXACTLY what it says it will do, but even exceed expectations. The SKU Science team promised a powerful, user friendly and cost effective alternative and that is exactly what they got. This tool single-handedly enabled in-depth discussions with our sales teams and unprecedented visibility into the performance of each SKU. We reduced our overforecasting with roughly 60% since we implemented the tool about 5 months ago and is likely to reduce it further as we continue to use the tool more.
Pros
As the title suggest, the product is fairly easy and intuitive to use, and it was quite easy to pick up.Some of the best aspects was the clear visualization of both historic sales, baseline forecast, and the adjusted forecast, all in one picture, and also the ease in which one could transition between (and forecast on) different levels of data aggregation.The support team is also one of the best I've ever encountered. In any setting, both professional and private. They are extremely customer centric.
Cons
I personally would like to see some more filter options in the Forecast view in the future. Right now it is really good already, but there has been scenarios where it would have been nice with some more options for conditional filtering. Then again, this is a personal preference and it might be hard to implement without trading out user friendliness, which is one of the biggest strengths with this tool.I used to have some issues with data uploading format the first month of using the tool, but the SKU Science team was quick to notice any errors and patching them away. None of my uploading issues remain as of today.
Industry: Automotive
Company size: 10,000+ Employees
Used

Weekly

for

1-5 months

Review Source
---
SKU Science Review for Aftermarket Parts
Overall very satisfied. Delivered an accurate forecast in an easy to use format as promised. Incredibly pleased with the ability to pinpoint high value items that were difficult to forecast items and deserved a second look. The training and customer support were absolutely fantastic.
Pros
Ease of use. Accuracy of forecasts. Relevant metrics that help make efficient use of forecasters time.
Cons
With a high number of forecasts (100k+), navigating to specific SKU forecast took some time to figure out.
Response from

SKU Science

Thank you Jonathan for your review. and highlighting the capability of the platform to pinpoint high-value items in a large number of forecasts.

Replied 18/07/2022
Industry: Retail
Company size: 1,001–5,000 Employees
Used

Monthly

for

1+ year

Review Source
---
Budgets - Sku Science
Sku Science has dramatically improved the efficiency and productivity at budget time.
Pros
We use Sku Science to support the budget process. The software enables us to quickly review/change at sku, customer and channel levels. We can also import machine learning forecast as the base forecast which greatly helps in reviewing cycle, pattern and trends.
The support from Sku Science is first class and despite us being in Australia this did not effect the performance.
Cons
The reporting side is certainly the weakest part of the software. Instead of downloading into excel it should be made available to be reviewed in the tool.
Response from

SKU Science

Thank you Mark for your review and to highlight the capability of the platform to adjust forecasts at any level quickly. We have addressed your feedback about the reporting to provide a better user experience.

Replied 18/07/2022
Industry: Sporting Goods
Company size: 1,001–5,000 Employees
Used

Daily

for

6-12 months

Review Source
---
Powerful and easy to use tool that provides the user with multiple options and real-time...
We were pleased with the assistance in setting up the software to get us on track with our project. The user support was timely when required and the models included within the software are contemporary with additional value added features like ABCXYZ analysis and real-time forecast KPIs.
Pros
Easy set-up process and data wizard and good visualization when switching between models. Helpful reporting tools and fast between selections and screens.
Cons
Our requirements were business specific, therefore anything that was missing was requested for future development.
Response from

SKU Science

Thank you Terry for your review of SKU Science and for highlighting the ease of the setup process and reporting tools.

Replied 23/02/2023
Industry: Chemicals
Company size: 201–500 Employees
Used

Weekly

for

6-12 months

Review Source
---
Evolving Demand Planning
Simplifies a lot task related with forecasting and demand planning
Pros
It´s very easy to implement and easy to use.
Cons
Adjusting forecast parameters is not as easy as in other solutions with similar price .
Response from

SKU Science

Thank you for your review Alvaro Manuel. Indeed the platform is designed to quickly change forecasts values at any level, but although forecast parameters are visible the idea is not to change them manually since they are automatically updated each new cycle. This may be frustrating for forecast experts, but most of our users don't want to dig into the mathematics of forecast models and rely on the platform to pick the best model.

Replied 29/03/2022