About Price2Spy
Price2Spy is an online price monitoring and comparison tool for small to large online retailers, manufacturers, brands, and distributors from a variety of industries. The solution offers tools to monitor, track, and analyze competitor product pricing and availability. Users have access to pricing data as well as multiple reporting mechanisms for analyzing data. Integrating Price2Spy with Google Analytics 4 enables cross-referencing and analyzing two data sets for better pricing decisions. Price comparison features show users historical data that shows how each competitor changed their prices over time. The pricing dashboard provides professionals with the most recent price and stock changes, including instant or daily price change alerts that can be sent directly to their email inboxes. Price2Spy offers integration with eCommerce platforms such as Shopify, Magento, BigCommerce, and others. Price2Spy has different pricing plans depending on the number of 'Product URLs' to be monitored within an account and also the feature set required by the user. Price2Spy's customer service team provides live support in different languages for their clients. They offer online and phone support as well as tutorials, demos, documentation, and FAQs.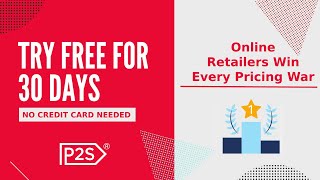 Price2Spy does not have a free version but does offer a free trial. Price2Spy paid version starts at US$26.95/month.
Starting Price:
US$26.95/month
Alternatives to Price2Spy
Used

Daily

for

1+ year

Review Source
---
Exceptional Software, Even Better Support
Pros
Pros
- Automatically checks pricing as regular as you need it
- Repricing reports very easy to use
- Links to Magento store for fully integrated solution
- Price2Spy staff go well above and beyond to help
- Timeline view is invaluable to see which store dropped a price first
Cons
There are a few features that would make it better (fully automated repricing, more filtering of large product sets) but the team are implementing new features regularly.
Response from

Price2Spy

Thank you very much for your kind words, Dave! We will do our best to keep delivering the service you need. Please let us know if you have any suggestions or need help with anything, we will be happy to assist you.

Replied 20/02/2019
Industry: Machinery
Company size: 51–200 Employees
Used

Daily

for

2+ years

Review Source
---
Price2Spy - Great tool / moderate cost / exceptional customer support
If you're dealing with hundreds or thousands of products as we do and trying to monitor competitor sites manually you should definitely check out Price2Spy. It helped us to save significant amount of time from our routine tasks (such as, data processing and product pricing). So now, we can really focus on what matters to our business.
Pros
There are many benefits of using Price2Spy, below I'll only be able to list some of them:
- As a online retail company for tools and garden equipment, we are facing very competitive market, where we need to make quick repricing decisions
- We're dealing with 1000s of products, and we needed as much automation as possible
- The frequent price checks offered by this tool, along with reports that help us have a good insight of the strategic pricing strategies of our competitors
- The reports are instinctive and easy to generate, and most of all, simple to interpret
- Price change alerts (received via email) have multiple triggering options to choose from which is great
- Automated repricing works like a charm, so we do not have to put manual effort into it
- Price2Spy Support Team is better than any other support team that I've worked with. They're real professionals and solving any problem that we're facing in no time!
Cons
I have noticed a couple of features that could be improved. My idea have been considered, and in the end implemented, but are taking a bit long to be implemented.
Response from

Price2Spy

Thank you very much for your kind words, Igor! We will do our best to keep delivering the service you need. Please let us know if you have any suggestions or need help with anything, we will be happy to assist you.

Replied 13/09/2019
Used

Monthly

for

6-12 months

Review Source
---
Improvements
I used Price2Spy for about 9 months and I can say that I like it. It is very easy and intuitive to use.
But I have found some issues:
- I have to check manually the urls for some channels, because I can see a price for the product, but if I click on the url, it doesn't exist anymore!
- Sometimes the price from Price2Spy is different from the price in the Url
- For "ebay" a lot of time the Url still working, also if the product is not available
Pros
It is easy and intuitive to use.
Cons
1. The correspondence between price2spy and the price in the urls.
2. Not existent Urls
Response from

Price2Spy

Claudia, thanks for the feedback, it means a lot. Please keep in mind that we offer various solutions to help you keep your account fresh and updated and would be thrilled to discuss them with you if you'd like!

Replied 4/10/2016
Industry: Sporting Goods
Company size: 501–1,000 Employees
Used

Daily

for

2+ years

Review Source
---
Great for Smaller Companies
Price2Spy has been our go to price comparison tool for years. We loved what they offered, but as we have shopped around and seen newer products, we are noticing some gaps in functionality.
Pros
We have used Price2Spy for years as our only price comparison tool. It is an incredible value for the service they offer and their customer support is second to none. We have been basing our merchandising decisions off of the data that Price2Spy provides.
Cons
As our company grew we realized that we needed a more robust price comparison tool. Price2Spy wasn't cutting it anymore. There are features of newer tools that should be standard in a price comparison tool and we are realizing that now that we have options. For one, the inability to upload a product list on our own is a big deal. We have to go through customer support (who have been incredibly helpful) in order to upload the csv files.
Response from

Price2Spy

Thank you for your review, we really appreciate it. We're happy to hear that you're satisfied with our support and services! Please keep in mind that we provide a wholesome solution from small to large international companies, worldwide. On top of that, we always do our best to meet every requirement, so please send us an email to [email protected] and we'll be happy to consider your suggestions. Hopefully, you will be able to benefit from using Price2Spy even more in the future!

Replied 29/06/2020
Industry: Retail
Company size: 51–200 Employees
Used

Daily

for

2+ years

Review Source
---
Keep prices under control in the simplest possible way
We have been using P2S since 2014 and monitor over 36,000 products and their price development. If you want to keep an overview and control of your pricing, this is the right place for you. We don't like to trust automated systems and therefore use the Price Matrix Report which always gives us a very good overview of the price development. The import and export of data is simple and fast.
Pros
The support is always available and solves problems very quickly and efficiently. Manual adjustments to your own infrastructure. Very good overview of all prices and competitors in the Price Matrix Report. Report contains a link to the URL to quickly check products. Very fair prices for changes, adjustments and data maintenance. 1 account can be used by multiple users. Different possibilities for manual and automatic matching of products. Good import and export functions. Finds prices even on complicated websites.
Cons
The very nice and helpful people of P2S are unfortunately very far away ...
Response from

Price2Spy

Thank you so much for your kind words, Thorsten! We really appreciate you taking the time out to share your experience with us. We will continue doing our best to offer you the best service and support!

Replied 29/06/2020