About DigitalChalk
DigitalChalk is a cloud-based learning management solution for small and midsize businesses. Primary features include e-learning, customizable course content, content library, track progress, reward and real-time analytics. Other features include mobile learning, SCORM compliance, shopping cart, video playback, import details and multiple language support. Using DigitalChalk users can track student progress and incorporate online tests and assignments. It provides a quick registration process and on-the-go training. The online courses are interactive with HD streaming videos and provide the ability to attach documents and files. The built-in HTML editor allows users to create online slides. Users can add audio and synchronize PowerPoint slides. It is offered in a subscription pricing option. Support is offered via email and over the phone. Other help options include user guides, knowledge base, blogs, FAQs, video tutorials and developer documentation.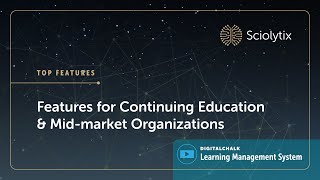 DigitalChalk does not have a free version and does not offer a free trial.
Alternatives to DigitalChalk
Forget looking anywhere else!
First Pro - Their Team
From the first demonstration with sales to technical support and client service, the DigitalChalk Team not only answered our questions but answered them thoroughly and offered other ideas to help our business deliver the perfect e-learning experience to our customers. It is not necessarily the service that is unique, it is the people behind that service that takes our experience to an entirely new level. You will likely see this said time and again from others but "They care about our success."
Second Pro - Technical Support
We have a limited team here that deals with our tech issues and questions. We have relied on J and Adrian so many times, I have lost count.
The turnaround on issues is amazingly quick and they even adapted to our unique request to allow a certain type of content to be accessed through our courses iFrame features. We proudly stand behind this tech team of DigitalChalk.
Third Pro - Course Delivery
We ran extensive comparisons on the other LRS and LMS options out there and we could not be more thankful that we chose DigitalChalk.
We have seen other student access portals and while some might offer a "prettier" appearance but can not hold a candle to the features we get through DC.
From branding to delivery format to tracking and the support options you can offer your students, it is an winning choice to go with DigitalChalk. To top that off, they are always coming up with new features. They even took a request from us to customize our exam delivery functions.
Fourth Pro
Notification of student or account activity. We are smaller, so we typically wear several hats at our organization. With that said, we never have to worry about actions on our course going un-noticed. DigitalChalk offers a full suite of notification options triggered by student or Admin activity that you can customize to fit your specific needs. If, by some small chance, they don't offer the notification trigger you are looking for - call support and, based off our experiences, before you get off the phone you will have a solution to your problem or someone will be working on it immediately.
We will go nowhere else!
A sincere Thank You from a loyal client.
Excellent product and very easy to use
I've been using the DigitalChalk system extensively to produce online training, and I personally believe that it is the best learning management system available right now. The development team is constantly adding new features and their customer communication is clear and frequent.
- DigitalChalk basically covers everything one needs in order to produce online training and deliver it to an audience. A fully customizable, branded course catalog and shopping cart come standard, and it can blend smoothly into an existing website.
- The course editing GUI is intuitive and fairly easy to get the hang of when creating a new curriculum. All media uploads are optimized automatically, similar to how Youtube creates multiple resolutions for a single video. Students or trainees with slow internet connections will still be able to participate satisfactorily, while others with fast connections can enjoy higher definition.
- eCommerce and gradebook tracking reports are *phenomenal*, and probably the most useful (to me, anyways) part of the system. It is very easy to set up affiliate marketing links to track how effectively your courses are being advertised by other organizations.
- The only thing I would recommend is that DC eventually adopts a closed-captioning system. Youtube has an automatic one that doesn't work well at this point, and I know the technology is still in its early stages. Using third-party software, I have to manually insert captioning into my videos intended to be accessible for students who may have difficulty hearing.
At first, DigitalChalk is simple and straightforward. One can begin creating courses right away. As I gained more experience creating courses, it surprised me with the large amount of useful options and deep features it offered. Overall, it has been a very satisfying experience.
For those who are not tech or computer-savvy, or don't have the extra time, staff, or resources to devote themselves to creating and managing online training, I would still recommend using DigitalChalk. I would definitely call their customer support for guidance, or find an organization like mine that can personally guide you through the process and manage it appropriately.
DigitalChalk shines with their customer support
Digitalchalk support team is truly stellar. They have always offered prompt and helpful responses to my numerous queries. And they speak like real humans. You do not feel like you are interacting with a disembodied company.
There software works well for what it does, offering numerous options. Quite feature rich for the price you pay. Their per transaction fees are low, so you get to keep more of your sale price. We have some wishlist items about the Shopping Cart experience (login is required, so the first thing customer sees is a login screen instead of a shopping catalog). Some other features we wold love to see: play videos at faster speed (1.5x 2x Youtube and Udacity allow the same). But overall we are fairly happy with the software and the online experience.
They show online video at 720p HD @2200 kbps which is awesome and our users love that. Works fine almost all the time. Extremely rare for a user to complain about slow playback or other issues. Most of those are resolved quickly by the amazing support staff.
Industry: Education Management
Company size: 2–10 Employees
Used

Daily

for

2+ years

Review Source
---
Amazing customer service-easy to use
My students can easily register and pay for a class all in one spot.
Pros
Digital Chalk is an easy to use combined LMS/ SIS. It has features that I find superior to the biggest competitor, specifically the gradebook and connected payment system.
I also find the customer service to be beyond compare. I have often needed assistance and Digital Chalk staff reply swiftly and are very helpful.
Cons
The main thing I would add is a built in discussion forum are for courses. There is pay-to-play feature, but there are free options one can link into the course. (I use Piazza.)
While the fees are not exorbitant, they have grown significantly in the years I've been using Digital Chalk. I hope they are not going to rise any more.
Industry: E-Learning
Company size: 501–1,000 Employees
Used

Daily

for

2+ years

Review Source
---
My experience with Digital Chalk has been awesome.
Digital Chalk was very easy to use out of the box, and we were up and running in a matter of days. It has allowed us to provide online training to our volunteers in a very user-friendly manner.
Pros
Digital Chalk is amazingly easy to use for the trainees, as well as the administrator right out of the box. The interface is very clean and appealing. It has all of the basics you would need in an LMS. The customer support is also amazing. I always get replies to questions from them in a matter of minutes.
Cons
It doesn't have all of the bells and whistles that some other LMSs have, but it also doesn't cost what those other LMSs cost. For example, course versioning and auto-reassignment of updated courses would be nice.