About Peach Software
Peach Software is an all Australian, fast throughput, cloud-based Software, which can be customised for Importers, Wholesalers, Retailers and Workshops. Best for 1 to 20 users and branches. Starting at $1,500.00 and then $250.00/Month, Peach is Used by Companies with 10,000 to 1 million Inventory Items and large Debtor Ledgers. Peach Software focuses on Purchasing, Warehousing, Automated Pricing and Customer Contact Management. Automate Selling Prices using price Matrices by Product, Qty Breaks, Product Groups & Subgroups + Automate product Promotions with start and finish dates by Customer or Customer Category. Advanced Kitting features allowing Kits to Auto-Build during a sale or From a Job card, for your staff to prebuild. End to End barcoding scanning throughout your organisation, Scan barcodes to receive, stocktake, pick, pack and sell. Each Item can have multiple barcodes where you source them from multiple suppliers. Email or Text Sales Invoices, Purchase Orders, Specials, Statements and even account reminders. Unlimited contacts for Customers and Suppliers with contact specific settings as to who gets which documents. Text or email specials to one or a group of customers. Text account reminders in minutes knowing the message won't get stuck in a bottomless inbox or spam filters. Improve Cash flow with automated Account reminders. Open reports straight to PDF or XL and change the view from summarised or detailed format on the fly. Reporting can be grouped and sub-grouped. Select any field to sort the report in ascending or descending order. Peach has a powerful Custom Report writer so you can design and save your own reports. Peach Mobile works on any smartphone. Scan through Customers, Suppliers and Products. See statistics and account balances. Take customer orders or generate supplier orders on the move. Integrated B2B allows customers to log in 24/7 and Check their pricing, Stock & availability, see pictures and place orders. Customers can even generate an order based on their own purchase history. Customer Orders instantly appear in your system back at the office to be picked. Through our B2B, you can promote new lines & customer specific specials. Peach Software doesn't just streamline your business, it increases it and pays for itself time and time again.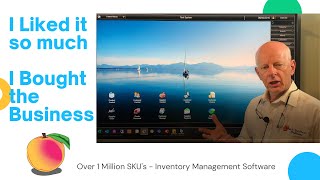 Peach Software does not have a free version but does offer a free trial. Peach Software paid version starts at A$250.00/month.
Starting Price:
A$250.00/month
Alternatives to Peach Software
Industry: Wholesale
Company size: 2–10 Employees
Used

Daily

for

1+ year

Review Source
---
The best Orders & Inventory management software for Automotive Spare Parts businesses
Pros
It provides ease of use and the quickest customer journey via the car parts selection catalogue.
Cons
Integration with other accounting software could be improved.
Response from

Peach Software

Thanks so Much Muhammad. I hear where your coming from with the integration. In future we will be moving the integration to Xero and MYOB to an API

Replied 15/04/2021
Industry: Wholesale
Company size: 11–50 Employees
Used

Daily

for

2+ years

Review Source
---
Peach Ahead
Peach has allowed us to be more efficient in our sales environment and has helped us grow 35% in sales without the need to hire extra sales phone order staff.
Pros
Integration was a huge concern but was made seamless by the Peach team. Usability and pricing matrix are key features.
Cons
Product reference file is hard to maintain in an efficient way but they are working on a better solution to that.
Alternatives Considered
Pronto
Reasons for Choosing Peach Software
We needed a more flexible reporting program that had a more powerful pricing matrix.
Reasons for Switching to Peach Software
Peach was a more streamlined and user friendly program, with a better pricing matrix.
Response from

Peach Software

Thanks for your review Dave. Your ongoing Ideas help us grow.
Regards Rob C.E.O.

Replied 13/04/2021
Industry: Computer Hardware
Company size: 2–10 Employees
Used

Daily

for

2+ years

Review Source
---
Peach Software Review
Love it!!
Easy to use and easy to train.
Pros
Ease of use.
I have been using it for years.
Cons
A little hard to learn, but it is easy once you are trained.
Industry: Automotive
Company size: 11–50 Employees
Used

Daily

for

1+ year

Review Source
---
Its better than a 10 year old version of MYOB
Peach was definitely an improvement on our last system. It has plenty of decent features and runs well for the most part. Sorting issues tests your patients and often end up in just working around the issue.
Pros
Customization of customer profiles and pricing structures, ease of access to product and customer details, general interface is easy to use and bulk change ability across different groups is fantastic. Generally runs well.
Cons
The Bugs. A lot of times there is an update something stops working correctly. Whether it is back orders that stop working or items outstanding from an order with suppliers no longer showing as on order or product building off itself. These normally get fixed but that is a task in itself and you are made to feel like it is something you are doing wrong. The reporting is over complicated and building your own reports is painful.
Response from

Peach Software

Hi Jeremy, thanks for taking time to provide a detailed Review. I'd like to know more about your challenges, and invite you to contact me directly to discuss. Thanks, Rob C.E.O.

Replied 20/04/2021
Industry: Wholesale
Company size: 2–10 Employees
Used

Daily

for

2+ years

Review Source
---
Using Peach With Ease
Peach and there support staff after the install has made it a pleasure to deal with them.
We have had custom mods done to suit our warehousing etc (at a very reasonable cost)
Pros
The integration into our business from MYOB was very easy and the backup support and answers to any questions was first class.
Cons
We have not found any major negatives with PEACH
Response from

Peach Software

Hi Thomas, thanks so much for your great review. Our support Team really enjoy dealing with you and certainly your always positive outlook makes it so easy for us to help.
Rob C.E.O.

Replied 16/04/2021