About Airtable
Airtable is a cloud-based project management solution targeting small to midsize businesses as well as departments within larger companies. This system focuses primarily on data organization and collaboration. The system uses a spreadsheet format to organize data. Related data can be linked together; for example, contacts can be linked to their companies or inventory items can be linked to their vendors. Airtable is compatible with multiple devices. On desktop computers, users see data in a spreadsheet format, while on mobile devices, data can be viewed as tappable cards. On both devices, users can add and remove data, attach files and share tables. Airtable integrates services such as Dropbox, Box, Evernote and Google Drive. Tables in this software are shareable, and users can track who is making changes to documents when. A chat tool is also included, which allows users to chat each other while working on tables. Airtable was founded in 2012 and is offered worldwide. This software is priced on a per user per month basis. A mobile app is available for iOS.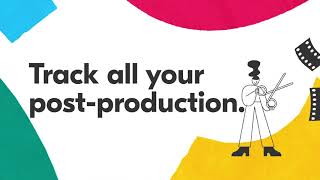 Airtable has a free version and offers a free trial. Airtable paid version starts at US$12.00/month.
Starting Price:
US$12.00/month
Pricing Details:
Airtable offers 4 pricing plans. Free: $0 per user/month for 1,200 records/base, 2GB attachment space/base & 2 weeks of revision & snapshot history Plus: $12 per user/month for 5,000 records/base, 5GB attachment space/base & 6 months of revision & snapshot history Pro: $24 per user/month for 50,000 records/base, 20GB attachment space/base & 1 year of revisions & snapshot history Enterprise: To receive an accurate quote, contact Airtable directly. Airtable also provides special plans for nonprofit and education organizations.
Industry: Marketing & Advertising
Company size: Self Employed
Used

Daily

for

1-5 months

Review Source
---
Airtable
I love it but just wish the free version were a little more affordable.
Pros
I love the functionality of Airtable. It allows you to track and cross track so many things.
Cons
The paid version is expensive. I would like to color code records, but the cost is $20 per month which is quite a bit.
Reasons for Choosing Airtable
Airtable provides much more functionality
Reasons for Switching to Airtable
I like the fact that there are sheet views that easily convert to calendar views. The others provided more of a todo list and you needed due dates for it to work. Airtable was the most similar to Google Sheets.
Industry: Sports
Company size: 11-50 Employees
Used

Daily

for

2+ years

Review Source
---
The next generation of spreadsheets
We use Airtable to aggregate different small data sets and create multiple views for stakeholders. The data is easy to share, update, and filter based upon queries. There is also a robust community of 3rd party apps that can integrate and provide additional functionality.
Pros
Flexibility! There are a lot of ways to approach whatever problem you are trying to solve with Airtable. We have different bases and can structure the data in ways unique to that base. Unlike an excel clone you are not pigeon holed in to a singular framework in working with your data.
Cons
No offline access. While lack of an internet connection is less of an issue than it has been historically, we still run in to challenges occasionally.
Industry: Automotive
Company size: 51-200 Employees
Used

Weekly

for

1-5 months

Review Source
---
Intuitive to use, great for collaborative teams
This has helped us become a more scalable and collaborative team. Having all trackers in one central location provides visibility to everyone and helps keep people accountable and on track.
Pros
The ability to customize or choose a template for table is great. Being able to have multipole tables so all areas of a team can track their items, but still have everything visible to the entire team in one place is so helpful. The timeline view is especially helpful in content planning and marketing communication planning. Also the onboarding and training is so simple and not time intensive.
Cons
There were no obvious cons for this program.
Industry: Photography
Company size: 2-10 Employees
Used

Daily

for

2+ years

Review Source
---
Longtime Airtable User
I hands down would not be able to track my incoming flow of client work without Airtable. It was a final solution to a really big problem. It's easy on the eyes and easy to compartmentalize my project workflow.
Pros
The simplest form of using Airtable is still so much better than using Excel Spreadsheets. Airtable is fairly easy to use, however, does take a bit of time to learn about so many of the features it has to offer. I could probably apply more time in learning how it could further benefit the way I use it every day in my business.
Cons
I do find there are SO MANY great features, it might be nice to have an onboarding specialist... heck I've been such a long-time user maybe they have this. Their customer support is top-notch and quick to respond to any requests.
Reasons for Switching to Airtable
I had seen these other products about a year into using Airtable and was pretty content with my current situation, I took a look at ClickUp and it just seemed too bloated for what I needed. Monday also. Airtable is just a lot easier to use in a simple manner or a more complex manner when you are ready for it.
Industry: Financial Services
Company size: 11-50 Employees
Used

Daily

for

1+ year

Review Source
---
Extremely powerful but requires a lot of setup to make it yours!
We collect customer feedback and feature enhancements with the forms functionality, then rank these internally. We can use this for sprint planning, issue tracking, and resource management. I have setup the base to share between colleagues, with many using view only mode and some being collaborators.
Pros
I love how powerful and extensible the software is. You can achieve almost anything you need to, within reason. It support scripting, math functions, and a variety of inputs. I love how you can share forms to input data via.
Cons
Some basic features are paid only, so I had to upgrade just for colour options. Also, while they have a large number of templates ready to go, you will almost always need to manipulate a base to make it exactly your own and fit your needs.