About MYOB Advanced Business
MYOB Advanced Business is a cloud-based enterprise resource planning (ERP) solution that enables businesses to streamline processes related to sales, inventory management, payroll, customers, accounting and more. Professionals can utilize the platform to create projects using in-built templates, generate invoices and handle weekly, monthly, quarterly and custom billing processes. Key features of MYOB Advanced Business include workflow management, audit trail, drag-and drop interface, timecards and personalized dashboards. Administrators can manage marketing campaigns, track equipment, set up maintenance schedules and utilize an application programming interface (API) to connect the software with several third-party platforms. Additionally, it lets supervisors gain visibility into business activities via reports, data visualization capabilities and more. MYOB Advanced Business provides mobile applications for Android and iOS devices, which helps professionals create tasks, enter expense claims/receipts and review documents, even from remote locations. Pricing is available on request and support is extended via phone, documentation and other online measures.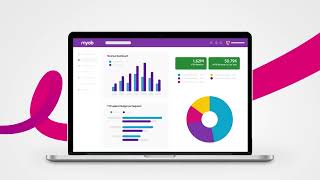 MYOB Advanced Business pricing
MYOB Advanced Business does not have a free version.
Alternatives to MYOB Advanced Business
MYOB Advanced Business Reviews
Industry: Real Estate
Company size: 51–200 Employees
Used

Daily

for

2+ years

Review Source
---
Myob aAdvanced, a complete business solution.
My experience in using MyOB Advanced is great. I'm dealing with customer services and Human Resources works. MyOB Advanced helps me and my company to be more responsible and gives more measurable and satisfied services to our workers and clients.
Pros
MyOB Advanced offers a lot of modular but integrated accounting functionities, easy to use and comes with real time cloud base activities. You can accomplish any accounting tasks that deal with your team and clients anywhere and anytime.
Cons
MyOB Advanced ease complications of any accounting system, that's why the UI design should developed to be more intuitive and user friendly.
Industry: Human Resources
Company size: 1,001–5,000 Employees
Used

Daily

for

2+ years

Review Source
---
Efficient and seamless accounting on MYOB Advanced
MYOB Advanced also enabled us to save on having our own server-based environment, we're now in the Cloud. So a saving on server license fees/ backup issues etc. We have also centralised our FAR in MYOB. Velixo is definitely the best feature of using Advanced, as detailed above.
Pros
Integration with Velixo is a big plus. The write back and drill down features enable us to complete the accounting / reporting a lot quicker. -Updating budgets is much easier now. Velixo has provided a full suite of customized reports by refreshing data and changing date filters.-A key strength of the fixed asset module is that we can attach things like CAPEX approvals, quotations etc to the fixed asset record.
Cons
The fixed assets forces the user to enter a useful life even for RB assets. There's also not validating tool prior to import, so when you set this up in MYOB you need to keep re-importing. We had some initial difficulties with inter-entity transactions which was only overcome with customisations and some protocols being put in place.
Reasons for Choosing MYOB Advanced Business
ERP300 was no longer supporting the version we were using and was incompatible with MS Office 10 (I think?)
Reasons for Switching to MYOB Advanced Business
Cost and ease of use. Sales people explained the product better and we thought we would receive good after sales implementation (which we did)
Industry: Automotive
Company size: 11–50 Employees
Used

Daily

for

6-12 months

Review Source
---
Disaster - 12 months of onboarding, training and workflow concepts we could not go live.
Not that great.... we spent 12 months of training, delayed going live because the inventory warehousing module didn't productively handle once of imports which needed to be allocated to Service Orders or Sales Orders. To make the system work over 400+ additional hours of customisation would be needed to allow picking slips on Service Orders, Batch customer driven backorders for weekly supply orders, sync up equipment management with service management, but the one thing that stopped going forward was the warehouse receivable process that was so underdeveloped it needed a complete revamp. None of this was picked up during the first few weeks of scoping the required workflow. On the 11th Month we decided to call it a day as the additional cost was 200% more than what we first expected. MYOB pulled the EULA and said we must keep paying up to 18 months of user subscriptions even though the product sold was not fit for purpose.
Pros
Our business Equipment Dealership, import, sell and offer aftersale care over the life of the machine, some projects, we needed a project management module that our Dealer Management System did not provide, MYOB ERP Advance looked to have everything we needed. Added benefit was an upgrade to our AP & AR and payroll.
Cons
In the Automotive & Equipment industry, inventory management is the backbone of the company, repairing vehicles and machinery always requires an accurate and easy functioning warehouse. Unfortunately, MYOB ERP Advanced "Acumatica" hasn't worked this industry out. The receivables and release to customers for imported one-off or low-volume replacement parts as a very awkward workflow that is counterproductive unless you spend a lot of $$$$ on customisation. If you are an importer that requires a customer-driven backorder out-of-stock resolution workflow, I suggest not looking at MYOB ERP Advanced.
Industry: Wholesale
Company size: 11–50 Employees
Used

Daily

for

2+ years

Review Source
---
Very Capable Accounting software
Pros
I am able to extract data very easily through Odata and have been able to set up useful API integrations with other software. It is also easy to create my own reports using Generic Inquiries. These work very similar to how a pivot table works and I am able to customize to bring in the data fields I want to see.
Cons
Sometimes being a proper accounting software i find some users find it difficult to understand and are overwhelmed by the features. However if being used by an accountant and with consultation with MYOB customer service this can be overcome to make reports and data points that all users can find useful.
Industry: Hospitality
Company size: 2–10 Employees
Used

Weekly

for

1+ year

Review Source
---
Good Accounting Software with Good Support
The software is reliable and does the job. It doesn't have fancy reporting or an amazing user interface but it's got everything you need. MYOB responded well to the changes needed for STP reporting, JobKeeper payments and Government Grants.
Pros
Good, reliable software for accounting and payroll. Integrates well with our timesheet and rostering App (Deputy). Product support is generally very good and has extended hours.
Cons
A few things are not very intuitive, eg I wanted to run a report showing how much we've spent with a certain supplier over the past year. The information wasn't where you'd expect it (in their card file). There are a couple of ways to get this info but I had to call support to find out. Also, we don't typcially generate invoices but when I needed to do one, I found it quite difficult to format it how I wanted it and to find out how to provide bank details instead of credit card info for payment.
Reasons for Switching to MYOB Advanced Business
Accountant uses MYOB and it seemed simpler to use the same.