About Teamwork
Teamwork is the only project management platform built specifically for client work. Deliver work on time and on budget, eliminate client chaos, and understand profitability, all in one platform. Teamwork's customers track and manage their projects with a suite of integrated solutions such as helpdesk, collaboration, knowledge sharing and customer relationship management add-ons, enabling Teamwork to be the 'one-stop shop' solution for business owners. Headquartered in Cork, Ireland and founded by a team who have run an agency before, Teamwork has more than 20,000 customers around the world with a global team of over 350 employees. Learn more at teamwork.com.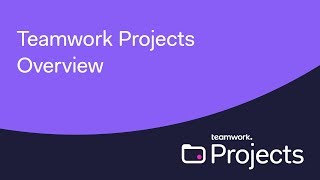 Teamwork has a free version and offers a free trial. Teamwork paid version starts at US$10.00/month.
Starting Price:
US$10.00/month
Pricing Details:
A 30-day free trial is available, after which Teamwork pricing tiers are: Free Forever: $0 (for 2 projects and up to 5 users) Deliver: $10/user/month billed annually (or $12.50/user/month when billed monthly). Grow: $18/user/month billed annually (or $22.50/user/month when billed monthly). Enterprise: To receive accurate pricing information, contact Teamwork directly.
Used

Daily

for

1+ year

Review Source
---
Productivity in full effect
Pros
Teamwork is great for not only a team of people, but for the individual user as well. I run a small accounting business and I'm my only employee. Teamwork allows me to set up tasks and projects that are both one-off tasks and regularly reoccurring tasks. As I check off the tasks that need to be done today, I can look forward to the rest of the week and get a good reminder of what is coming up. It also allows me to invite clients into the tasks so they can see the status of where I am at in a project we have agreed upon. They can upload documents, make comments. I can use a basic time-tracking tool to make sure I'm not estimating my time spent incorrectly. The extra time I have to spend upfront to get the tasks and templates created is well worth the time when a new client comes along. I don't have to recreate the wheel, or think extra hard at remember what I did last time. I can simply apply a template of tasks for any given project that is needed and we are set and rolling! This is one of the best tools I've discovered for running my practice.
Cons
For tasks that are set as reoccurring, their display of the tasks isn't the best. I click the task as complete and it immediately populates the next instance of that task right below the one I completed. I have to pay special attention to the tasks for this reason when checking stuff off. I have often checked the next month's task off after clearing the current one. When I uncheck the following month's task as actually not completed, it does not remember the future events that were created, thus making my task list look much larger than it actually is.
Response from

Teamwork.com

Hi there,

Thank you for the review of Teamwork Projects.

Kind regards,
Nancy at Teamwork.

Replied 22/05/2019
Industry: Internet
Company size: 1,001-5,000 Employees
Used

Daily

for

2+ years

Review Source
---
Teamwork improves project and task management
Our group is more efficient, task-oriented, and collaborative when we work together as a team. It's ideal for companies with a large workforce. As a result of its ease of use and adaptability, it's ideal for usage by a wide range of organizations. It's great that we can contact with the vendor via Outlook and the tool keeps track of what we say. On top of that, we've got all of the project files saved on the server.
Pros
This software's user interface is well-designed and simple to operate. Reports, calendars, and Gantt charts may all be created. This program allows us to work with a variety of file types. All members of the team will be able to more readily communicate with each other thanks to this program.
Cons
I have seen better user interfaces in other products, but this one falls short. While getting acclimated to the UI takes some time, managing and controlling project activities becomes much simpler once you have.
Industry: Marketing & Advertising
Company size: Self Employed
Used

Weekly

for

2+ years

Review Source
---
Teamwork…a great PM with seemingly too much functionality
This is the deal - it's great, almost always works perfectly; just overly complicated (by design). It's very customizable and that's a huge plus in the "Pro" column.
Pros
It has an incredible amount of features that worked the way I wanted to.
Cons
I started spending too much time updating countless todo fields, project fields and everything in between.
Industry: E-Learning
Company size: 2-10 Employees
Used

Daily

for

2+ years

Review Source
---
Very good project management SAAS for agencies and service providers
Very good platform for project management. I use it for more than 8 years. I used it in a marketing agency and now I use it for a e-learning /training & consulting business.
Pros
I like the time tracking and the fact that I can easily set new tasks, follow the task implementation, have meetings based on everything set on the platform.
Cons
I still use other tools of simple to-do lists, but for real project management I have everything covered with this platform. I think that maybe more reporting options could be useful.
Reasons for Switching to Teamwork
Teamwork is very good at time tracking, following tasks implementation, and project management.
Industry: Online Media
Company size: 2-10 Employees
Used

Daily

for

2+ years

Review Source
---
Teamwork Helps with Project Management and Keep Us on Track
Overall the product is great! It integrates with our time software where we invoice our clients pretty seamlessly. The setup does take a while but once you have everything setup correctly you can easily manage the time of each of your employees and each project. It is great to keep everything all in one place for each and every project.
Pros
I like the fact that each project has so many ways to add information to each account. There is an overview tab where you can see the overall health of the project from one screen, and tabs where you can add Tasks, Milestones, Messages, Files, Notes, Links and even Comments for each project in the system.
Cons
It takes a very long time to get everything setup. There is so much to learn about the setup of the product and the free trial is not long enough to set up everything correctly from start to finish.
Response from

Teamwork.com

Hi there,

Thank you for your review of Teamwork. Our product team will be delighted to hear the feedback - 5 stars all round!

On-boarding issues? We have this covered! We just released on-boarding templates so now we have a sample project within the trial setup, based on what works best for your business.

If you should ever need assistance, our Super Support team are on hand 24/7 for any and all issues! You can catch them at [email protected] :)

Have a nice day,
Nancy at Teamwork :)

Replied 2/03/2020