About Teamwork.com
Teamwork.com is the only platform with best-in-class client operations combined with easy-to-use project management that teams love. Deliver work on time and on budget, eliminate client chaos, and understand profitability in one platform. Teamwork's customers track and manage their projects with a suite of integrated solutions such as helpdesk, collaboration, knowledge sharing, and customer relationship management add-ons, enabling Teamwork.com to be the 'one-stop-shop' solution for business owners. Teamwork.com is trusted by over 20,000 companies worldwide with a global team of over 350 employees, making project management more straightforward, efficient, and impactful with our project planning software, integrated with all the tools you already use. Teamwork.com makes it easy for everyone to see what they're working on, who they're working with, and what comes next — whatever size your team is. Reducing the level of complexity in collaboration gives you and your team the freedom to work the way you want. We believe that work and project management are more than just getting the job done. It's about delivering results. Teamwork.com gives users every advantage to stay on track and deliver work on time, collaborate effectively, and achieve high-performance results. Our products work together to support your team with improved collaboration, seamless communication, and faster project delivery: - Teamwork.com: a work and project management tool that helps in-house and remote teams improve collaboration, visibility, accountability, and ultimately results. - Teamwork Desk: a central place for shared mailboxes like support and contact so that you can manage client requests, support, and project communications with more visibility at scale. - Teamwork Chat: a messaging platform that helps teams make decisions through improved collaboration and productivity. - Teamwork Spaces: a modern, intuitive content collaboration workspace with intelligent features like required reading and live widgets - helping your team to become more engaged and accountable when it comes to company content. Teamwork.com is a solution built for all client services teams; with a flexible platform, you can customize what you need and want: - Human Resources: Create a centralized hub for your client services team to work alongside HR to collaborate on projects across the organization efficiently. - SEO: Teamwork.com enables SEOs to manage all your tasks without hassle - Marketing Design Agencies: Teamwork.com helps you plan and track your projects, so you have more time to develop creative ideas that wow your clients - Architects: Take control of your architect projects by efficiently collaborating with your clients - Consultants: Teamwork.com directly helps consultants improve collaboration, control scope creep, and resolve client issues faster - Agencies: Manage multiple complex client projects with ease, Never miss a billable minute, Unlimited free access for your clients, Scale into a platform with everything you need to run your agency - PMOs: Teamwork.com helps project management teams deliver better projects in less time. - Product Teams: Easily manage and execute product requirements from concept to completion. - Marketing Teams: From campaign planning to content production, the right project management software can take your marketing team's work from done to delightful. Teamwork.com is, ultimately, the last project management tool you'll ever use. Get started working together beautifully with Teamwork.com today using our free trial, or schedule a demo with our team.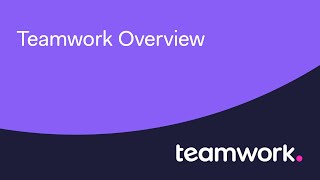 Teamwork.com has a free version and offers a free trial. Teamwork.com paid version starts at US$12.50/month.
Starting Price:
US$12.50/month
Alternatives to Teamwork.com
Industry: Information Technology & Services
Company size: Self Employed
Used for

2+ years

Review Source
---
TeamWork Projects Incorporates Project Notebooks, Customer Portal and OS-Agnostic Desktop Timer
Overall, TeamWork (formerly TeamworkPM) is worth the monthly or annual fee. I've used TeamWork for more than 8 years and while I don't have a need to use it daily, I go to it for special projects and when I need a different kind of project control than I get with Apptivo.
The interface is pretty, with soothing colors.
The TeamWork crew creates excellent help documentation that's easily found in a comprehensive knowledgebase, they now have some full-fledged free online courses, and they included a customer support and feedback system within the dashboard.
And then there's this:
Transparency via a visual roadmap and update system on the TeamWork website that actually gets updated on a regular basis. Yes, I like skipping over to the website to see what are the latest fixes and what goodies they're planning.
Pros
Whiteboards are great but even the developers of TeamWork Projects (formerly TeamworkPM) were tired of trying to make them do the work of a real project management system. That's how I came across TeamWork Projects 8 years ago -- tossing aside the whiteboards and comparing online project management applications. TeamWork ultimately rose to the top because it either includes features I felt were must-haves or they had those features on the roadmap to deal with in the near future.
TeamWork has task-level time-tracking and incorporates a desktop timer that I use on both my Windows and Linux versions computers.
TeamWork was one of the few online project management applications that incorporated a file manager early on AND had the foresight to include it in the permissions system (important so all stakeholders have access to the files they need). I've used it for mock-ups, contract change-orders, and project photos.
There is a project notebook system that is far superior to a so-called project wiki found in other project managers. I use it to keep notes, format them to look like real documents (not just a bunch of text notes), and export out in a format that is useful to project owners and clients.
This was important enough that it would have been a dealbreaker if it wasn't included: the means to allow stakeholders (especially clients) to log in to see progress on their projects, participate in project-specific discussions, and access project-related files.
Cons
TeamWork's free tier is less generous than some of the other highly rated project management apps.
Keeping up with the times, they've lately added a Kanban view (but it costs extra). But why the boards view is an add-on instead of integrated into the main projects beats me and makes me call this a welcome feature that is also a CON.
Although TeamView has native integrations for GMail, HubSpot, and Harvest, I think it relies too much on its (well-developed and well-documented API) for integrations with the majority of the world of business applications. Of course, there are hundreds of Zapier workarounds. Still, I think TeamWork is strong enough to have better integration and less cobbled recipes.
Response from

Teamwork.com

Hi there,

Thank you for the review of Teamwork Projects.

Kind regards,
Nancy at Teamwork.

Replied 22/05/2019
Industry: Marketing & Advertising
Company size: 11–50 Employees
Used

Daily

for

1-5 months

Review Source
---
Working Well for our Project-Based Company
The overall experience has been pretty positive, with most team members adapting quickly to Teamwork. There has been a slight learning curve, since we were going from a very basic system in Trello to this more fully-featured tool.
Pros
The best part about teamwork is the birds-eye-view that it gives employees and managers over everything that is going on within the company. We really appreciate having our time tracking system tied directly to the tasks within a project because it makes it much easier to log time and to see how much time was spent on each area of the project.
Cons
We have not yet developed a clear process, and Teamwork doesn't seem to have one built in, to account for tasks that are waiting on outside input such as a client approval. Most of our clients are not using our Teamwork software, so when we are waiting on a review there is not a great way within the software to distinguish that apart from a task that is actually late.
Reasons for Choosing Teamwork.com
We needed integrated time tracking and better control over a large number of simultaneous projects.
Reasons for Switching to Teamwork.com
Integration with quickbooks, time tracking, the ability to create templates and recurring tasks, reporting features
Response from

Teamwork.com

Hi Sara Olive,

Thanks for your review of Teamwork! It's great to see Teamwork has helped with your task and time management.

I've passed your comment onto the support team to look into these issues further.

Kind regards,
Karen at Teamwork

Replied 1/02/2021
Industry: Information Technology & Services
Company size: 11–50 Employees
Used

Daily

for

2+ years

Review Source
---
A great concept run by not great developers
My experience is that we are in the serious lookout of another product. If you are not an occasional user and want to do any serious work, this tool is not the right fit.
Pros
I like the fact that its integrated with other products such as Desk. Its relatively easy
Cons
Tons of errors when using it. They launch updates during business hours taking the system not saving actions, producing random errors ending up in losing your work without any prior notice - as in we will update the system, it will take X time and it will be down. Nothing like that they just shoot the update and if you are lucky and not doing something in the system you may get away with it.
Various functionalities of the system stop working out of the blue; we report them to their customer service and they never get solved, or get solved at a pace teamwork wants and not based on the actual criticality.
For example, the past two (yes you read correctly, 2) weeks, emails dont work. You can reply to a task and it simply gets lost. We've notified support, sent messages, they replied after 5 days that its fixed but guess what. They didnt even test the "fix" and as a result, second full week its not working and they evidently do not even reply to our ticket.
On top of all of the above, if you have many tasks in the system, the system becomes extremely slow to perform actions. You open a list and it takes ages which it has paging mechanisms.
Response from

Teamwork.com

Hey there,

Thank you for taking the time to leave us a review! I'm glad to hear that you have found Teamwork easy to use and benefited from our integrations.

I am really sorry to hear that you have been experiencing issues. I will be sure to pass your feedback around updates onto the team.

I can understand your frustration around the issues you have faced with our platform. We would love the opportunity to improve your experience with Teamwork. Please send us an email at [email protected] the team would be happy to work with you to help resolve these problems.

Kind regards,
Willow at Teamwork

Replied 22/09/2022
Industry: Construction
Company size: 2–10 Employees
Used

Daily

for

6-12 months

Review Source
---
Avis teamwork
It's software that I highly recommend to all business leaders for project management and team collaboration. Only that there are sometimes some technical problems but that doesn't bother me at all.
Pros
It's a good software that I highly recommend to all professionals and business leaders for project management. It's just the calendar which is a little small on a mobile phone but on a computer it's perfect.
Cons
I sometimes notice some technical difficulties but it doesn't bother me too much.
Industry: Computer Software
Company size: 11–50 Employees
Used

Daily

for

2+ years

Review Source
---
Great project Management software!
Very happy with the overall experience, have been seeing the software get better and better over last couple years.
Pros
Tracking tasks on projects are top of the line with this software. Reporting and additional features are constantly improving but much better than Microsoft Projects or Smartsheet.
Cons
Reporting features and Gantt charts/tasks both showing at the same time can use improving.
Reasons for Choosing Teamwork.com
Teamwork is better, better functionality on project management
Reasons for Switching to Teamwork.com
Better project mgmt, better task tracking, better time management
Response from

Teamwork.com

Hello,

Thank you very much for this amazing feedback, we really appreciate it!

We are glad to see a 10/10 recommendation - our product team will be thrilled with this.

Thank you for letting us know about the reporting features and Gantt chart issues. Could you send us an email at [email protected] so we can learn more about this and see if there is something we can do to help?

Have a great day,
Karen at Teamwork

Replied 26/01/2021