About Tecsys Elite
Tecsys' Elite™ provides a series of cloud-based supply chain management solutions suitable for midsize to large distribution companies. The company currently services a wide range of verticals such as healthcare, service parts, heavy equipment, industrial goods, giftware, and third-party logistics. Visual cues enable users to perform their tasks accurately, and, when combined with voice technology, facilitate hands-free warehouse operations. The solutions help organizations track the status of their customers' orders, service levels, product satisfaction, and profit margins. Modern mobile technology is used together with the software for optimizing warehouse management operations with real-time visual content and information. The Elite™ Distribution ERP includes demand planning and forecasting, procurement, procure-to-pay, order-to-cash, inventory management, and financial and performance tracking. Users can capture real-time historical demand and automate generation requisitions based on preconfigured supply source. Organizations can also track vendor performance and manage promotions. With Elite™, users are able to automate suggested replenishment orders and create purchase and transfer orders, as well as vendor invoices. Inventory management features include product portfolios, mobile asset tracking, warranty and damaged inventory tracking, warehouse transfers, and more. Tecsys' Elite™ Warehouse Management is a visionary, scalable and adaptable solution that addresses the complexity and economic challenges of supply chain operations in various industries. The solution allows distributors and 3PLs to eliminate inefficiencies, improve order accuracy, reduce operating costs and attain high levels of service. It offers a robust and flexible rule engine with core WMS capabilities for the growing distributor, as well as extended WMS capabilities for larger and more complex warehouse operations. The easily integrated, configurable solution has landed this solution on Gartner's Magic Quadrant for warehouse management systems for the last eleven consecutive reports. An executive dashboard with embedded Warehousing Education and Research Council's metrics helps users track and manage warehouse performance against competitors. The system also offers embedded transportation management, and extended supply chain execution capabilities like distribution management, delivery management and business intelligence and analytics. Tecsys offers customer support via phone, email and web portals.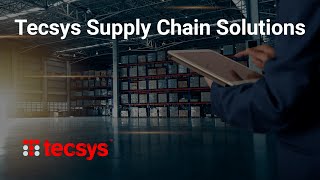 Tecsys Elite does not have a free version.
Alternatives to Tecsys Elite
Industry: Health, Wellness & Fitness
Company size: 51–200 Employees
Used for

2+ years

Review Source
---
I used Warehouse Management in a previous jon
Wave Planning and Productivity levels.
Pros
The ease of working with this software was amazing. The ability to select what to wave by date, shipping method etc was a great help.
Cons
I honestly can think of anything that I might change about this software.
Industry: Health, Wellness & Fitness
Company size: 1,001–5,000 Employees
Used

Daily

for

1-5 months

Review Source
---
Lots of features but…
Pros
Many many features, detailed audit trail
Cons
Unable to identify primary procurement items, only a primary vendor. Severely limits the ability to use Replenishment Order Entry.
Industry: Warehousing
Company size: 51–200 Employees
Used

Daily

for

2+ years

Review Source
---
This is a functional system, and tecsys can be customized to suite the needs of your business
Good support and a decent WMS, DMS environment that is fairly customizable to suit business needs.
Pros
Can be customized to suit your business's specific needs. The support they offer (while at a significant cost) is quick to solve any issues that may occur even beyond standard production times.
Cons
While stable for the most part, there are issues that arise due to the fact that we have heavily customized Tecsys to suit our business needs which can cause issues with the system failing and losing production time. This doesnt happen a ton, and Tecsys is usually quick to resolve the issue.
Industry: Food Production
Company size: 501–1,000 Employees
Used

Daily

for

6-12 months

Review Source
---
Efficient for inventory management
An excellent system to meet the demands of your warehouse
Pros
A customizable and easy-to-use software facilitating warehouse and inventory management. Easy visibility to management tools.
Cons
Depending on the configuration and the quantity of items to generate obsolete product alerts, the software may be a little stable
Industry: Hospital & Health Care
Company size: 10,000+ Employees
Used

Daily

for

6-12 months

Review Source
---
Review
Pros
The personalization capabilities and its ability to break it down by team/department
Cons
the out of box option does not allow a supply chain to operate successfully without modifications/BRs