About SendPulse
SendPulse is a cloud-based marketing solution that allows users to manage email, text messaging and push notifications through a single platform. It is suitable for small and midsize businesses. SendPulse's email features allows users to set up emails with a drag-and-drop editor and ready-made templates. Users can check the performance of their email campaigns with A/B testing tools. SendPulse also provides email servers with reputed IP addresses to help ensure email delivery. Users can send instant and personalized notifications to customers' devices using the SendPluse push notification feature. SendPulse's text messaging service allows users to send messages to more than 200 countries. The messaging service can send texts automatically based on a user-defined schedule. Predictive analytics tools help determine when to message clients. Support is provided through an online knowledge base, over the phone and via email. SendPulse is available with a monthly subscription or pay-as-you-go pricing.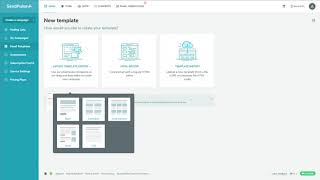 SendPulse has a free version and offers a free trial. SendPulse paid version starts at US$8.00/month.
Starting Price:
US$8.00/month
Alternatives to SendPulse
Used for

1+ year

Review Source
---
SendPulse fits our needs for bulk mailing to our many thousands of readers of our magazine.
The ability to send thousands of emails in one go. It helps manage campaigns to all our subscribers readers.
We also get to use it to send messages to select smaller subgroups of our readers and subscribers or even our advertisers (in some cases).
Pros
The User Interface UI is fairly neat and tidy. The buttons and controls are fairly easy to figure out even without a walkthrough or guide.
The software allows you to send a huge number of emails (to clean email addresses) with ease.
They maintain a high level of integrity with regard to not sending spam (to protect themselves and yourself).
Their support staff are polite and pretty prompt in dealing with queries and complaints. They tend to offer solutions where possible.
(For example, we had a mailing list that we had built over several years which had older addresses which had lapsed and expired and changed. When we tried to launch a campaign to those addresses many bounced back and they shut down the campaign midway. Initially, we were disappointed and irritated but after getting to chat with the support team we were offered good advice on cleaning our list. )
Cons
It would be good to have an email cleaner built into the software rather than having to use an external service.
I hate to pay for anything but sometimes you have to. In the case of SendPulse i got a good deal on a special and am happy with the price i pay. Those using the software can control their budget and choose packages that suit their pocket but be aware that there are cos
Industry: Marketing & Advertising
Company size: 201–500 Employees
Used

Weekly

for

1+ year

Review Source
---
SENDPULSE REVIEW
IT IS GOOD AND I WILL START USING MY OWN NEW DOMAIN AND I WILL START PAYING A PLAN FROM YOU GUYS EVERY WEEK
I HAD REFERRED YOUR COMPANY TO OVER 300 NEW USERS FOR THE LAST 2 YEARS
Pros
IT IS USER FRIENDLY AND FAST AND YOUR CUSTOMER SERVICE IS GOOD AND THEY ANSWER FAST WITH A GOOD HELP ALWAYS...
I LIKE YOUR SYSTEM BECAUSE YOU ARE NOT PUTTING TOO ISSUES IN ORDER TO SEND E-MAILS AS THE OTHER COMPANIES
Cons
WELL WHEN I PUT ALL MY CONTACTS FROM MY LIST
YOU ALWAYS BLOCK MANY OF THEM AND YOU PUT IT AS ERROR
BUT ALL OF MY CONTACTS THEY SUBSDRIBED IN OUR WEBSITE AND THEY ARE INTERESTED ON GEETING OUR E-MAILS
Alternatives Considered
Brevo
Reasons for Choosing SendPulse
THEY PUT TOO MANY ISSUES WHEN SENDING E-MAILS AND TOO MANY PROBLEMS WITH THE SPAM THING
Reasons for Switching to SendPulse
IT IS FASTER AND EASIER AND YOUR CUSTOMER SERVICE HELPS VERY SOON AND YOUR CUSTOMER SERVICE REALLY UNDERSTAND AND HELP US WHEN WE NEED IT
Industry: Transportation/Trucking/Railroad
Company size: 11–50 Employees
Used

Monthly

for

6-12 months

Review Source
---
Terrible customer support
We lost much money using this app, never again
Pros
Cheap app with many declared marketing tools
Cons
Terrible customer support, they don't want to help us to resolve any issues
Industry: Hospital & Health Care
Company size: 501–1,000 Employees
Used

Weekly

for

1+ year

Review Source
---
A worthy EDM serive for you to try
thought some small thing I think it need to improved, this is very great platform and worthy a trial
Pros
the EDM marketing is very helpful to our trade business, it helps me to deliver my company news feed to all our customers timely and of course fully customer covered. I am sure anyone in trade marketing needs such a Sendpulse service.
Cons
I think more integations API should be developed, and give more help on this.
also I think email verification number limits should be enlarged. such as My plan is for 5000 subscribers, but I can only verify 100 contact list on the standard plan, I think it would be better enlarge this number to 500, that will be more helpful
Reasons for Choosing SendPulse
Mailchimp is too strice and critical for user, not friendly enough to me
Reasons for Switching to SendPulse
it is more easy to use.
Industry: Financial Services
Company size: Self Employed
Used

Weekly

for

6-12 months

Review Source
---
Great email marketing and SMTP offering
Fantastic experience so far. The only product I've found that fits my needs to send API programmatically driven email campaigns. I've only had to contact support twice during deployment and both times they were extremely helpful and responsive to solve my edge case queries, and I am still on the free tier!
Pros
I was looking for a low cost provider to set up API based email campaigns at a low cost. After trialing numerous providers including more established companies, Sendpulse was the most suitable for my needs with the most features and came with the lowest cost.
Cons
Some of the API and user documentation could be improved, but I have found their customer support easily fills the gap if there is any. More examples in the documentation for common use cases like using API to send emails from contact lists would be super helpful.
Reasons for Choosing SendPulse
API lacked the features for my intended purpose
Reasons for Switching to SendPulse
Features and cost
Response from

SendPulse

Thanks for your review, Keith!

Replied 3/08/2021