About Clio
Clio is a cloud-based legal practice management solution suitable for small to large law firms. The platform enables lawfirms and other businesses in the legal industry to track important deadlines, manage client cases and documents, bill clients, and accept payments. The Clio dashboard displays billable hour targets and goals and and tracks performance based on these measures. Clio Payments allows lawyers to receive payments directly into a client's trust or an operating account. The billing feature allows users to create custom bill plans, manage fee structures, carry out automatic or manual time entry, bill via email, and let clients access information via email or the secure client portal. The document management features include document automation, custom field creation, electronic signature capture and more. The Clio mobile app for iphone, iPad and Android allows law firm employees carry out client interactions, document management, billable hours tracking, case management and more, from anywhere. The mobile app also offers push notifications and messaging tools to help users stay connected. Clio pricing varies based on whether law firms purchase the Clio Manage app, the Clio Grow app, or the entire Clio Suite. The Clio platform offers integration with over 200 third party software apps including other law practice management software solutions, marketing tools, payment platforms, and more.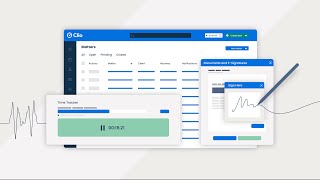 Clio does not have a free version but does offer a free trial. Clio paid version starts at US$39.00/month.
Starting Price:
US$39.00/month
Pricing Details:
Clio pricing per user starts from: $39/month
Industry: Legal Services
Company size: 2-10 Employees
Used

Daily

for

2+ years

Review Source
---
Fantastic Practice Management Solution
Pros
Clio's intuitive design is easy to use for anyone from the tech savy to the "how do I turn this thing on" person. They are constantly adding features and functionality to the software solution making the administrative side of practicing law much easier and less time consuming. Clio's support team is always quick to respond and is always friendly and helpful. The growing list of integrations is definite plus and gives us the ability to extend the already great functionality to the next level. And if you are into coding, you can always create a custom integration to suit your needs.
Cons
Really the only complaint I have about Clio is the reporting capabilities. While it has some great canned reports within the interface, there is no ability to customize reports to massage out information that would be useful to my practice. We make do, of course, but this has been my complaint for some time now. Last time I checked there was a pay integration that allowed for more robust reporting but adding yet another subscription isn't appealing when it would be relatively easy for Clio to add this capability to their platform.
Industry: Legal Services
Company size: 11-50 Employees
Used

Daily

for

1-5 months

Review Source
---
Security is lacking for the accounting side. Otherwise it's a very good software.
We have been with Clio since about the middle of October 2019 (today is April 3, 2020) and we are mostly pleased. I think that most case management software works on the same theory: a contact (person or enterprise) can have several different matters (cases). Like most users, we just want it to work and it does (with the exception of the accounting problem described above).
Clio has so many helpful features and integrations that it could take a year or two just to get a small to medium-size office up to speed with using all the features.
However, UNTIL CLIO FIXES THE ACCOUNTING SECURITY PROBLEM, DO NOT SWITCH FROM YOUR CURRENT PROGRAM.
Pros
-It has very robust features and integrations.
- I love that the document repository is built-in and built into the price.
- Tech support is good via chat, so I can resolve issues quickly.
-Because it's the leading player in cloud-based case management, it seems like integrations are more numerous.
-Only on rare occasions have I seen the software go off-line or slow down.
-The outlook and word integrations are robust.
-It's easy to find experts who work with Clio because it's such a significant player. We are now setting up operations with a Clio expert bookkeeper. We could not do that when we used a competitor program called PracticePanther.
Cons
1. EMBEZZLERS PARADISE. Clio's accounting security settings allow anyone who can make a receipt for receiving a payment also to be able to EDIT that payment afterward. So, a dishonest employee could make a receipt for $500 cash, pocket $300, and then go back and edit that receipt to be only $200. Right now are using carbon copy receipts as a workaround, but that's not very professional or 21st century. CLIO, YOU GOTTA GET IT TOGETHER AND FIX THIS.
That same security setting described above also allows users with that setting to see a client's balance before their case is submitted (as a flat fee immigration firm, we want to be paid before the case is finished). Clio supposedly tried to fix this by allowing a balance to be viewed without being able to edit payments but that feature it doesn't work.
2. It would be nice to see a texting feature to verify appointments within Clio. Other cloud-based case management does that. With Clio you have to buy another program for texting.
3. It would be nice if we could see all communications for each matter just by clicking on the contact. It is something that Clio should make as a feature that can be turned on and off. It would work better for our firm because we represent individuals in immigration cases that could have three or four different matters.
Industry: Legal Services
Company size: 2-10 Employees
Used

Daily

for

1+ year

Review Source
---
Absolutely love their customer service
Pros
Customer service is beyond exceptional. Someone always picks up. They often can easily fix my problem. If they can't fix my problem, they quickly talk to someone who can.
Software is easy to use and does all the things we need it to do. I'm a happy customer and recommend CLIO to others.
Cons
I don't like that a user can either have full access to all reports, or no access to any report. I would like some of our users to have access to their reports, but not see the financial reports of the entire company.
Industry: Law Practice
Company size: Self Employed
Used

Daily

for

2+ years

Review Source
---
There has to be something better; going downhill for solos
I have been using this since 2012 - at first it fit my needs and was marketed for the solo/small practice firms. It has increasingly become more cumbersome and takes longer to calendar and bill than I would like. The interest feature on the billing can only calculate simple interest. Once you enter the interest formula, there is no way to disconnect it so you are left to manually delete all of the entries. They have changed the billing process from a process that once took about an hour to taking about 3 hours. A bill is generated and placed under the Draft tab, you can view it, edit it, submit it for approval (a waste of time for a solo), or approve it - so I view it, see it needs to be edited, and click on edit, the bill comes up for editing, then once you've completed it, you hit Approve - and nothing happens which is new - you either can hit the go to bills Awaiting Payment link, or click on the Awaiting payment screen -- from there, you are forced to sort through all of your accounts receivable to find your newly edited bill. Once you find the bill, then you can Receive Payment from the trust account - but be careful since if your client has $500 in trust and the bill is $1000, the trust payment will pop up $1000, which you know is inaccurate, so you have to do another edit. Then the bill drops out of view and you either have to return to Awaiting Payment or Paid tabs - search through all of the other bills, find your bill, then you can download it - print it, or save it, and then email it.
If you want to enter a new appointment, you can do so on the calendar, but if you want to create a method to track the new client, you have to go to another tab to set up a matter, you can only input the client's name, not the address, not the phone number, not any other stuff that should appear at this point, in my opinion. Then you add in your number. Then you have to track down the name you just entered and try and add in addresses, phone numbers, email addresses. The process is incredibly time consuming.
Pros: Cost
Cons: Overly rigid, designed for those who have a data processor employee, time consuming, not customer service oriented - was marketed for solos/small practices and this is not the case any longer.
Pros
Web based program and cost.
Cons
Rigid, time consuming process. So many things don't work and the process of finding a work around is cumbersome.
Christopher C.
Christopher C.
Industry: Law Practice
Company size: 2-10 Employees
Used

Daily

for

2+ years

Review Source
---
Clioed
Pros
We choose it nearly a decade ago. They constantly evolve and have address issue proactively. With the new integration to QBO it is a product worthy of consideration.
Cons
To manage the growing firm we needed to use FasterSuite to address the docketing shortcomings of Clio.
Reasons for Switching to Clio
Cosmo Lex has no integrations. Not even the ability for Clients to use a webform to onboard. We assessed Action steps. A seeming good product however, I understand, the integration with QBO is weak and lead to errors.