About Clio
Clio is a cloud-based legal practice management solution suitable for small to large law firms. The platform enables lawfirms and other businesses in the legal industry to track important deadlines, manage client cases and documents, bill clients, and accept payments. The Clio dashboard displays billable hour targets and goals and and tracks performance based on these measures. Clio Payments allows lawyers to receive payments directly into a client's trust or an operating account. The billing feature allows users to create custom bill plans, manage fee structures, carry out automatic or manual time entry, bill via email, and let clients access information via email or the secure client portal. The document management features include document automation, custom field creation, electronic signature capture and more. The Clio mobile app for iphone, iPad and Android allows law firm employees carry out client interactions, document management, billable hours tracking, case management and more, from anywhere. The mobile app also offers push notifications and messaging tools to help users stay connected. Clio pricing varies based on whether law firms purchase the Clio Manage app, the Clio Grow app, or the entire Clio Suite. The Clio platform offers integration with over 200 third party software apps including other law practice management software solutions, marketing tools, payment platforms, and more.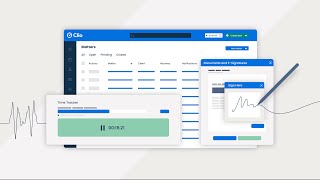 Clio does not have a free version but does offer a free trial. Clio paid version starts at US$39.00/month.
Starting Price:
US$39.00/month
Industry: Legal Services
Company size: 2-10 Employees
Used

Daily

for

2+ years

Review Source
---
Fantastic Practice Management Solution
Pros
Clio's intuitive design is easy to use for anyone from the tech savy to the "how do I turn this thing on" person. They are constantly adding features and functionality to the software solution making the administrative side of practicing law much easier and less time consuming. Clio's support team is always quick to respond and is always friendly and helpful. The growing list of integrations is definite plus and gives us the ability to extend the already great functionality to the next level. And if you are into coding, you can always create a custom integration to suit your needs.
Cons
Really the only complaint I have about Clio is the reporting capabilities. While it has some great canned reports within the interface, there is no ability to customize reports to massage out information that would be useful to my practice. We make do, of course, but this has been my complaint for some time now. Last time I checked there was a pay integration that allowed for more robust reporting but adding yet another subscription isn't appealing when it would be relatively easy for Clio to add this capability to their platform.
Industry: Law Practice
Company size: 11-50 Employees
Used

Daily

for

2+ years

Review Source
---
It's the best out there
Pros
Clio was first in class when it comes to law firm case management software. That being said, it does have room for improvement. But, for the good parts, it works the way it's supposed to work and it does not crash very often or ever. Previously we used PracticePanther and while it was more user-friendly than Clio, it crashed regularly but they would never admit it-they blamed it on their partners like box.com which was the document repository.
With Clio, we were able to contract another company to do our billing which was a huge help.
Clio is very transparent when they have an aspect of their software that is not working properly.
Clio allows its users to grow and expand. Mostly because Clio is the first in class legal management and case management software so, you can use it as a hub and expand using other programs as plug-ins.
Cons
Frankly, it could be more user-friendly. Sometimes the screen is difficult to read because of the way it is set up with small font and Clio could take some clues from their competitors.
Industry: Law Practice
Company size: 2-10 Employees
Used

Daily

for

6-12 months

Review Source
---
Avoid this product if you require data migration
The Clio sales team makes promises that the product does not deliver. Disappointing customer support after the sale.
Pros
The main reason I selected Clio was the web interface. I was also promised data migration from Lexis Nexis that fell short of promises made.
Cons
Customer support is almost non-existent after the sale.
I purchased 13 licenses for two different law offices last year. After the contract is signed and paid for, many of the promises made during the sales process are never delivered on.
I recently had an attorney leave my office and contact Clio to have his case information migrated to a new Clio account. He was told that this would not be a problem. After he paid for the license we are realizing that you have to be a data scientist to accomplish this feat. The response I am getting from customer support is that they will do it if he agrees to go to the next higher pricing tier.
Response from

Clio

Hi Vito. We're very sorry to hear that you're having issues with Clio. A member of our team will be in touch soon to help you resolve them.

Kind Regards,

Jessica and the Clio Team

Replied 9/08/2022
Industry: Law Practice
Company size: 2-10 Employees
Used

Weekly

for

2+ years

Review Source
---
A great billing software for my increasingly virtual legal practice
Good software! I find it an indispensable part of my practice these days.
Pros
Our firm had used Timeslips for timekeeping and billing in the past before switching to Clio a few years ago. Timeslips was simply outdated and cumbersome, not to mention that we had no tech support. After having switched to using Clio, I was able to use the software to email clients directly and have the emails come from our firm email account via Clio without always having to involve the office manager for billing my invoices. If the clients have questions, they will know to direct their questions to the office manager, who is otherwise in charge of general accounting matters. Additionally, I love that I can always reach out to Clio's tech support for answers as to user issues or questions, and the services have always been pretty prompt and spot-on.
Cons
I remember there were some data migration issues when we transitioned from Timeslips to Clio. It has been a while, but I recall that at least some of the client data like their addresses didn't look quite right when it was pulled over, and I basically had to start over with entering the information in Clio.
Industry: Law Practice
Company size: 11-50 Employees
Used

Daily

for

1-5 months

Review Source
---
Helpful with remote work
The experience I had with Clio was okay. It does have many things that are helpful and nice to have. We used Clio for remote work and we did successfully manage several cases, but I prefer other software, as does the rest of my firm.
Pros
Clio allows unlimited legal document storage, eliminating the worry of running out of space.
Unlike other software, it is made for use with legal cases and legal documents. The specific set up is helpful. Billing and payment processing are supported.
Clio helps us stay informed on deadlines and stay organized.
Cons
Some things that are advertised are actually provided by a third party and require additional setup and sometimes additional payments. The legal calendar is not the best I've used and I don't like it.