About PBS Accounting
PBS Accounting is robust professional level accounting software that fits a wide range of businesses and grows with your company. The CashPoint version acts as back end accounting for NCR Counterpoint. Flexible, up to the minute reporting – business intelligence and decision support information at your fingertips. Compliance with regulatory requirements, including the Affordable Care Act and Sales and Use Tax management and reporting. Easy to use, excellent live, US-based support, affordable for small businesses. On-premise software.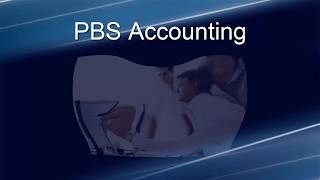 PBS Accounting does not have a free version but does offer a free trial. PBS Accounting paid version starts at US$995.00/one-time.
Starting Price:
US$995.00/one-time
Alternatives to PBS Accounting
Industry: Retail
Company size: 2–10 Employees
Used

Daily

for

2+ years

Review Source
---
Transition from Passport and Counterpoint to Passport Business Solutions
End of month billing is much less stressful. We used to have to set the time back on our server to invoice in the previous month. That became harder to do because of the new virtual server we were forced to change to when our old server crashed. Now we get paid sooner and we have better cash flow.
Passport customer support is great. If I have a problem they get back to me right away and stick with it until it is fixed. I always get to speak to the same person, which is a plus.
Pros
I have been using Passport for A/P and General Ledger for more than 15 years. I recently switched from using Counterpoint for A/R to using Passport for A/R. I like the ease of use. Invoices can be edited and reprinted before they are posted. Invoices can be dated in the previous month even if the calendar date is in the next month. Figures from the inventory purchase orders auto fill into the a/p vouchers so I do not have to enter the figures twice. We switched from pre-printed invoices to laser printed invoices. This results in a huge cost savings, and they look great. I have had positive feedback from several customers about the changes to their invoices and statements. I like that I can copy and paste long descriptions from a Word document into a Passport invoice . That has been a huge time saver for me. Who doesn't love saving Time and Money?
Cons
I do not like the order entry module or the point of sale module because they are not as easy to work with as the A/R module. Items that have serial numbers cannot be billed out thru the A/R module. This would be the only thing I would change about this program. Then it would be perfect.
Reasons for Choosing PBS Accounting
Our server crashed. When our former support people re-installed Counterpoint on our system we went from being able to have 3 people working in Counterpoint simultaneously and with 2 windows open at all times. To only having 1 person in Counterpoint at one time with one window open or it would crash. This was a disaster! We started shopping for other hardware and software support after that happened. In addition, all of our systems were really outdated. We were still using dot matrix printers! We needed to upgrade everything.
Reasons for Switching to PBS Accounting
I already knew how to use 1/2 of the package, and the other 1/2 looked very similar to what i was currently using. The price was reasonable. It wasn't the cheapest and it wasn't the most expensive. The program/company has been around for a very long time and that made me feel comfortable. I had some very specific needs for invoicing that were not available in the test run. The President of the company called me to discuss what those needs were, and assured me that they could design a form to fit our specific requirements. I was impressed by that, and they kept their promise.
Industry: Mechanical or Industrial Engineering
Company size: 2–10 Employees
Used

Daily

for

2+ years

Review Source
---
USER Friendly
BeSide little issue it works great. Some we need to fix.
Pros
Bill is easy use O/E or A/R side can be used like we have many customer charge and pay later. We can do order in the system back order a product once we ship it out easy to make packing ticket and bill later . As we are manufacturing Overhead Crane we have lot of parts come in do Purchases order in the system .
Cons
Purchases order We don't like was a wreak start in vision 12.06. We need to upgrade to new to see this Purchases order window showing all item in order to know how many we order and price is correct before printing out to send to vendor. Right now if you order more then ONE item you cant see the second item etc till you print to correct errors made when ordering. Big disappointment. I was promised this will get fix in 2016..
Response from

Passport Software

Thank you for your review, Shaheed.
At this writing, we are working on our next release, PBS Version 12.8. It includes enhancements which will address the issues you have rightly mentioned that need to be improved in Purchase Order.
We appreciate your comments our customers' feedback drives our development efforts.

Replied 12/10/2021
Industry: Accounting
Company size: 51–200 Employees
Used

Daily

for

2+ years

Review Source
---
PBS
Pros
What I like most about this software is how much information it stores. It makes invoicing easier.
Cons
What I like least about this software is the cost. When you run into problems you have to contact your independent sales person and their costs to troubleshoot your problems can be astronomical. The company does not offer tech support so you have no other choice.
Response from

Passport Software

Hi Jacquelene,

Your comment about our software and how it helps invoicing makes us very pleased. Thank you!

No one ever tells us they like having to pay for software support. It is an unfortunate reality that software, like most other things, requires maintenance and care. While we can't control what our vendors charge for their services, we know that they seek to stay within their market's pricing standards.

However, should the need arise, we offer a variety of software support options that would enable you to contact us directly regarding your software.

We appreciate your having taken to time to express your opinions. We look forward to being of service to your company.

Replied 10/12/2019
Industry: Construction
Company size: 11–50 Employees
Used

Daily

for

2+ years

Review Source
---
Quickbooks No More
I have been an accountant for many years and have used Quickbooks for the last 20 years. The owner of the company I work for is how I was trained on Passport. They offer some online training but I feel they need some training classes that new employees could take to learn the software. I do however get the best support from [SENSITIVE CONTENT] in that department! There is nothing he hasn't been able to fix for me. I can say that [SENSITIVE CONTENT] in customer service has made my job better and easier. All the employees that I have dealt with at PBS have been wonderful!
Pros
The ease of payroll processing. I can also get any kind of information on the payroll reports.
Cons
There is not enough training offered on the software
Response from

Passport Software

A HUGE thanks, Stacey!
We adore Pat, too!
Learning new software can be daunting - we are happy you are doing well with it now.
Training videos have been released for most of our applications and more are on the way.
Thank you for taking the time to share your experience!
The Passport Team

Replied 16/09/2022
Industry: Food & Beverages
Company size: 51–200 Employees
Used

Daily

for

2+ years

Review Source
---
CHARLES W. WETZEL OWNER OF WETZEL'S MARKETS
I HAVE USED THIS PRODUCT SINCE BUYING MY FIRST COMPUTER , A TANDY RADIO SHACK MODEL 2 OPERATING ON A MULTIUSER OPERATING SYSTEM ZENIX , SINCE 1981. IT WAS CALLED REAL WORLD ACCOUNTING PROGRAM BACK THEN. AROUND 1990 SWITCHED TO IBM TYPE COMPUTERS AND PURCHASED UPGRADE TO THAT OPERATING SYSTEM. OVER THE PAST THIRTY FIVE YEARS USING THIS PROGRAM I HAVE PURCHASED OTHER BUSINESSES THAT WHERE USING OTHER ACCOUNTING PROGRAMS AND AFTER REVIEWING THOSE PROGRAMS AND CONSIDERING CHANGING TO THEM WE STAYED WITH PASSPORT (REAL WORLD) BECAUSE OF ITS
VERSITILITY AND TRACKING AND EASE OF OPERATION AND WOULD RECOMMEND THIS TO ANY SIZE BUSINESS.
Pros
ITS EASE OF USE , HOW IT CAN ADAPT TO ANY TYPE OF BUSINESS, HOW YOU CAN SETUP FINANCIAL STATEMENTS TO LOOK JUST LIKE YOUR ACCOUNTANTS STATEMENTS BUT ALSO RUN FINANCIALS WITH FAR MORE DETAIL FOR YOUR INTERNAL BUSINESS USE