About VAIRKKO Suite
eLearning Cloud is a cloud-based learning management solution (LMS) from VAIRKKO that enables organizations to provide training to their employees. The solution allows users to distribute learning content to company employees, create new training courses, update corporate policies and conduct new employee orientations. Users can upload movies, PowerPoint files, PDFs, images and audio clips. They can configure course prerequisites to guide new employees through learning and development programs. Post-course test actions require employees to give practical applications of what they have learned in the courses and provide course feedback. eLearning Cloud provides remedial training to employees on test questions they answered incorrectly. The solution offers multiple question types such as blanks, multiple choice questions and numeric questions. Users can set time limits on the courses so that employees must finish the courses within a stipulated time. They can also configure notifications to receive emails or SMS messages when employees finish their courses. Support is offered via online ticketing.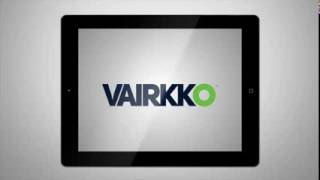 VAIRKKO Suite does not have a free version but does offer a free trial. VAIRKKO Suite paid version starts at US$1.00/month.
Starting Price:
US$1.00/month
Alternatives to VAIRKKO Suite
Industry: Transportation/Trucking/Railroad
Company size: 51–200 Employees
Used

Daily

for

2+ years

Review Source
---
Adding the HR application
We were on when the program was Toolkit. We have seen it evolve and it is really is a great tool. We are now working on the HR application to the program. We feel it will complete the electronic process for employee information. Great tool to our daily work!
Pros
We work in refineries with several departments of our company: transportation and refinery services. These employees have to have certain credentials to obtain access to the refinery. Vairkko allowed us to list certifications and to let us know when the certifications are due to expire. An employee cannot gain access if certifications, drug screens, physicals are expired. This is a fabulous feature for us!
Cons
We need additional or optional tabs for certifications. We would love another "tab" for important certifications but not required certifications for our jobs. We like the program so well it seems everything is being added and it floods the employee's certification list will everything. We would like to be able to look at the required tab and have another tab for optional certifications--items that are important to us for safety but that may not stop an employee from entrance to a job.
Response from

VAIRKKO Technologies

Thank you so much for your review and we're so glad you are finding true value in VAIRKKO for your organization! I have taken your feedback and sent it to our support team as I believe what you are seeking with an "OPTIONAL" tab is already possible and one of our support team members will reach out to you shortly to assist you. We have even more BIG things coming to the platform that we are sure you and your team are going to love so be sure to stay tuned. Should you guys need anything else please never forget support is completely free so feel free to reach out to us at any time! Thank you again for your review!

Replied 12/08/2020
Industry: Transportation/Trucking/Railroad
Company size: 51–200 Employees
Used

Daily

for

2+ years

Review Source
---
VAIRKKO Helps STC Maintain 98+% Current Training!
VAIRKKO and I took on the STC training program in 2016, and it has been a successful journey. We have exceeded our Safety & Training goals, and VAIRKKO is featured during business audits and presentations, as the tool STC uses to facilitate better than 98% training currency!
Proud to partner with this company!
Pros
VAIRKKO is easy to access and use, and helps employees take ownership of their training. Customer service is easy to talk to and promptly addresses issues or concerns.
Promotes a highly visible Safety and Training atmosphere in the workplace.
Cons
1. The top complaint from end users is the login/password. Looking forward to a Single Sign-On!
2. End users would like to be able to click a link in the expiry email to enter VAIRKKO and complete the specific online training needed.
3. The Certification Cloud dashboard provides great information, but would like to see drill-down into graphs and better Report Card history for each department location, etc.
Response from

VAIRKKO Technologies

Hi Maria,

Thank you so much for your kind words and evaluation of the VAIRKKO platform! We are thrilled to partner with your organization and are pleased to hear about all the wonderful things you have been able to accomplish with the aid of VAIRKKO.

Your concerns have also been heard and will be addressed by our development team! They are great ideas. If you would like to submit them to our support team - that would be welcome.

Thank you again for your feedback and for being a valued VAIRKKO customer.

Replied 22/01/2019
Industry: Maritime
Company size: 201–500 Employees
Used for

2+ years

Review Source
---
I use the schedule management and the Calendar editor pro mainly.
Pros
Not to much
It has all my crew
honestly if there were more pros I would put them in here
sadly I find I and others find it cumbersome and very unuser friendly
Cons
Very unuser friendly.
Cant group a crew together on the same schedule in one sequence.
Cant delete more then one item at a time.
If you make a mistake, it would be good to have a go back feature.
Complicated and time consuming to delete.
Not able to cut and paste. Each crew member has to be done individually, not able to group if on the same crew/timing/roster.
A simple delete function, one or 2 clicks of the mouse.
Response from

VAIRKKO Technologies

Hi Mark,

Thank you for your time reviewing the VAIRKKO Suite! While sometimes it is difficult to hear that some of our customers are not happy with the product, it also helps us improve the experience each time we get this feedback. Please be on the lookout for one of our Client Success Advocates to reach out and help determine the best steps moving forward. We would love to implement some new solutions to help make scheduling your crew(s) easier, as well as simple enhancements to delete mistakes or "go back" within the scheduling platform.

In the meantime, thank you for being a valued VAIRKKO customer and we look forward to resolving some of these issues for you promptly.

Replied 26/06/2018
Industry: Construction
Company size: 201–500 Employees
Used

Daily

for

6-12 months

Review Source
---
Everything I could have ever ask for in a software program
Mobility, real time answers, employees have ID cards that customers can easily scan and verify any information they need. One of the companies I work with was actually award that GOLDEN GATE AWARD by OSHA. Huge recognition to our QR scanner badges our employees wear.
Pros
I have worked with Proven Management for 8 months now, when I first started here we were managing over 3 companies totaling 500+ employees training certificates on an Excel spreadsheet. But not anymore! I have implemented Vairkko into all 3 companies and I manage the program for all 3. My favorite features of Vairkko are
1. Mobility ! No matter what device I have with me I can get onto Vairkko and get the information I need.
2. QR Verify - QR scan Badges for each employee; making it extremely easy for anyone to check their safety training and everything associated with that employee.
3. Standardized reports; I use these report more then anything else. There are so many different options and way to view all the information in your platform.
I would recommend Vairkko to anyone. It has save me a lot of time and money and I'm a Vairkko customer for life!
Cons
I don't have any cons about Vairkko. Everything thing I needed in a program Vairkko provided at almost no cost.
Response from

VAIRKKO Technologies

Wow! We love to hear about customers winning awards for their companies! Way to go!

Thank you for the glowing review and your thoughtful consideration of how the VAIRKKO platform helps you!

We appreciate your business and look forward to continuing our relationship.

Replied 18/07/2019
Industry: Mining & Metals
Company size: 201–500 Employees
Used

Daily

for

2+ years

Review Source
---
Must Have!!
As we continue to improve and build up our training processes, Vairkko not only keeps up with us, but we find that they already have a feature to manage our next step! The customer service is OUTSTANDING!! If I could underline that word, as well as make it all caps I would! It's been a pleasure to partner with Vairkko as we improve our training and certification processes.
Pros
Very user friendly and everything is so visually appealing!
Cons
My biggest struggle was as I continued to upload new data the pages took longer and longer to load. When I called my Vairkko representative to explain the issue, she took it to their design team, and within a day or two, they came up with a solution and implemented it. It took one phone call and the issue was expediently resolved!
Response from

VAIRKKO Technologies

Hey There Jordell! Thanks so much for leaving us a review and for your kind words. We are truly thankful to have the opportunity to work with folks just like you. Every day we are humbled and continue to strive to deliver nothing but the very best for you, your organization as well as all our amazing clients!

Should you or your team need anything else from VAIRKKO, please never hesitate to reach out as we are here, and happy to help!

Replied 5/10/2020