About inFlow Inventory
Looking for an inventory and order management system for your small or medium-sized business? inFlow is used in over 90 countries around the world for manufacturing, wholesale, distribution, ecommerce, and more. It's also simple to set up thanks to its cloud-based Windows, web, and mobile apps. With inFlow you'll have the tools you need to track products quickly and accurately. Inventory features allow you to receive, transfer, or fulfill stock in real time—including from iPhone or Android devices. Manufacturing add-ons enable quick kitting and assembly. Built-in barcode generation and label printing make it easy to adopt barcodes for scanning. Customizable access rights provide team members with only the features they should use. inFlow also has everything you need to stay ahead of orders. Ecommerce integrations centralize sales for simpler tracking and reporting. B2B Portals allow you to send customized prices and catalogs to specific customers. And reorder points help your teams submit purchase orders before you run out of stock. Chat, email, and callback support are included with every subscription.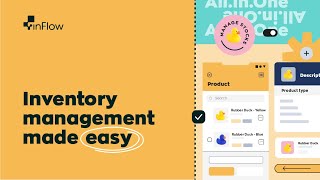 inFlow Inventory has a free version and offers a free trial. inFlow Inventory paid version starts at US$89.00/month.
Starting Price:
US$89.00/month
Alternatives to inFlow Inventory
Used

Daily

for

2+ years

Review Source
---
InFlow is an easy to use software perfect for our small business!
It has helped us work professionally immediately from start-up.
Pros
We're a small medical distribution company with 2000 and we have been using InFlow for 7 years. Customer service is very helpful and reasonably quick. The software is easy to use. Does what it says on the tin.
Cons
There is a 5 hour time difference from the UK to Toronto and Cust Service opens at 10AM. This can lead to frustrating delays in response times.
Industry: Automotive
Company size: 51–200 Employees
Used

Daily

for

2+ years

Review Source
---
I have used Inflow for almost 4 years and have not found a reason to change inventory systems...
The reporting offered by inFlow is very detailed and well laid out.
Pros
Inflow has a lot of characteristics and functionality that other inventory systems do not. With the easy access to view numerous pages at the same time is one of my favorite features.
Cons
The only thing that we have had trouble with Inflow Inventory is the fact that they do not offer an open API. The company that I work directly through a CRM and it would be wonderful to be able to connect orders directly to a customer. Currently we are having to manually share orders, which adds unneeded time spent.
Industry: Information Technology & Services
Company size: 201–500 Employees
Used

Daily

for

Free Trial

Review Source
---
First day of product
Overall, don't color me impressed. It has a pretty interface and great functionality in theory. However the design elements are no better than that of an average student at a community college. It crashes and the server stability will leave you waiting to perform inventory.
Pros
In theory this works great. Limited to growth with a company with no API support. Which is unfortunate that they chose this route considering their pricing is on tier with medium size businesses in mind.
Cons
If the servers are down so frequently, the app will automatically opt for you to uninstall if it wasn't able to grab update information. You will also not be able to actively get to your inventory. If users are paying for a cloud service... you might want to get some server stability first. Yes... it's all secure, however this is risk management that should be addressed prior to charging for a product. My investors would have my head if I attempted to charge for such a beast.
Industry: Business Supplies & Equipment
Company size: 2–10 Employees
Used

Daily

for

2+ years

Review Source
---
Does what we need it to..
Pros
We switched from the desktop version of inflow.
We use MacOS/IOS as a company and were growing concerned that we would have to switch platforms completely to allow our team "cloud" access to our inventory and invoicing.
The new interface makes the transition very simply and gives us the full functionality we need on our operating systems.
Cons
We would like to see the continued development of the web app
Company size: 11–50 Employees
Used

Daily

for

2+ years

Review Source
---
Inflow is effective, easy to learn and robust. But when it's not, the team at inFlow is...
Inventory Mastery
Pros
I like the team of people that built it. I like that they genuinely care about my issues. And the quality of the software reflects the solid engineering behind it.
Cons
The security options and access control is very limited and not specific enough. I'd like to setup my users to have very specific access.